Baby loungers are a great option to keep your baby safe and comfortable. Learn about the baby loungers that keep your baby happy and give your arms a much-needed break.
As much as you might like to, every parent knows that it isn't always possible to hold your baby. After all, things have to get done around the house. Sometimes, you need to do the dishes or do some quick cleaning.
Luckily, there are many different types of baby products available meant to keep your baby happy in a comfortable position in a safe spot, like bay loungers.
Baby loungers are a comfortable and safe spot for you to temporarily lay your baby while you get some work done around the house or catch up on your favorite book. They keep your baby secure and can be kept within view so that you can supervise your baby as they peacefully lounge or play with their siblings.
Read on to learn what exactly a baby lounger is, why you should add one to your collection of go-to baby gear, and what to find out about some great baby loungers that your baby will be sure to love.
What Is a Baby Lounger?
Baby loungers are pillows made especially for your baby. At first, they may seem like just expensive pillows, but they keep your baby in a position that is both safe and comfortable for their body.
These pillows have grooves in the middle designed to hold your baby. Baby loungers don't have harnesses or straps, you have to tuck your baby in, and the cushiony walls will keep them secure!
Although these pillows are so comfortable that your baby may fall asleep in them, don't leave your sleeping baby in their baby lounger for too long unless the lounger is also a designated sleeper.
Always monitor your baby while they're in their baby lounger, and move them to their crib as soon as they fall asleep. For safety reasons, only place it on flat surfaces, and you should also not put your baby lounger on elevated surfaces.
Why Get a Baby Lounger
There are many different types of pillows on the market, but you want to make sure to get one meant to support your lounging baby. Some pillows are for breastfeeding, but these pillows are usually not suitable for your baby to hang out in for the long term.
Although you can put your baby in a chair, such as a baby bouncer or a baby swing, chairs provide motion to calm and soothe your baby while they're in them. Baby loungers are a more relaxed option for when you don't want to excite your baby.
Baby loungers are the most comfortable spot that you can place your baby, aside from your arms, of course! They're a cushier option than a chair, usually having extra layers and made with softer material.
Some baby loungers even have multifunctional purposes that make other baby tasks a breeze, but be sure to check with the manufacturer to make sure you can use it for this purpose!
If you want a multifunctional baby lounger, here are some additional functions you might want to think about during your search:
Tummy Time – Parents generally have their babies lay on their tummy a few times a day to help develop motor skills. A baby lounger provides a comfortable surface for this!
Co-Sleeping – Again, make sure the manufacturer and pediatrician have deemed your baby lounger of choice as safe for co-sleeping before attempting this.
Diaper Changing – some baby loungers provide enough space for you to change your baby's diaper. Changing your baby on a baby lounger can be convenient, as the cushiony walls will help stop your fussy baby from rolling away!
Massaging – You can imagine how nice it feels to lay down on a soft cushion and get a massage, and babies are no different! Infant massages are a great way to bond with your baby, promote better sleep, and may even help with their digestive system.
Some good reasons to get a baby lounger to include:
Portable: Most baby loungers are a manageable size. If your baby falls asleep in their baby lounger, it's easy to just pick up the lounger and move them to their nursery before transferring them to their crib.
No harness or straps: Your baby can lay comfortably without feeling restricted but still be kept safe. You don't have to worry about your baby falling out.
No set-up: Unlink cribs or playpens, baby loungers don't require any set-up, just place it on a flat surface where you want it to be, lay your baby down, and that's it! This convenience also makes them easy to put away. Depending on the product you choose, your baby lounger may require a little bit of assembly once you receive it, but it should take a few seconds.
Best Baby Loungers
Baby lounges are simple, and they all have the same functions. That said, there are baby loungers that have additional features that set them apart from the rest, whether it be extra accessories or softer material.
Factors to keep in mind when looking for a baby lounger include:
Design
Comfort
Portability
Protection
Size
Price
Don't know where to start? Here is a list of some of the best baby loungers to consider for your baby.
1. Snuggle Me Organic Bare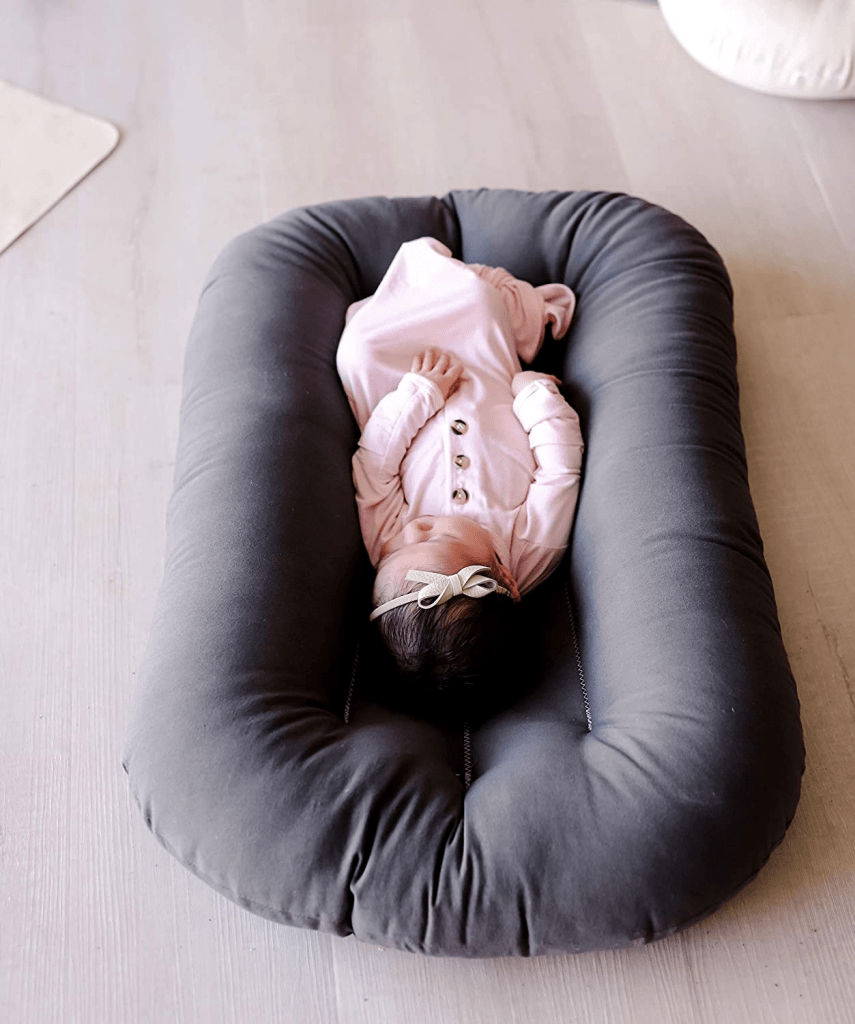 Snuggle Me carries some of the most popular and well-rated baby loungers on the market. The simple design of the Snuggle Me Organic Bare baby lounger pulls your baby in to calm them. It uses organic, non-toxic hypoallergenic material that isn't harsh on your baby's skin.
This baby lounger is ideal for newborns as it properly supports their heads and torsos. The design also has your baby's legs draped over the bottom end, meaning they probably won't outgrow this baby lounger until around nine months.
Specifications
Age recommendation: 0-9 months
Lounger weight: 4.64 pounds
Material: GOTS certified organic cotton and hypoallergenic polyester fiberfill
Pros
Organic material
Machine washable
Unpadded center sling causes sides to pull in and hug
Made in the USA
Minimal design
Long-lasting – use it for your baby's first 9 months!
2. Boppy Original Newborn Lounger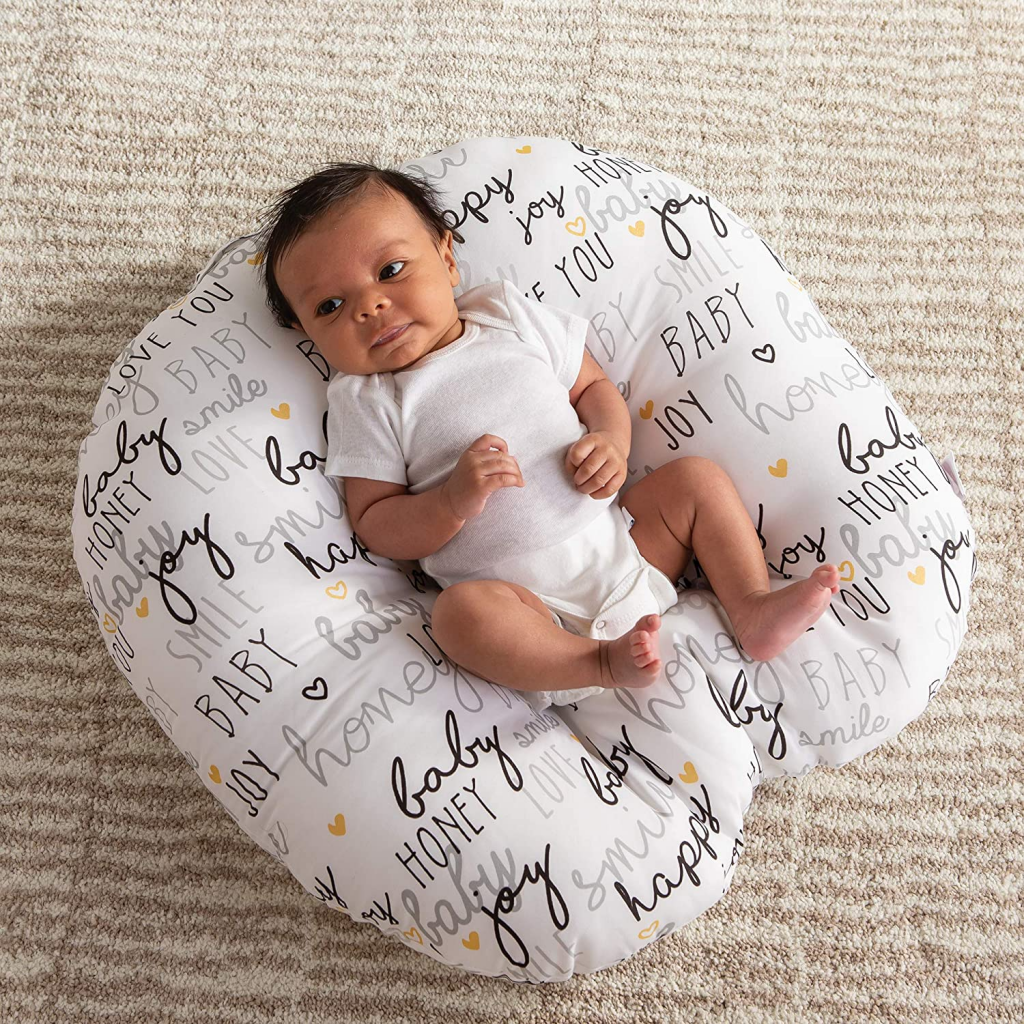 The Boppy Original Newborn Lounger is an affordable option if you want a comfy pillow to place your baby, but you don't want to break the bank. It's an ideal place to lay down your newborn safely, and it gently cradles your baby while you do your thing.
The portable design of the Boppy Lounger allows you to carry your baby from room to room without disturbing them. The fabric is easy to wipe and machine washable, so no need to worry about accidents!
Once your baby grows out of their lounger, Boppy even suggests using it as a pet lounger! This product is a great and economical way to get the most out of your product and keep several members of your family happy!
Specifications
Age recommendation: 0-4 months or whenever baby can rollover
Maximum weight capacity: 16 pounds
Lounger weight: N/A
Pros
Affordable
Portable design with lightweight carrying handle
Machine washable and wipeable
Use for your pet after
3. Mamibaby Baby Lounger Baby Nest Sleeper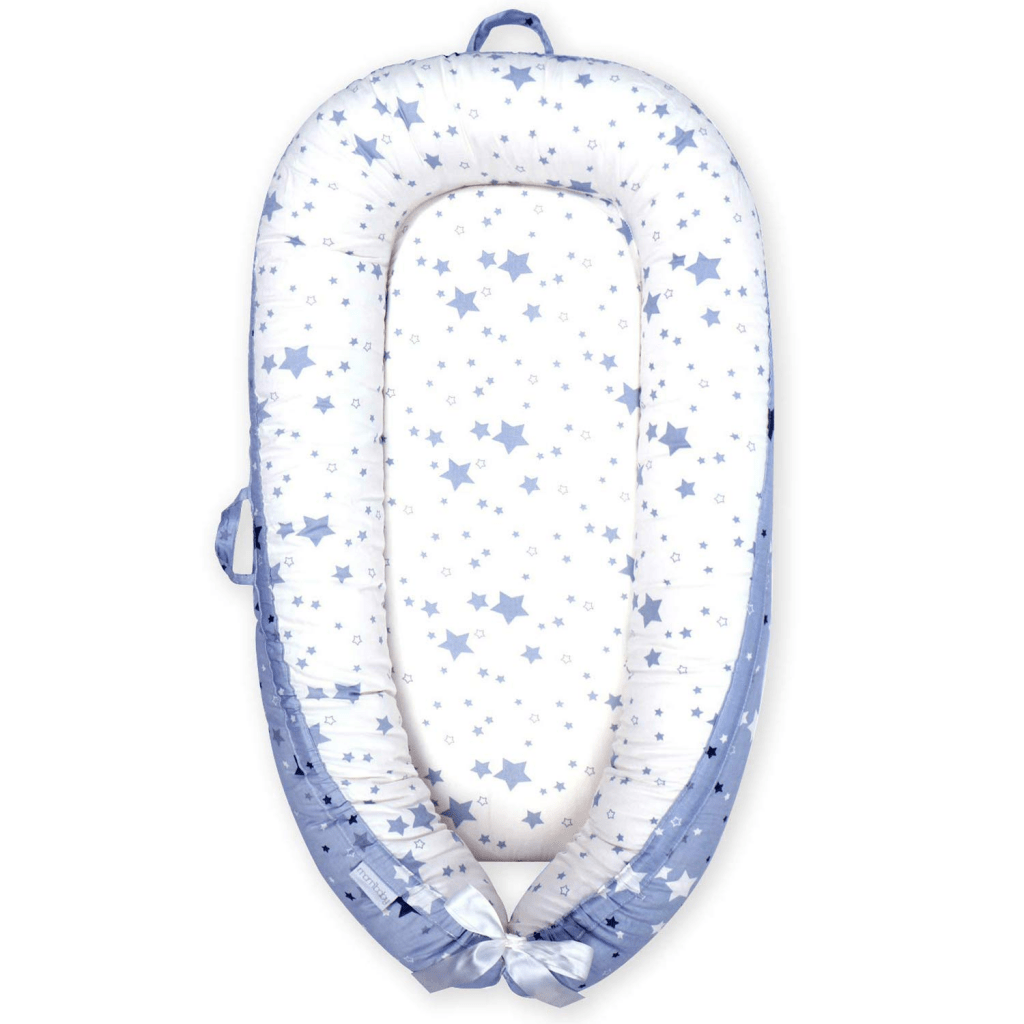 The Mamibaby Baby Lounger is a multifunctional lounger. Not only does it function as a regular baby lounger, but the 360-degree cotton pad side rail creates a separate space for co-sleeping, so you can have your baby beside you as you both sleep.
You'll be able to use this baby lounger for a while–it comes in a compact size for newborns, but the bottom opens up to accommodate babies up to 24 months!
This baby lounger has two patterned sides, and you can switch between the sides to witch up the pattern. Its lightweight design also has two handles that turn this baby lounger into a bassinet type of device that you can easily transport.
This baby lounger uses 100% soft cotton, and there is a hidden zipper to disassemble the lounger and make it machine washing easy.
Specifications
Age recommendation: 0-24 months
Lounger size: 31.5 x 19.6 inches
Lounger weight: 3.5 pounds
6-inch thickness
Pros
Doubles as a baby sleeper for co-sleeping
Machine washable
Portable handle
Breathable 100% cotton
Long-lasting
4. Cosy Nation Baby Lounger Baby Nest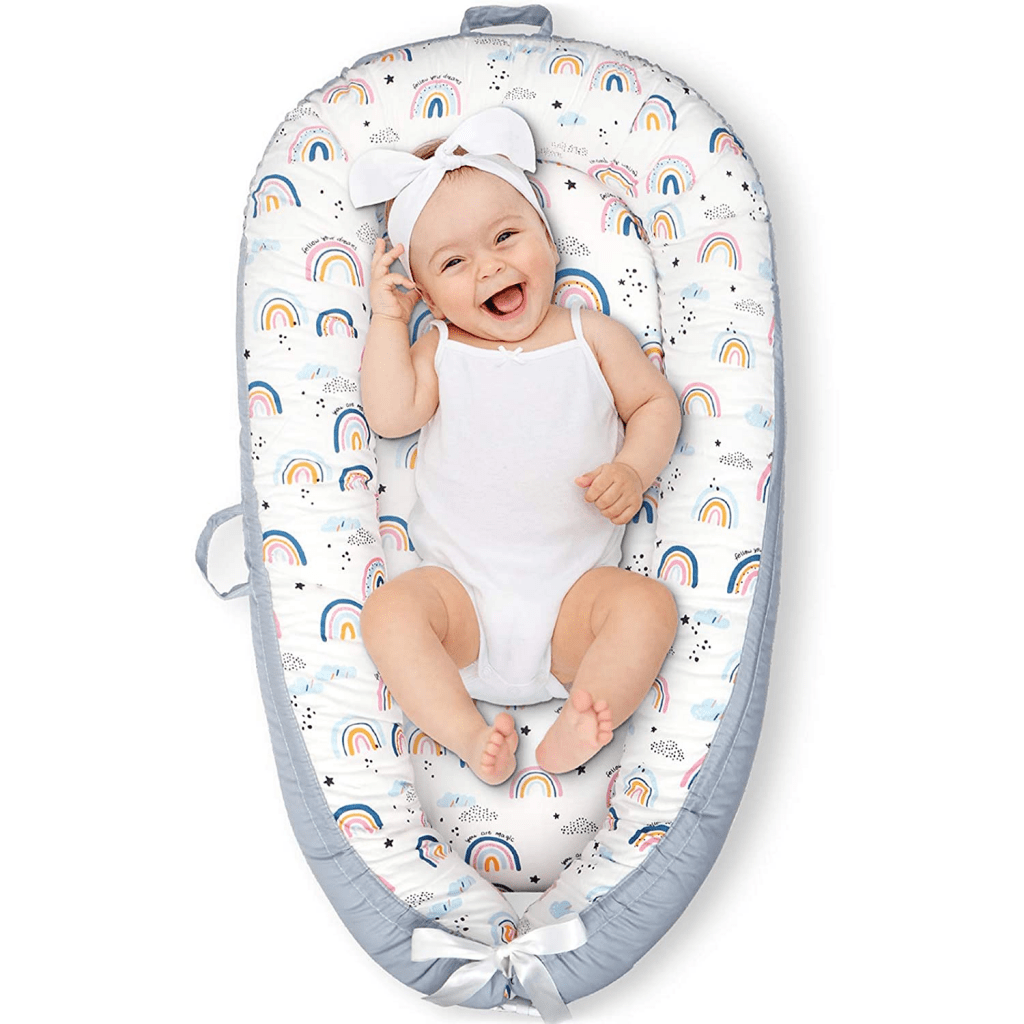 The Cosy Nation Baby Lounger has many features to keep your baby comfortable. This lounger uses a 100% hypoallergenic breathable cotton cover and polyester filling, so you don't have to worry about your baby's sensitive skin. The design imitates a mother's womb, so your baby is sure to find this baby lounger a soothing spot to hang out.
Easily carry this lightweight baby lounger around the house using the two handles on each side. You can loosen or tighten the drawstring to fit your baby's figure, and untie the bottom ribbon to give your growing baby extra space. Plus, this lounger has been deemed safe for cosleeping.
Specifications
Age recommendation: 0-12 months
Lounger weight: 3.6 pounds
Lounger size: 34.5 x 19.6 inches
6-inch thickness
Pros
Waterproof mat and bumper
Drawstring to adjust the shape of the lounger
Portable handles
Compressible for easy travel
Suitable for co-sleeping
5. Leachco Podster Sling-Style Infant Seat Lounger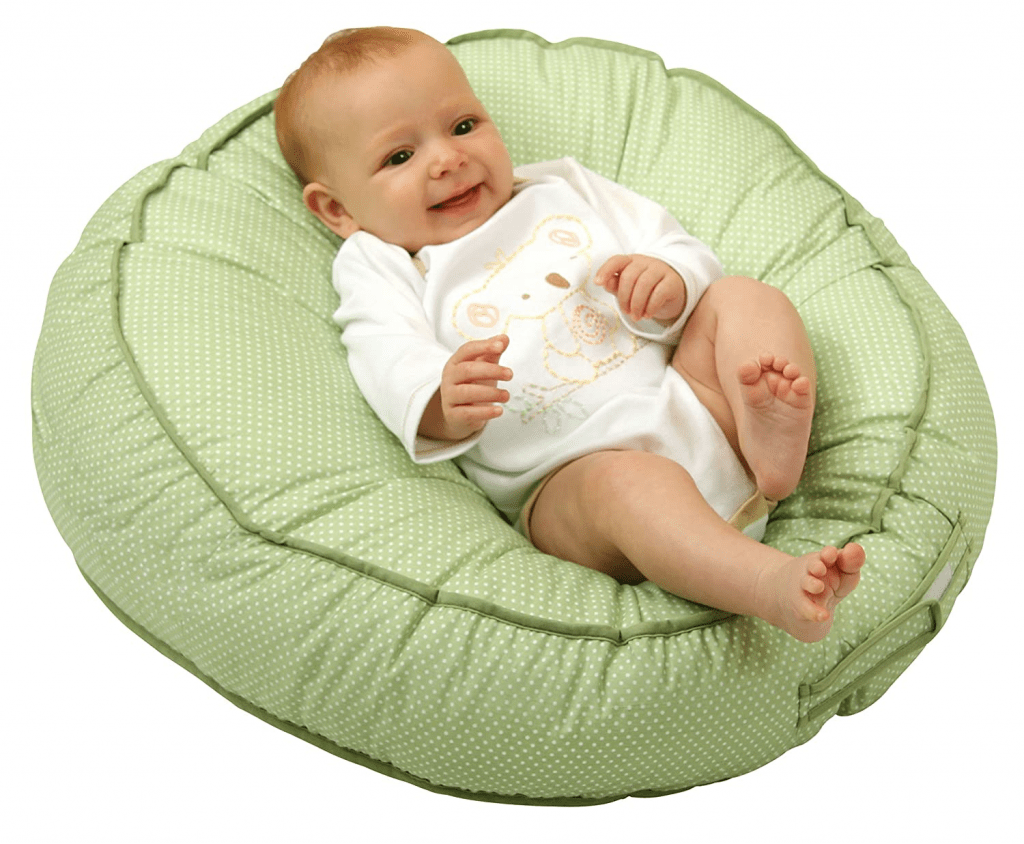 The Leachco Podster Lounger is an innovative option that will grow with your baby. The sling-style seat provides customized support based on your baby's weight–you can cinch them in to provide extra support for smaller infants, or you adjust to sit-up support to help them eventually sit up by themselves.
At less than 3 pounds, the Leachco Podster has an incredibly lightweight and simple design. The lounger also provides upper body elevation that helps with your baby's digesting and breathing.
Specifications
Maximum weight recommendation: 16 pounds
Lounger weight: 2.95 pounds
Lounger size: 25.5 x 23 x 8 inches
Pros
Deeply contoured sides
Upper body elevation
The Fling center expands with the baby's weight
Adjustable tabs create a cozier surface for small infants
Machine washable cover
6. New CubbyCove Plus+ Baby Lounger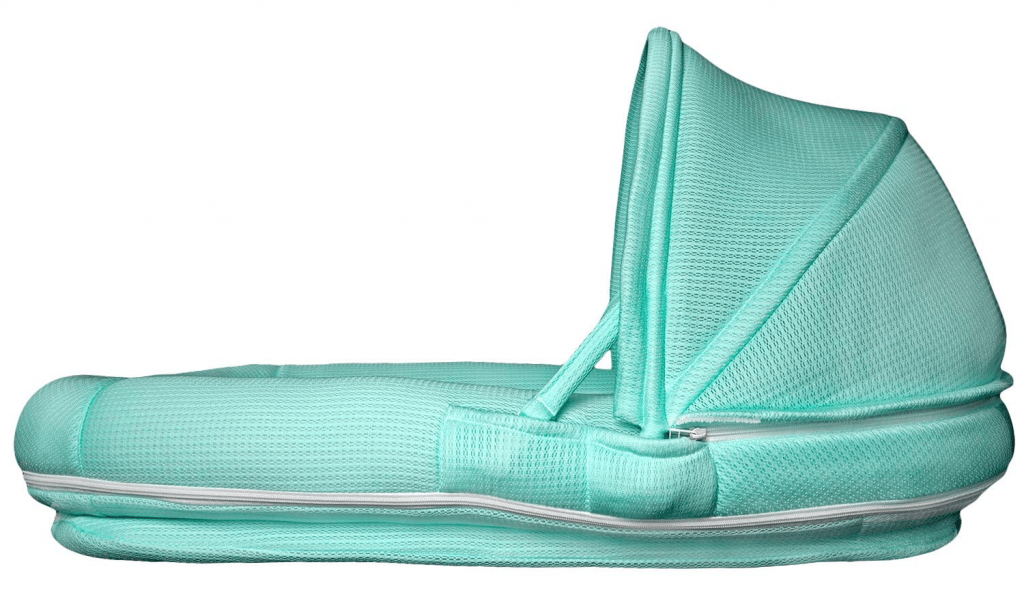 The Plus+ Baby Lounger is CubbyCove's new option to lay your baby on. The company claims that this is one of their cushiest products, so your baby is sure to feel comfy while hanging out in their new lounger. This lounger can go with you everywhere. The CubbyCove Plus+ is large and roomy, making it a little heavier than most, but its durability and versatility make it worth it.
You can take this lounger outdoors to give your baby some fresh air while they lay in a safe and comfortable spot. It even comes with a retractable canopy for those extra sunny days. It also comes in three fun colors, so it can also serve as a cute accessory when hanging out with your baby!
Specifications
Age recommendation: 0-12 months
Lounger weight: 10.6 pounds
Lounger size: 36×22 inches
6-inch thickness
Made with Tencel
Pros
Includes canopy for outdoor lounging
Outstanding thermal regulation
Available in 3 colors
Suitable for co-sleeping
The Best Baby Lounger – Final Thoughts
A baby lounger is a great option to have as a safe space to place your baby when you just can't hold them, as much as you may want to. If you get the right lounger, your baby will be comfortable and secure, eliminating the need for you to worry.
Although most loungers are not meant for your baby to sleep in, some baby loungers double as sleepers, allowing you to co-sleep with your baby without worrying about either of you rolling over.
You can use a good baby lounger again for any future children you may want to have, so it's worth investing in a good quality one. Once you run out of kids who will fit your baby lounger, you might even be able to use it as a comfy spot for your pet.