Learn why the UPPAbaby MESA Infant Car Seat is one of the safest and most reliable choices for parents and whether it's the car seat for you and your baby.
When bringing your baby on the road with you, your number one priority is their safety. It's perfectly normal for new parents to get anxious when driving with their newborn–you always want to keep an eye on your baby, and it's scary having them in the backseat and out of your direct line of sight.
That's why it's important to invest in a good car seat from a trusted manufacturer with great safety features to help ensure your baby's safety while you drive and in case of a crash.
Uppababy is a company that parents rely on to make the best strollers and car seats for their baby. It has many car seats to choose from, but the UPPAbaby Mesa is one for parents worried about the worst-case-scenario. Known as one of the safest car seats on the market, the Mesa will keep your infant safe and comfortable and will put your mind at ease while you drive them around.
The Mesa is full of safety features that make it easy to install. It makes it obvious if something's come loose, and it's simple to make adjustments for your growing baby. UPPAbaby even added some new colors in 2018, giving you more stylish options when choosing this reliable car seat.
UPPAbaby also offers a variety of strollers that are compatible with the Mesa. With the right adapters, you could make this car seat adaptable with other strollers too. Some parents purchase a UPPAbaby stroller first, then consequently purchase the Mesa car seat due to its compatibility, and love the combination!
Read on to learn about this car seat's amazing features and decide whether the UPPAbaby Mesa is the right car seat for you and your baby.
Specifications
Car seat weight: 10.7 pounds without base, 26 pounds with the base
Car seat dimensions: 5" x 17.5" x 23"
Maximum weight capacity: 4 to 35 pounds
Maximum height capacity: 32" in height
Five-point harness
Moisture-wicking material
Hand wash and air dry
LATCH connectors and side-impact protection
The UPPAbaby Mesa will take up the same amount of space as any other standard car seat on the market.
Features
The UPPAbaby Mesa boasts a variety of features that make this car seat worth it. Beyond the common safety measures, such as self-ratcheting LATCH connectors and side-impact protection, the most notable feature is how easy the car seat is to install in your car.
Sometimes it can be unclear whether you've properly installed your car seat. However, you don't want to take the chance of having an incorrectly installed car seat.
The main reason for car seat failure is improper installation, and many car seats are difficult to install due to complicated designs and instructions from the manufacturer, which leads to errors. The Mesa car seat minimizes errors during installation, maximizing the safety of your child in the car.
The LATCH connectors retract back into the base when not in use, so you won't have any distracting straps getting caught in things if your baby isn't in the car. The LATCH connectors also have a push-button release and make a click sound so that you know they've connected to the anchors.
The best part about installation is all of the indicators that tell you when your car seat is secured. There are indicators on each side of the base, and they feature indicator lights that light up to indicate that the car seat has been installed properly. Green means that everything is properly secured, while red indicates that there is a problem.
The indicator will turn red if something causes the car seat to be even slightly displaced, such as hitting a bump on the road. So don't be alarmed if before leaving, your indicators were green, and they've turned red by the time you've arrived at your destination! The car seat base also has a finished bottom to prevent damage to your vehicle seats.
You can even easily install the car seat without the base, making it ideal for travel or public transportation.
Other features of the UPPAbaby Mesa car seat include:
SPF hideaway canopy provides protection when outside and easily tucks away when not in use.
Visible tightness indicator so that you know when your car seat is secure.
Built-in lock-off for secure seatbelt installation.
One-hand release from stroller for convenience when transferring the car seat to your car.
No-rethread harness adjusts with the headrest, so you don't need to take the harness system apart as your baby grows.
Flame-retardant fabric in case the worst does happen, your baby is extra protected (only available in the Jordan and Henry models).
Adjustable headrest has EPP foam providing added protection for your baby and helps keep their head stationary while you drive.
Newborn insert to help ensure that your infant comfortably fits in the seat, no matter how small they are.
Attaches to VISTA and CRUZ strollers without adapters to create a full travel system – no attachment needed. You can purchase additional adapters to also make it compatible with the MINU stroller. The car seat is reversible on all compatible strollers.
Pros and Cons
The UPPAbaby Mesa car seat is a safe and reliable choice for your baby with many positive features. However, before you decide on any product for your baby, you want to have the full picture.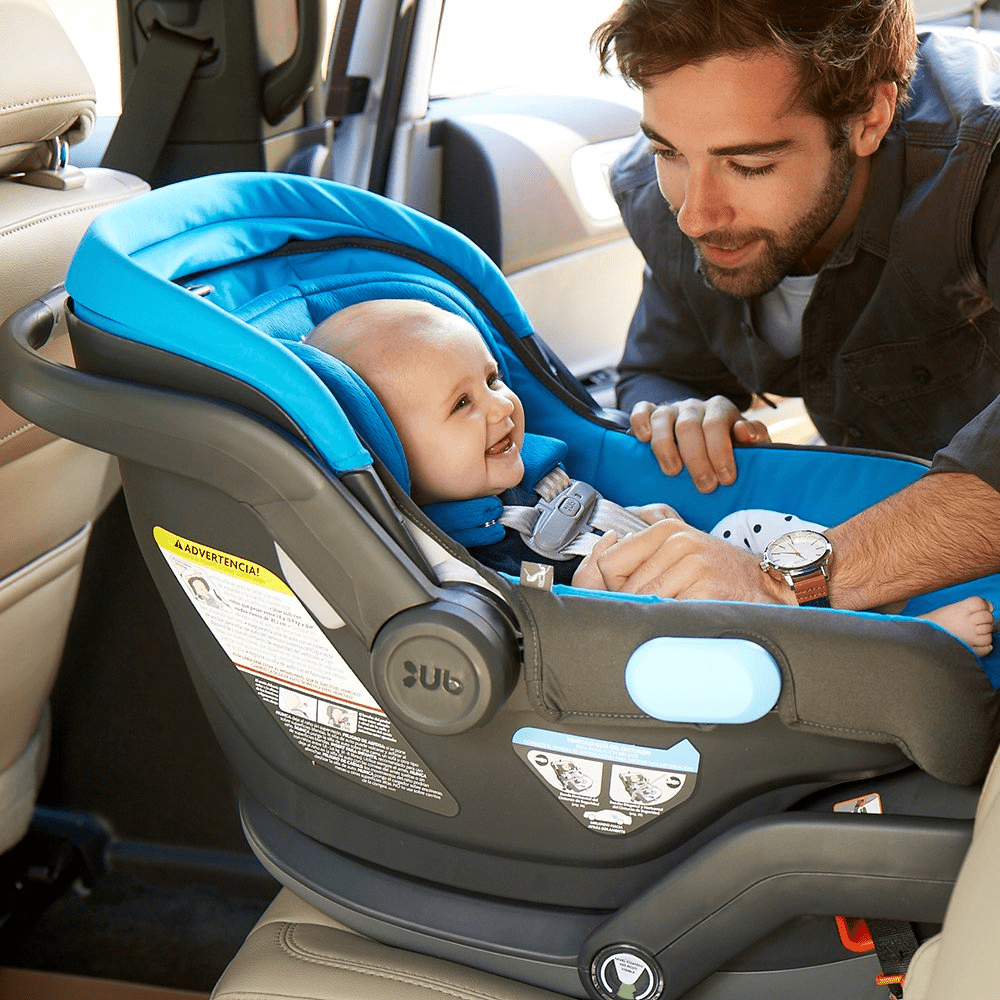 If you're still on the fence, here are some pros and cons of the UPPAbaby Mesa car seat:
Pros:
Easy to install even without the base
Low minimum weight makes this car seat safe and ideal for premature babies. It comes with an infant insert to adjust it for your newborn.
Top safety features for parents who always want to be ready in any scenario
Compatible with select strollers – installs with just one click.
Lining is easy to remove in case a lot of cleaning is needed, like a diaper blowout.
Cons:
Pricey: the UPPAbaby Mesa car seat is priced at around $300, making it one of the pricier car seats out there. Although the safety features are nice, if you don't think you need all of them, it might be worth looking for a more affordable car seat.
Heavy: At 10.7 pounds without the base, the UPPAbaby Mesa is a little heavier than other infant car seats, which might make it more difficult to move the car seat with your sleeping baby in and out of your home or transfer to a stroller.

Other Products
If you do decide the Mesa car seat is right for you, UPPAbaby has many additional products that can accompany the car seat:
UPPAbaby Mesa Car Seat Review – Final Thoughts
The UPPAbaby Mesa Car is a good choice for parents who prioritize the safety of their babies. The Mesa will accommodate your infant no matter how small they are and help ensure their comfort while they're in the backseat.
UPPAbaby took additional precautions when designing this car seat so that you can keep your mind at ease. The safety features of the Mesa car seat ensure that your baby stays safe, no matter what. You can install this car seat in minutes, and the light-up indicators make it obvious whenever there's an issue.
Although it's more expensive than the other car seat, parents who have purchased the UPPAbaby Mesa praise the car seat and say that the easy installation was worth the price. Above all, it's worth it to know that your baby will remain safe in your car.