Backpack diaper bags are comfortable, functional, and versatile–the perfect bag to carry all of your baby's essentials!
Diaper bags are one of those must-have baby items that are mainly for you, the parent. Yes, the diaper bag is used to hold all of your baby's essentials when you two are away from home, but you're the one who will be carrying it.
Therefore, it's worth investing in a bag that is comfortable enough for you to carry and will help you stay organized.
Diaper bags come in many different designs, but the most popular are totes or crossbody bags. Between diapers, wipes, changing pads, and extra bottles, your diaper bag needs to be able to carry a lot of supplies, and the weight adds up.
This weight can make your diaper bag quite heavy and causes some difficulty carrying a single-strap shoulder bag over your shoulder.
A great option to minimize this weight problem is to choose to carry a backpack diaper bag to store your baby items.
Not only do backpacks distribute the weight in the bag better, a backpack is hands-free, meaning you can effortlessly carry your baby in your hands and everything they need behind you.
In this article, we'll explore why backpack diaper bags are the best option for storing your baby's stuff, what to look for when choosing a backpack diaper bag, and list the five best products that will fit all of you and your baby's essentials!
Why choose a backpack-style diaper bag?
Backpack diaper bags are a spacious, comfortable option to store extra clothes and diapers for your baby. A diaper bag will keep your hands free to shop, hold your baby, or even tend to your older child.
The weight distribution that a backpack provides cannot be beaten. Once you switch to a backpack diaper bag, you won't miss those aching shoulders that are the result of walking around for hours with a crossbody diaper bag.
Because the weight in a backpack is so well distributed, you may also be able to carry more items in your diaper backpack bag, so you don't have to decide which one of your child's favorite toys to leave at home!
Most backpack diaper bags also come with either stroller straps or clips, so that you can hang the backpack from your stroller as you push it around.
Safety Tip: When you hang your backpack diaper bag on the stroller, be sure to remove the backpack from the stroller before removing your child, to prevent the stroller from tipping over.
What to look for in a backpack diaper bag
Although a backpack diaper bag seems like a pretty straightforward concept, there are a few things to consider when choosing the right one.
Plenty of pockets: Sometimes it's hard to stay organized as a parent, and we've all experienced losing items at the bottom of our backpacks that we can never find at the most crucial times, such as keys or wallet. For this reason, you'll want to choose a diaper bag that has several pockets both inside and outside of the bag so that all of your essentials are accessible and have a dedicated spot. Many backpack diaper bags contain compartments specifically made to fit diapers, changing pads, and wipes!
Comfortable straps: Chances are you will be carrying this diaper bag for hours at a time. You want to make sure that the diaper backpack you choose has a padded back and wide straps for extra support and long wear.
Insulated compartments: Most backpack diaper bags do include insulated compartments. Honestly, you shouldn't consider any diaper bag that doesn't have insulated compartments. Most backpack diaper bags also have separate pouches in their insulated compartments to fit your baby's bottles and keep them warm for longer. It's just a question of how many bottles you will need to carry.
Machine washable: Although many backpack diaper bags feature easy-to-clean water-resistant lining, and some are even waterproof, most parents know that life with a baby always gets messy. Having a machine-washable backpack diaper bag will make cleaning up that much easier. Most backpack diaper bags are machine washable (unless they're designer, of course), but be sure you double-check the label to make sure!
Best backpack diaper bags
Although it may be tempting to use a backpack that you already have laying around, you must invest in a proper backpack diaper bag that has enough compartments for all of your baby items. Plus, you don't know how important insulated compartments are until you have them!
We listed our top 5 backpack diaper bags that will make it feel like you're carrying less weight on your shoulder than you are.
1. Hap Tim Diaper Bag Backpack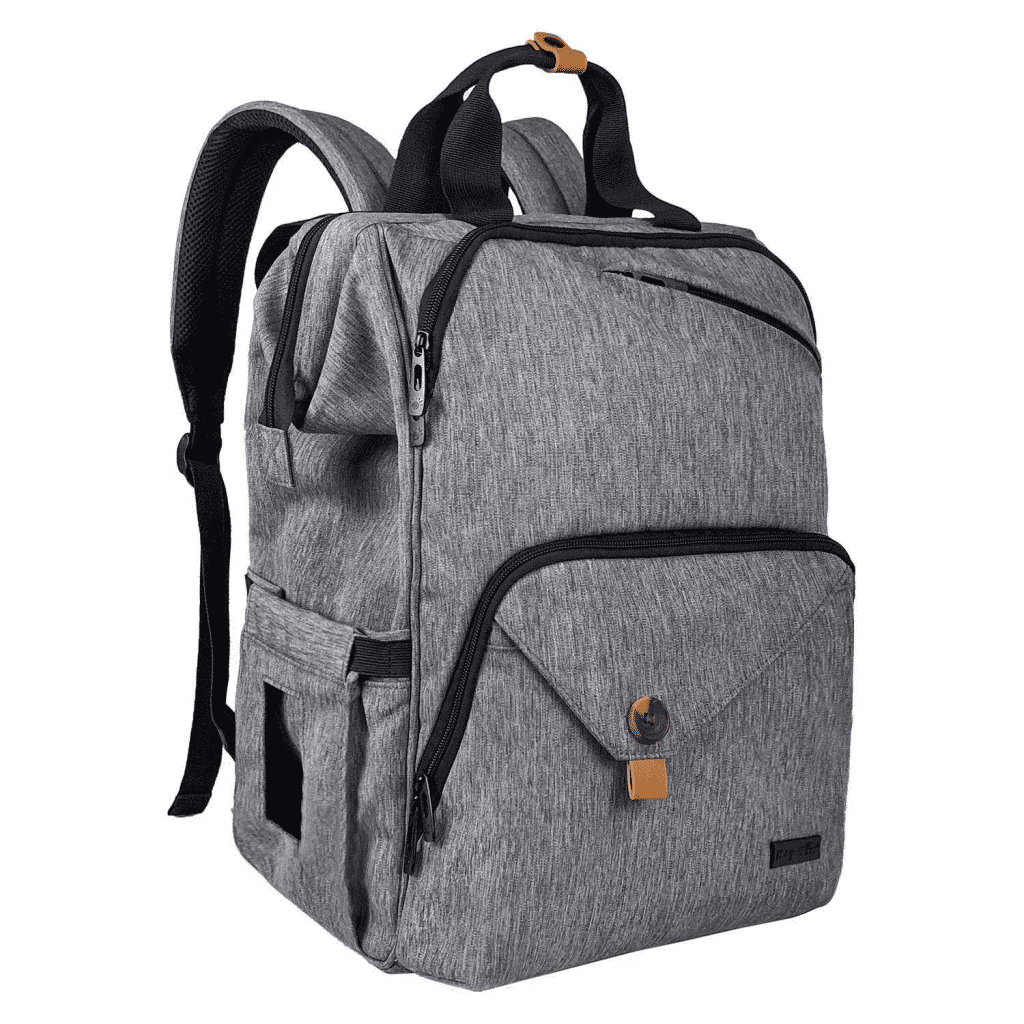 The Hap Tim Diaper Bag Backpack will make you forget that you are lugging around your baby's gear as you run your errands.
This stylish diaper bag backpack features a thick sponge-padded mesh back and wide padded shoulder straps for ultimate comfort, no matter how much you stuff it. The stroller straps hang to give you the option of taking a break from carrying the bag and hanging it on your baby's stroller.
This backpack diaper bag opens wide to deep storage. Its large 25 L capacity means you don't have to leave any of your baby's favorite toys behind, and the 18 storage pockets will help you keep all your necessities organized.
The polyester fabric is waterproof, so you don't have to worry about the contents inside getting wet if you find yourself stuck in the rain without an umbrella. The front compartment is made especially for food and baby bottles– it is made from a waterproof liner, making it easy to clean.
The side bottle pocket fits a bottle of water or an umbrella, and there's even a side pocket opening to provide easy access to baby wipes!
Specifications:
Bag dimensions: 17.17" x 13.89" x 3.54"
Bag volume: 25 L
Insulated thermo pockets
Fits 3 standard baby bottles
18 pockets
Stroller straps
Pros:
Many front pockets
Waterproof
Quick access professional wipe pocket
Back zipper pocket opens to the bottom of the bag
Available in 3 colors
2. Bably BabyLarge Capacity Diaper Bag Backpack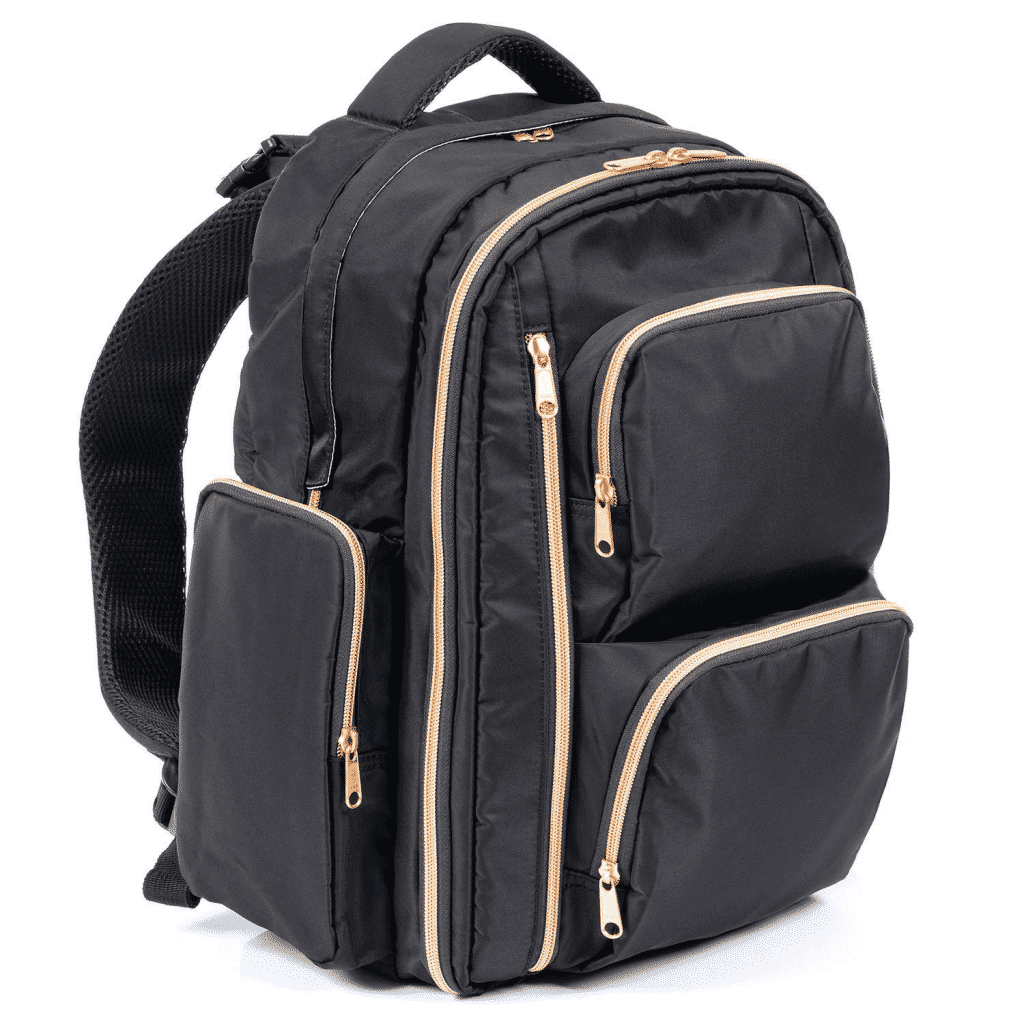 This diaper bag backpack from Bably Baby is simple but incredibly durable. This diaper backpack uses YKK zippers, which compliment the high quality of the stitching.
You'll feel comfortable carrying this backpack thanks to the extra-padded back and comfy shoulder straps, and if you need a break, just use the built-in stroller straps to hang the backpack from your baby's stroller.
The Bably Baby diaper bag backpack contains 14 pockets and is spacious enough to fit everything you need, including up to 4 bottles in the insulated bottle pocket.
If you're heading to the coffee shop to do some work and bring your baby along, there's a pouch that is big enough to hold your laptop.
Bonus: This diaper bag backpack comes with two packing cubes to carry clothes and diapers so that you can stay extra organized, and a wet/dry sundry bag to put dirty clothes in case your baby spits up while you're out! It also comes with a changing pad that fits perfectly in the bag, to give you the convenience of changing your baby any time it's necessary.
Specifications:
Bag dimensions: 8.5″ x 6.5″ x 3″
14 pockets
Insulated bottle pockets
Stroller straps
Pros:
YKK zippers
Laptop/changing pad pocket
Includes two packing cubes
Includes wet/Dry sundry bag
Includes changing pad
Quick access professional wipe pocket
3. JHhomezeit Diaper Bag Backpack for Mom and Dad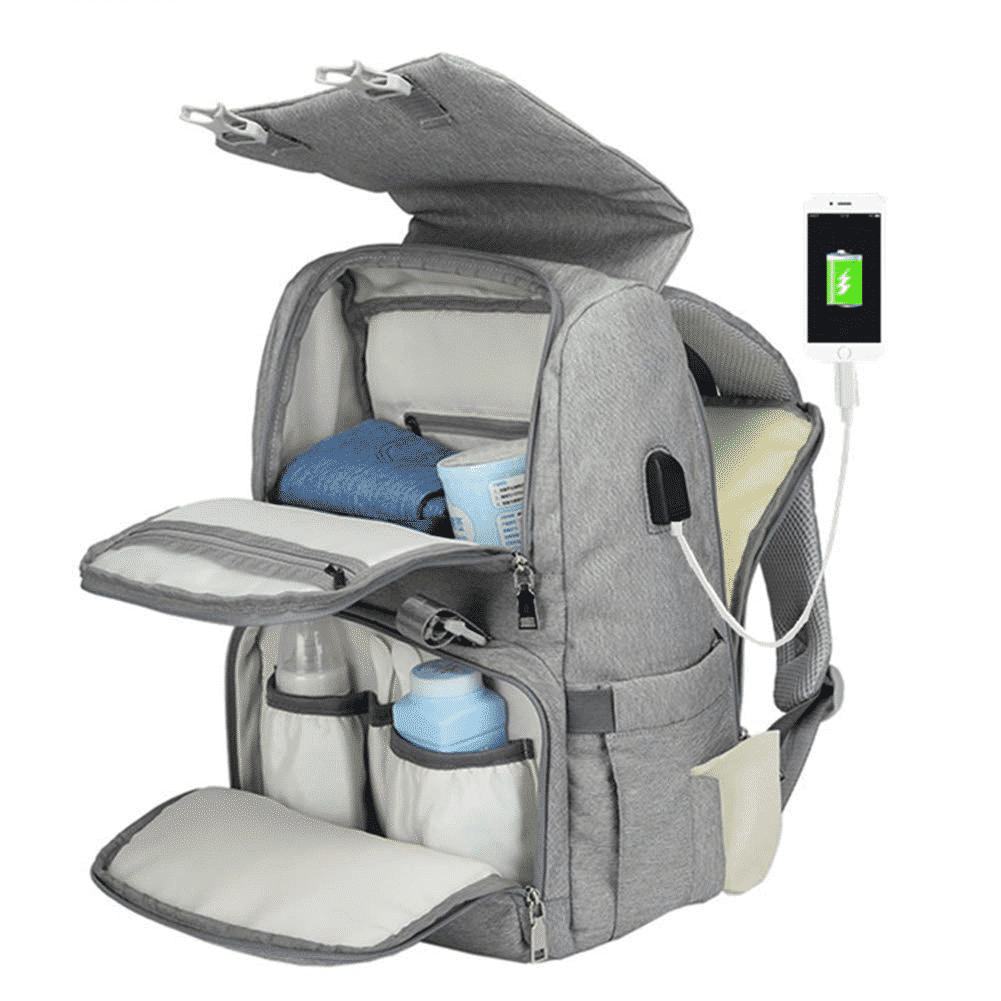 TThe JHhomezeit Diaper Bag Backpack was built with both baby and parent in mind. Everything about this diaper backpack is convenient–the back pocket opens up to become a changing pad, and it not only includes stroller straps but also has a luggage strap for easy transport while traveling. There's even a dedicated mommy pocket to safely store your keys and wallet.
The built-in USB port allows you to easily access your charger to conveniently charge your phone while you continue to walk with your baby around while shopping. The versatility of this diaper bag backpack will have you bringing it with you everywhere.
Specifications:
Backpack dimensions: 10.2"x 7.5" x 15.7"
13 pockets
Insulated pockets
2 bottle pouches
Pros:
Back pocket changing pad
Waterproof fabric
Available in 4 colors
Dedicated space for USB charging port
Lightweight
Dedicated mommy pocket
Mesh diaper organizer
4. HaloVa Diaper Bag Backpack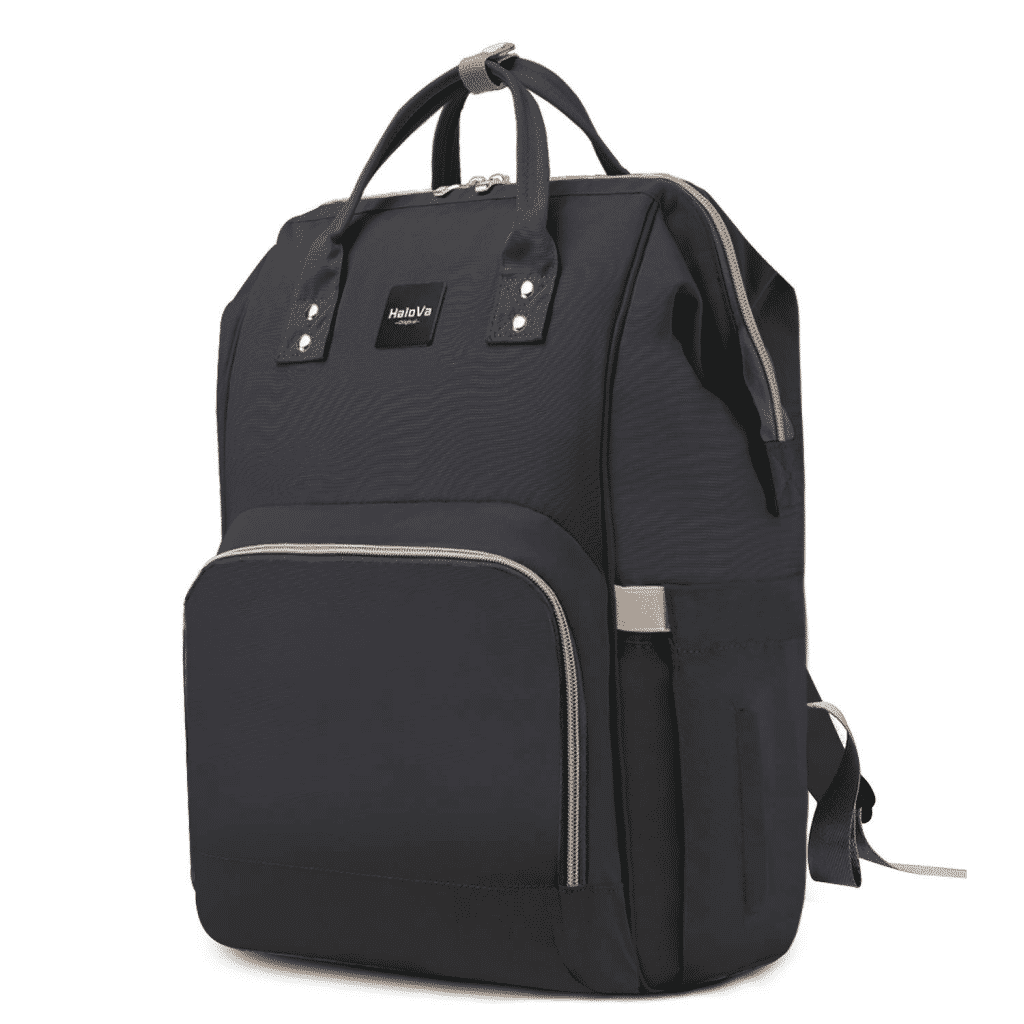 The HaloVa Diaper Bag Backpack will allow you to carry everything you and your baby need, and look stylish while you do so. The sleek design of this bag gives you the option of carrying it like a backpack, or using the top straps to carry it like a tote!
No matter how you choose to carry this bag, it's versatile and functional. It features 2 side pockets for bottles, as well as 3 inner insulated pockets to keep your baby's bottles warm. The other pockets are wide enough to store diapers, extra clothes, all of your other essentials. Attach the included stroller clips to the back to wheel it around and give your back a break.
This HaloVa Diaper bag backpack is designed to always keep its shape, and the main compartment opens wide to allow you to see all of the content of your diaper backpack in one view. The rear of the backpack features a back pocket for easy access to all the items that usually end up lost at the bottom of your bag.
Specifications:
Backpack volume: 24L
Carries up to 40 pounds
Insulated bottle holders
2 side bottle pockets
Top handles
Pros:
Doubles as a tote bag
Waterproof and durable oxford fabric
Available in over a dozen colors
Wide opening
Easy to clean interior lining
Easy access tissue pocket
Stroller clips
5. BabbleRoo Diaper Bag Backpack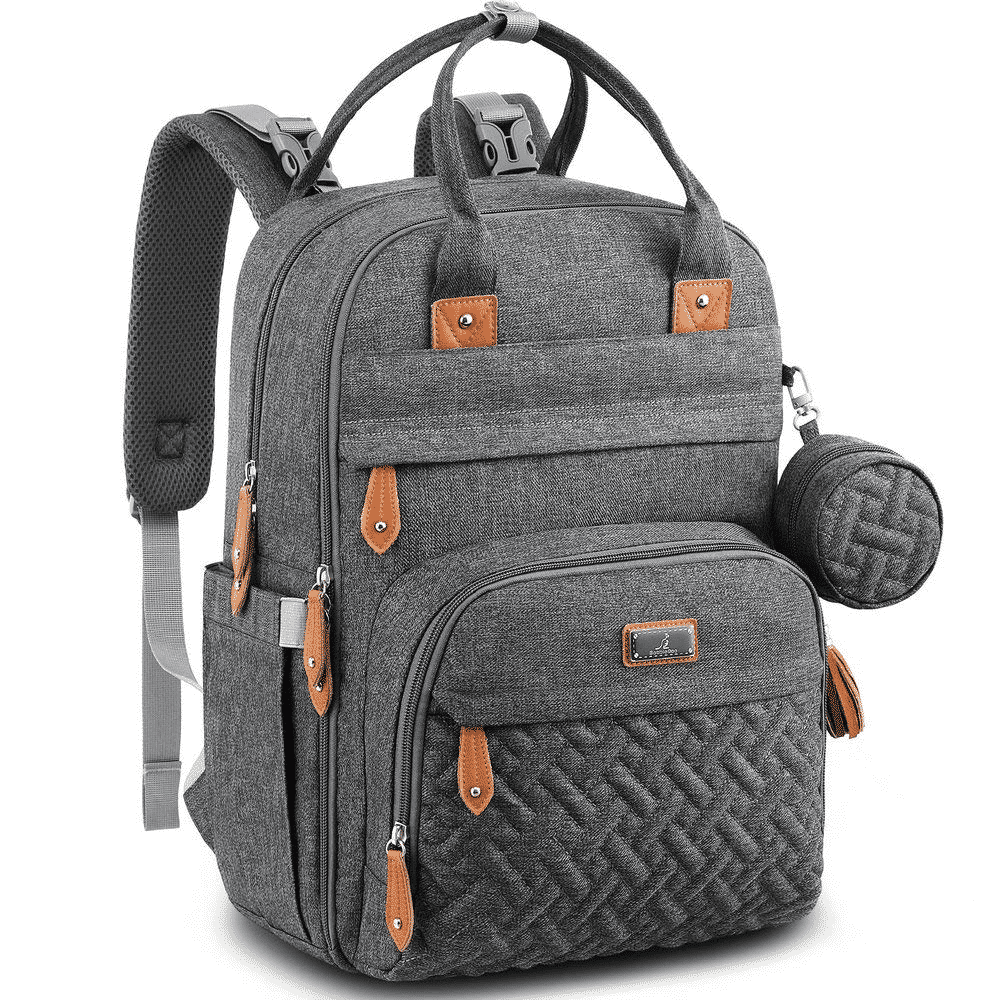 The BabbleRoo Diaper Bag Backpack doesn't even look like a diaper bag–on the outside, it looks like a functional backpack. On the inside, however, lies many features that every parent needs in a bag while traveling with their baby.
Boasting 18 pockets, including nine in the main compartments, you'll find a spot for each of your essentials, including small outer pockets and a key loop for your cellphone and wallet.
Five of the inner pockets are insulated and there are pouches to fit almost any sized baby bottle. The changing pad also fits laptops up to 15.6 inches wide. You even get a detachable pacifier pocket that fits two of your baby's favorite pacifiers!
This diaper bag backpack will last you a long time, and because it doesn't even look like a diaper bag, once your baby is grown, you can easily use this backpack as a carry-on bag while traveling!
Specifications:
Backpack dimensions:12″x8″x16.5″
Backpack volume: 26L
18 pockets (9 within the main compartment)
Top handles
Pros:
Changing pad pocket doubles as a laptop pouch
Gender-neutral design
Available in 6 colors
Includes changing pad
Wipe pocket
Key loop
Cushioned shoulder straps
Stroller clips
Tear-resistant waterproof fabric
2 main compartments
Final Thoughts
Having a backpack diaper bag is the most functional option to store all of your baby's essentials and favorite items while you're out and about. A backpack is good for both you and your baby–everything your baby needs is in one place, while your shoulders aren't struggling to balance the weight.
If you aren't already using a backpack diaper bag, consider adding one to your baby gear! Don't settle for a regular backpack that you have lying around–you want to make sure that you're properly storing your baby's items, and a backpack diaper bag with all of the right compartments is the best way to do that!
With all the backpacks on the list ranging from $30 to $60, it's worth purchasing a backpack diaper bag to try out for yourself!