While having the best portable changing table may not be entirely necessary, owning one definitely keeps you organized and makes life with a baby a lot easier. You should have a changing table station in your nursery, but you may also want to consider something more portable that you can quickly move to another room in your house if needed.
There are two types of portable changing tables. The first type is the changing table that is small, simple, and compact, meaning you can easily move it around your house. These changing tables are generally less than 25 pounds.
The second is foldable changing tables, which are easy to store away when not in use. These are even easier to move around and a great way to save space.
Luckily, many companies create both types. Read on to find out about the ten best portable changing table brands in 2021.
10 Best Portable Changing Table Brands in 2021
1. INFANS
INFANS specializes in home and travel products that suit the needs of parents and their young children. They carry bassinets, high chairs, strollers, tricycles, and changing tables.
Our pick

: INFANS Baby Diaper Table, Portable Infant Changing Station with Safety Belt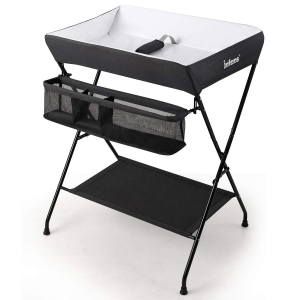 The INFANS Baby Diaper Table is a multi-functioning portable changing table that you can fold and store out of the way when not in use. It has a large storage basket hanging from the side, a bottom shelf, and a safety belt to provide additional security.
Pros:
Foldable
Waterproof
Extra storage
Includes safety belt
2. JOYMOR
JOYMOR carries many fun products for your little one, such as playpens, bouncy castles, and toy cars to ride in. Although recreational products are their specialty, they also carry convenient everyday products such as high chairs and changing tables.
Our pick

: JOYMOR Folding Mobile Diaper Changing Table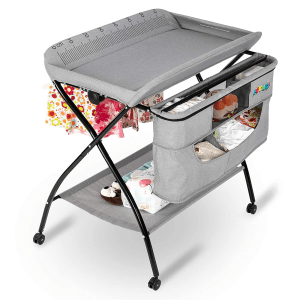 This portable changing table is foldable and has locking wheels for extra mobility. It has a clothing rack and a double-layer storage basket with five compartments and is useful to place diapers, toys, wipes, or anything else your baby may need. You can even convert it into a drying rack!
Pros:
Multi-purpose
Foldable
Lockable wheels
Extra storage and clothing rack
3. Baniromay
BANIROMAY has an assortment of kids' products. They mainly carry bassinets, but they also have a few playpens and changing tables to choose from.
Our pick

: Mobile Baby Changing Table Folding Portable Diaper Station with Safety Belt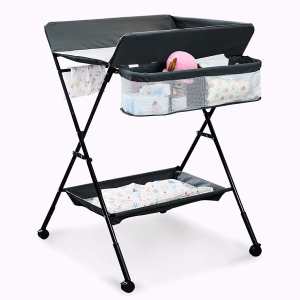 The Mobile Baby Changing Table is foldable and has wheels, so you can move it around easily from one room to the next. One of the best things about this portable changing table is its adjustable height so that you don't have to bend your back too much when changing your baby's diaper!
Pros:
Foldable
Adjustable height
Mobile with lockable wheels
4. Dream On Me
Dream On Me does all things baby! If you're a first-time parent, this brand carries everything you'll need, from cribs to strollers to nursing pillows. It's known for the quality and care that they put into their products.
Our pick

: Dream On Me Emily Changing Table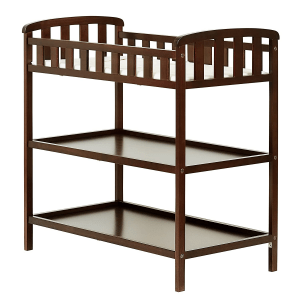 The Dream On Me Emily Changing Table is compact and portable, not to mention stylish. Its lightweight design makes it easy to pick up and move around the house. It comes in six finishes, so it's easy to find one that will match the rest of your nursery furniture!
Pros:
Compact
Made of New Zealand pinewood
1" changing pad included
Extra storage shelves
5. Delta Children
Delta Children is another reputable baby brand that started with making safe, high-quality cribs. They carry products that will support your child from infancy until early childhood. They aim to use the healthiest materials in their products to ensure the well-being of your child.
Our pick

: Delta Children Infant Changing Table with Pad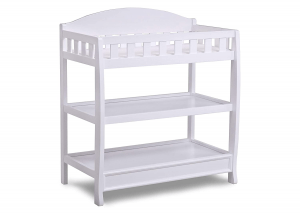 The Delta Children Infant Changing Table is a safe and secure place to change your baby and keep all of the supplies you need close. It includes a water-resistant changing pad with a safety strap and two fixed shelves for open storage.
Pros:
Two storage shelves
Includes changing pad with strap
Easy assembly
Available in 4 finishes
6. Little Seeds
Little Seeds offers chic, Victorian-style decor for your nursery. Their furniture is all coated in non-toxic finishes, so you're bound to find a beautiful piece that will match your nursery decor. They also give a portion of their total sales to the National Wildlife Federation's Garden for Wildlife project.
Our pick

: Little Seeds Piper Metal Changing Table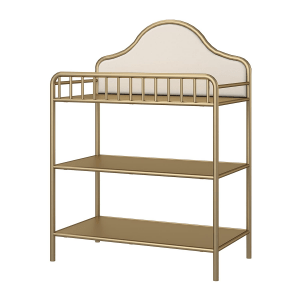 This elegant Little Seeds Piper Metal Changing Table is a beautiful addition to any nursery, with its classic gold finish. If you do fall in love with the look of this changing table, they have a whole collection to coordinate with the rest of your nursery furniture!
Pros:
Storage shelves
Non-toxic finish
Unique upholstered back
Lightweight
7. Suite Bebe
Suite Bebe's collection features designs to make your nursery easy and functional. The brand takes pride in creating simple but stylish furniture that will suit any nursery.
Our pick

: Suite Bebe Hayes Changing Table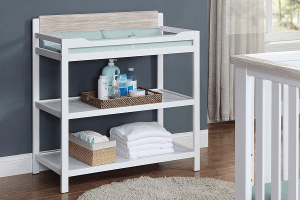 The Suite Bebe Hayes Changing Table is affordable, and reviewers attest that it is easy to assemble. The changing table features a surrounding safety rail to change your baby with ease. Plus, there's also a matching crib available!
Pros:
Non-toxic finish
Easy to assemble
Shelf storage
8. Kinbor Baby
Kinbor carries many products for your little one to use from birth to early childhood, such as bassinets, playpens, and even step stools. They put a lot of thought into their products to provide the best functionality for busy parents.
Our pick

: Kinbor Baby Bathinette Folding Changing Table Baby Diaper Station with Bath Tub Unit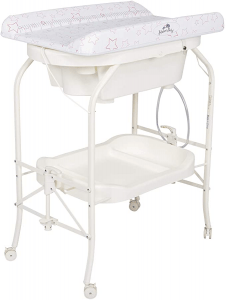 This Kindor Baby Bathinette is truly a unique product. The changing table is in the form of a bassinet, and you can covert it into a bathtub. Plus, it's foldable!
Pros:
2-in-1 changing table and bathtub
Foldable
Includes a large undercarriage tray
Locking wheels
9. Carter's by DaVinci
Carter's by DaVinci is a line of nursery furniture by the furniture brand DaVinci. They offer cribs, swivel gliders, toddler beds, and more. All of their furniture uses quality New Zealand pinewood to make sure that they remain sturdy and long-lasting.
Our pick

: Carter's by DaVinci Colby Changing Table in Grey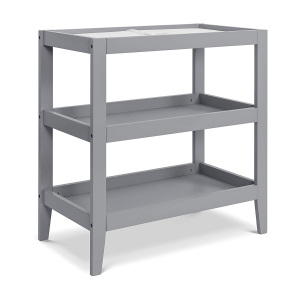 Carter by DaVinci's Colby Changing Table is simple but durable. It is available in grey or white, both using non-toxic finishes. For safety, it includes a one-inch waterproof pad and an anti-tip kit.
Pros:
Storage shelves
Non-toxic finish
Changing pad included
Includes anti-tip kit for added stability
10. Sorelle
Sorelle offers a variety of furniture that can suit your nursery, like cribs, dressers, changing tables, or a combination of the three! Their products are all in a classic style and built to stay durable.
Our pick

: Sorelle Berkley Dressing Table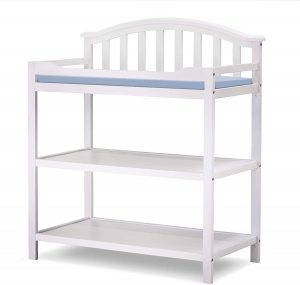 This changing table provides a comfortable and safe surface for your baby. It includes safety straps to keep your baby secure while you change them. The two shelves provide plenty of room for storage, and it's light enough to move around as needed.
Pros:
Storage shelves
Includes changing pad
Includes safety strap and buckle