Chicco car seats are some of the most reliable car seats on the market. Learn what you need to know about choosing a car seat and which Chicco ones are the best.
Shopping for a car seat for your baby can be a challenging and daunting task. After all, a car seat is the first place your newborn will rest once you walk them out of the hospital doors and introduce them to the world.
For the most part, baby companies make infant car seats easy to use–most car seats click in and out of your car at the base to seamlessly get your baby from the car to the house or stroller.
Chicco is a manufacturer that has excelled at making safe, reliable, and affordable baby products and car seats are no exception. Chicco has many quality car seats that meet changing safety standards and the evolving needs of parents.
Whether you want an infant car seat that you can transfer to your Chicco stroller or a convertible car seat that you can use for years to come, Chicco's got you covered.
We'll take an honest look at some of the best Chicco car seats to help you determine which one is right for you.
What to look for in a car seat
Before choosing a Chicco car seat, you have to be aware of what to look for in any car seat. Here are some basic things to consider when starting your search:
Be aware of what kind of vehicle you have and what type of car seat it can accommodate. Inspect your vehicle and read the owner's manual to know what car seats are compatible with it.
Look for something easy to install. You can have the safest car seat in the world, but if you don't install it properly, none of its safety features matter. Look for car seats that include simple, thorough instructions.
Determine how long you want to have this car seat. Most car seats have a lifespan of a few years, so you might want to invest in a convertible one that would grow with your baby. However, don't sacrifice safety for longevity–sometimes starting with a strictly rear-facing infant car seat is your best bet.
Do you want to be able to transfer your infant car seat to a stroller? Seek a car seat from a manufacturer that also carries compatible strollers to create a full travel system.
Always buy a new car seat rather than used or pre-owned. Safety standards continually change, so you want to have the latest models to ensure your baby's safety.
We know this seems like a lot, but Chicco carries car seats that check off most of these criteria, so they are a great manufacturer to browse when looking for a new car seat.
Best Chicco Car Seats
Chicco carries a variety of car seats and is constantly updating its products. We took a look at 3 of their best car seats and the features that make them reliable and unique.
1. Chicco KeyFit 30 Infant Car Seat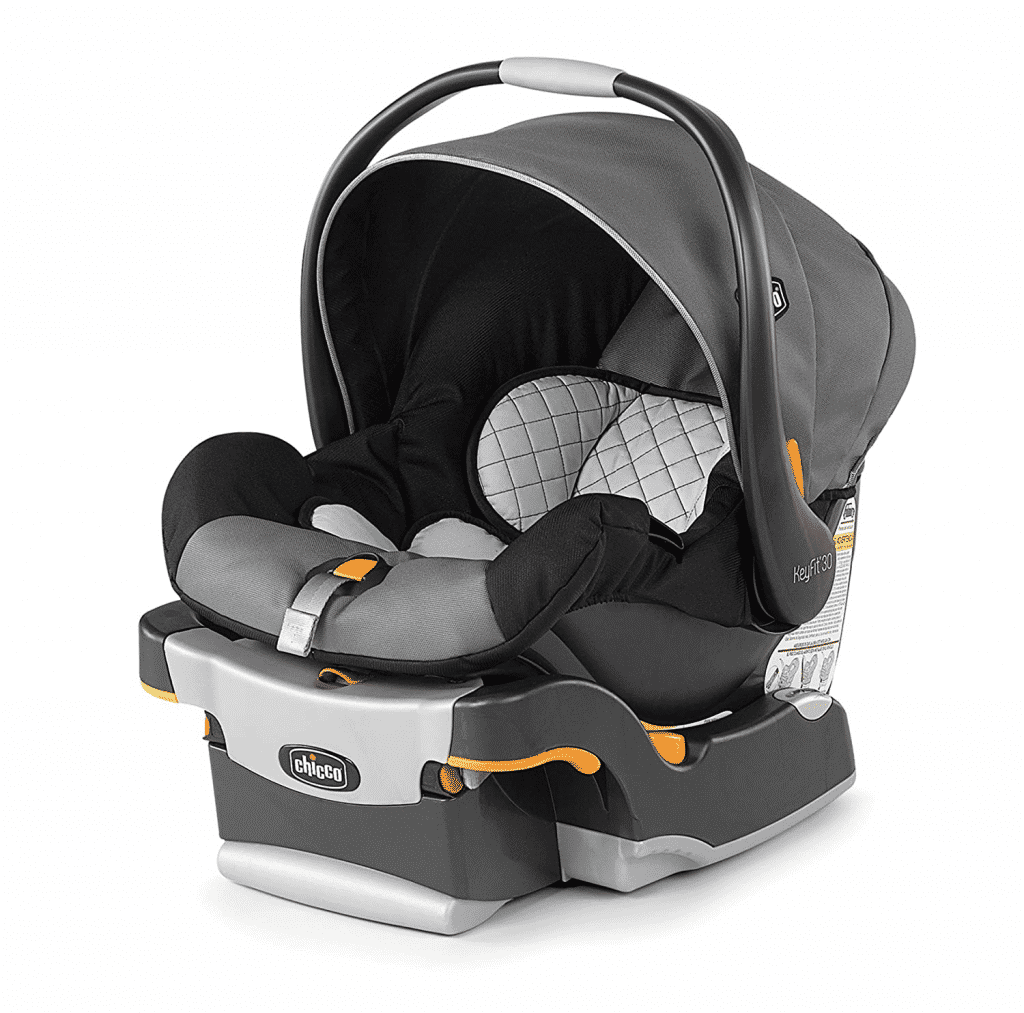 The Chicco KeyFit 30 is one of the most well-rated and reliable car seats on the market. This car seat is suitable for infants who are 4 to 30 pounds, and installation is simple, something that isn't common in car seats.
The car seat can be secured by either using UAS connectors or the seatbelt. Getting your baby in and out of this Chicco car seat is also easy with a 5-point harness that features a one-pull tightening and loosening strap centered near the back of the base.
Using the bubble level found on each side of the base, you can determine the best recline for your baby. Simply press the recline buttons while lifting the base, and the levelling foot helps you adjust the base to one of four levels.
The Chicco KeyFit 30 has a two-piece infant insert with a positioner and head insert to support newborns and younger infants. It features a retractable recline foot and is only 17 inches wide, saving some space in your back seat for other passengers.
The machine-washable fabric is plush and extra cushiony, lined with energy-absorbing foam. It comes with an infant pillow suitable for infants up to 11 pounds, perfect for giving your newborn some added support.
Chicco has had this car seat model for years, and it does not disappoint. Parents trust this car seat for its reliability and how simple it is to use.
Specifications:
Car seat weight: 17 pounds
Max weight recommendation: 4-30 pounds
Height range: less than 30 inches
5 point harness
2 position carrying handle
Bubble levels on both sides of the base
Adjustable recline
Pros:
Affordable
Narrow base
One-hand harness adjustment
Available in several colors
Compatible with Chicco strollers
Newborn positioner
SuperCinch Tightener
Easy Leveling
Thick-cushy padding
Includes canopy
Cons:
Rear-facing only
On the heavier side for an infant car seat
2. Chicco NextFit Zip Convertible Car Seat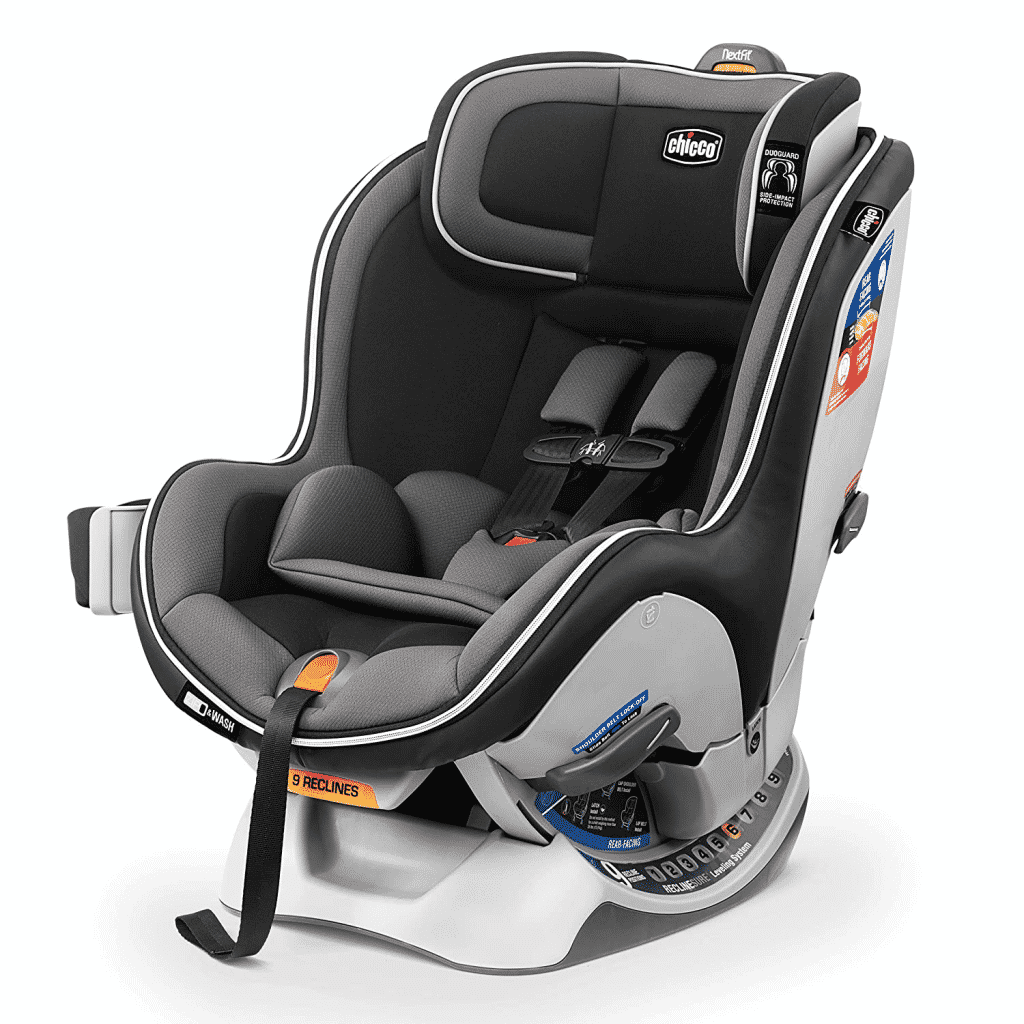 The Chicco NextFit Zip is part of Chicco's NextFit car seat collection and is perfect for accomodating any growing child and a dream for neat-freak parents.
Its great safety features, easy installation, and ability to convert from a rear-facing infant seat to a forward-facing toddler seat make it a tempting choice for parents.
This Chicco car seat features Duoguard padding with shock-absorbing foam for added security.
The removable newborn positioner and 9-point headrest allow you to customize the car seat as your child grows, and it's easy to transition the car seat from rear-facing to forward-facing.
The bubble-level meter will help you get the car seat to the perfect level for your newborn, and the 5-point harness will keep them secure.
What sets this Chicco car seat apart from the rest is its zipper. The seat pad zips off from the shell and is machine washable.
Cars get messy even without babies in them, so being able to easily remove the padding from this car seat whenever your baby spits up or spills something is an added benefit.
Specifications:
Car seat weight: 25 pounds
Max weight recommendation: 65 pounds
Adjustable recline
Includes strap covers
Removable and dishwasher safe cup holder
5-point harness
Pros:
Convertible
Zip-off padding for easy cleaning
Steel-framed
Full recline
Adjustable head support
Breathable backrest
Cons:
As it is more than an infant car seat, it is meant to stay in the vehicle, so it is not compatible with strollers and cannot be part of a travel system
At 26 pounds, this car seat is quite heavy
The seating pad must be air-dried
3. Chicco Fit4 4-in-1 Convertible Car Seat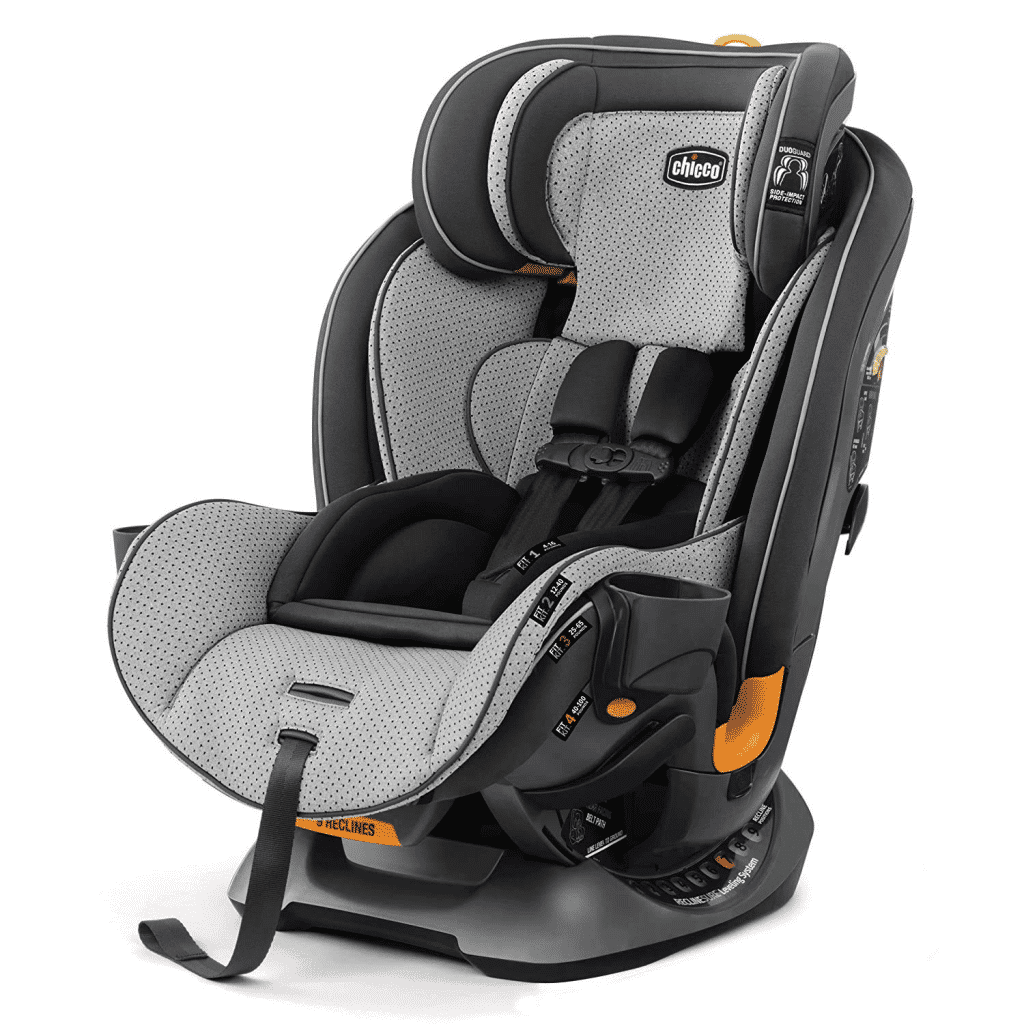 The Fit4 4-in-1 Convertible Car Seat is one of Chicco's newest car seats. An all-in-one car seat, the Fit4 is built to grow with your child and may be the only car seat that you'll ever need.
This Chicco car seat will support your child from birth to the big kid stage. Because it boasts a 10-year lifespan, this car seat can accommodate your child for a long time!
Chicco details the Fit4's use into four stages:
Infant: Rear-facing seat that reclines far back enough for infants who do not yet have proper head control
Toddler: Rear-facing seat that allows upright seating position
Preschooler: Forward-facing seat for once your child meets height and weight requirements
Big Kid: A booster seat for when your child demonstrates the maturity to remain seated correctly in the car
The Fit4 includes a 4-stage Fit Kit system that features easy-to-remove layers to customize the seat to your child's growing body.
This Chicco car seat also features a 10-position adjustable headrest and nine recline positions to accommodate your child through each stage of growth.
The Duoguard protection provides two layers of protection and a steel-reinforced frame with energy-absorbing foam that surrounds your child's body through every stage.
Specifications:
Car seat weight: 18 pounds
Max weight recommendation: 100 pounds
10-year lifespan
Multiple-recline position
SuperCinch LATCH tightener
LockSure belt-tightening system
Pros:
Convertible
High weight capacity
Available in several colors
Duoguard side-impact protection
Cup holders on each side – removable and dishwasher safe
QR code from which you can easily access this seat's instructions anytime
5-point harness that stores in the shell when in booster mode
SuperCinch tightener with push-on LATCH connectors
Cover and inserts are machine-washable
Cons:
Just like the NextFit Zip, this Chicco car seat is not portable and cannot be added to a stroller
Can take up a lot of space depending on the position of the car seat
Chicco Car Seats – Final Thoughts
Chicco has been keeping babies safe for decades, and their products have parents coming back over and over again.
Chicco carries many car seats that satisfy the needs of every parent while keeping babies safe and happy.
Affordable and reliable, you won't regret investing in a Chicco car seat for your baby. Consider adding a Chicco stroller to your baby gear to complete your baby travel system!