Learn about the features of the Graco Modes Click Connect Stroller, and whether it is the right stroller for you and your baby.
A good stroller is at the top of every soon-to-be parent's list. Strollers can cost a pretty penny and take up a lot of space, so you want to find one that is efficient and functional that will keep your baby safe, comfortable, and secure. The Graco Modes Click Connect Stroller is a stroller that fits these criteria and offers much more.
The Graco Modes Click Connect Stroller is not just a stroller, it's a full travel system. It is an infant car seat carrier, an infant stroller, and a toddler stroller in one. This stroller will grow with your family–it is suitable for your child from their infancy to toddler stage. With the different modes and their longevity, this stroller will become your child's new favorite chair!
The Graco Modes Click Connect Stroller has ten riding options for your child so they will always be comfortable no matter their mood or what size they are. You have the option of having your child face the world or face you while you push them around. Also, the removable child tray and armrest give your toddler the option of having their favorite sippy cup in reach or keeping extra room to stretch if they desire.
Below, we outline the specifications and best features of the Graco Modes Click Connect Stroller to help you decide whether it is right for you.
Specifications:
Stroller weight: 22.8 pounds
Max weight recommendation: 50 pounds
Reversible 4 reclining stroller seat
Removable child's tray and armrest
2 parent cup holders
Storage basket
Large canopy
One-hand fold
The Modes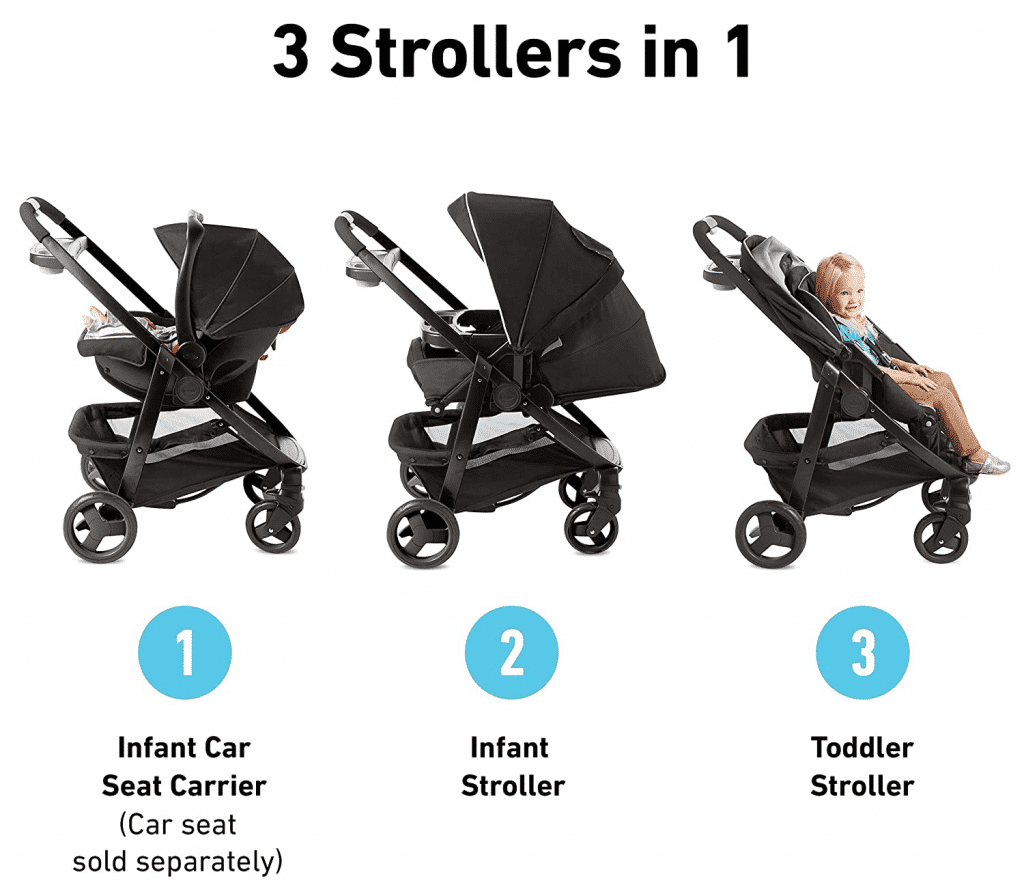 Infant Car Seat Carrier (3 Ways)
The infant car seat carrier allows you to seamlessly transfer your baby from the stroller to the car and back again with just one click. This stroller is compatible with all Graco infant car seats, including the SnugRide 35 Click Connect and Base, which are also great products we recommend checking out! The infant car seat attaches directly to the stroller's frame to create a lightweight travel system.
Infant Stroller (2 Ways)
The stroller seat reclines far back enough to turn it into an infant bassinet, which can be positioned as rear-facing or front-facing, depending on how you and your baby feel. Either way, the stroller seat includes a large canopy to shield your baby from the sun on hot days. There is also a convertible three- or five-point harness so that your baby is always secure.
Toddler Stroller (5 Ways)
Don't worry about your baby outgrowing this stroller too quickly! The Graco Mode Click Connect Stroller will accommodate your child to sit both front and rear-facing, even in the toddler stage (up to 50 pounds). The leg rest adjusts to three positions to comfortably accommodate your child's growing body.
The Features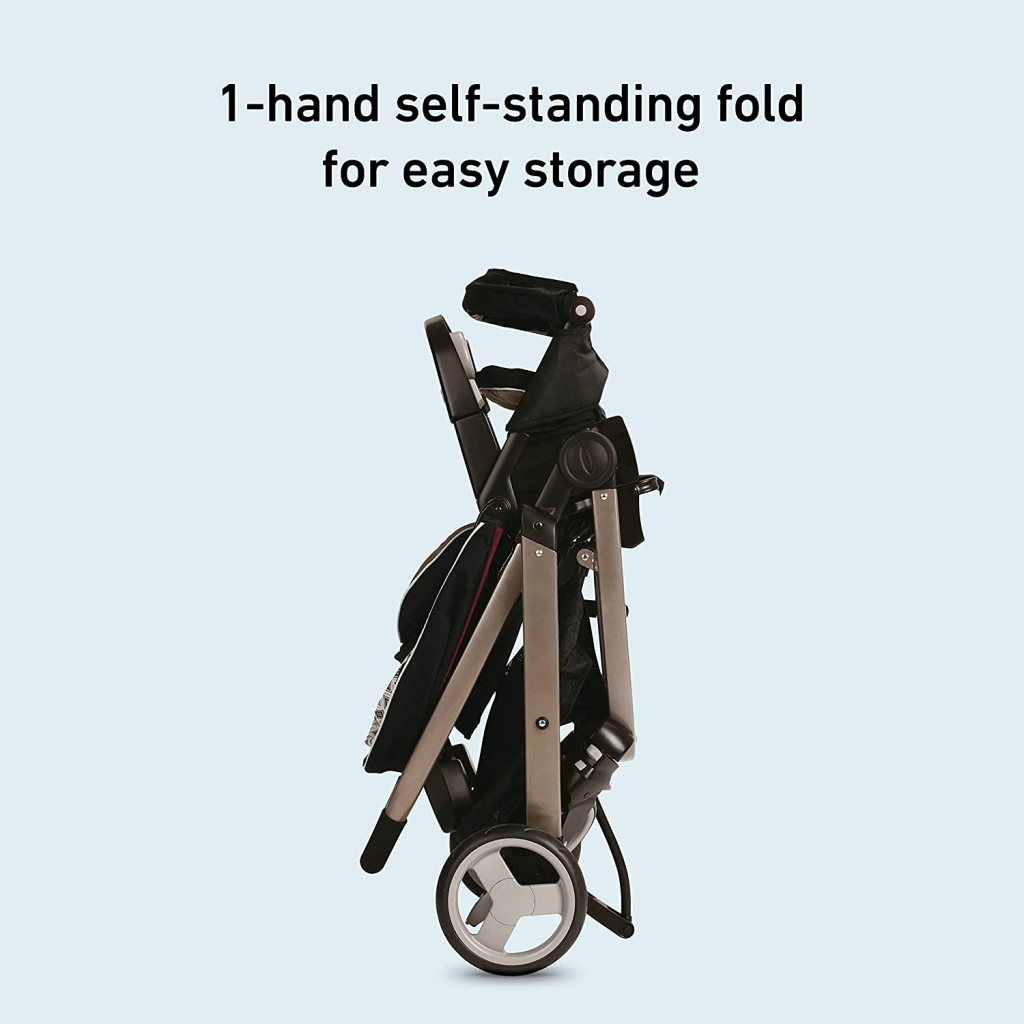 Beyond the functionality and versatility that comes with the 10 different riding options, the Graco Modes Click Connect Stroller boasts many other features to make traveling around town with your baby a smooth ride.
Features include:
Click-connect technology: No need to worry about waking up your sleeping baby! Simply click your infant car seat into place for a smooth transition from car to stroller.
Reversible stroller seat: You can have your baby facing you so you can keep an eye on them, or you can turn it to have your baby look at the scenery while you walk. Switch the seat position in seconds!
Parent and child's tray: The child's tray and armrest remove to get your child in and out of the stroller with ease. The parent's tray has covered storage where you can hide your keys or wallet and two cup holders for a cup of coffee and a bottle of water.
Convertible Harness: 3-point or 5-point harness to fit your baby's comfort level while keeping them secure.
One-hand standing fold: Includes an automatic storage latch that makes the stroller easy to pack up the stroller and go.
Locking front swivel wheels: Maneuver the sidewalks smoothly and easily lock the wheels for added security.
Large bottom storage basket: Keep all of the essentials that you and your baby need.
Recline: Recline the seat all the way to turn it into a bassinet. Adjustable to your baby's comfort and growing body.
Pros and Cons
The Graco Modes Click Connect is a great choice for any parent that wants a functional travel system. However, in case you are still on the fence about whether or not this stroller is right for you and your baby, we broke down some of the pros and cons:
Pros:
Versatile – 3 in 1 travel system
Affordable (under $200)
Grows with your family
The car seat can sit front-facing or rear-facing
Stroller seat is reversible
Child tray is removable
Folds for easy travel and storage
Cons:
Seat has to be facing the front position to fold; however, it takes very little time and effort to flip the seat around
A little bit bulkier than other brands, but that is to be expected considering all of its features
Some parents say that the front wheels squeak a little, but you can fix it with some oil
Only compatible with Graco infant car seats. That said, Graco makes reliable and affordable car seats, so you should consider one anyway!
Graco Modes Click Connect Stroller – Final Thoughts
If you value functionality over anything else, the Graco Modes Click Connect Stroller is for you. Convenient and versatile, the 10 different riding options will always have your baby comfortable and excited to face the world.
If you already own a Graco car seat, then this stroller is the natural next item to add to your baby gear collection. If you don't own a Graco car seat, considering adding that as well!