Learn why the Nuna PIPA Car Seat is a safe choice for parents and decide whether it's the best option for you and your baby.
As a parent, your number one priority when it comes to your baby is safety. You want to make sure that they're safe no matter where they are, whether that's at home or on the road with you.
Before your baby is even crawling, you make sure your house is baby-proof to ensure the safety and comfort of your baby at home, but you also have to think about the safety and security of your baby when in the car.
Nuna is a company that specializes in safe travel products for your baby. It carries various baby products but is most known for providing reliable travel systems consisting of a variety of strollers and compatible car seats.
Its products are also known for their sleek and stylish designs, so you and your baby will always look chic on the road.
Nuna's most popular car seats are from the PIPA collection. The PIPA collection currently includes five car seats that all have different features.
These car seats differ by weight, accessories, and installation and deserve their own merit. However, we will focus on the original Nuna PIPA car seat so that you may understand the basics as to what makes Nuna's car seats so desirable.
Keep reading to learn more about the Nuna PIPA car seat, why it's one of the most popular car seat options for parents, and whether it's the right car seat for you and your baby.
The Nuna PIPA Car Seat
Specifications
Car seat weight: 8 pounds without base, 21.4 pounds with base (weight does not include removable canopy or insert)
Car seat dimensions: 6 x w 17 x l 26.5
Maximum weight capacity: 4-35 pounds
Maximum height capacity: 32" in height
Five-point harness
Micro knit material
Hand wash and air dry
LATCH connectors and side-impact protection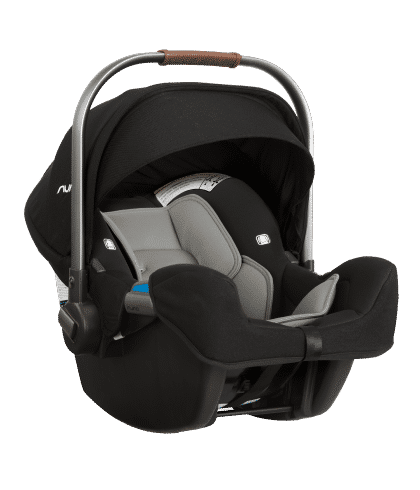 Features
The Nuna PIPA has all of the safety features that you seek in an infant car seat. One of the best parts about the PIPA is that it's easy to install, which is one of the most important features to look for in a car seat.
A car seat could have all of the newest safety features, but if you don't install it properly, those features are useless when they're tested.
The PIPA uses their True Lock system to install. The anchors are rigid and easily click onto the U anchors in your vehicle without much force.
They move up and down to make installation easy and give you the option of connecting them one at a time or in unison. The anchors release using a side button and they don't require any tightening.
If you can't find the anchor points in your vehicle, the Nuna PIPA comes with latch guides, which is a small plastic hook that you slide between the seat cushions to help you find the anchor points.
The car seat has a lock-off that makes securing the seat easier. The included PIPA base has a flip-out foot that can help stabilize the seat and a bubble level indicator to achieve the best angle for installation.
Once installed, adjustment of the seat is quite simple. You can adjust the shoulder height by rethreading the straps that attach to the backside of the seat. The seat has 3 height positions and 3 crotch positions.
The most unique feature of the Nuna Pipa car seat is its stability leg. The stability leg is meant to absorb impact and minimize force to the baby in case of a crash.
Combined with the side impact protection, you can rest easy knowing that, with proper installation, your baby is safe in this car seat.
Newborn insert: Use the included newborn insert to help ensure that your infant comfortably fits in the seat, no matter how small they are. Nuna recommends removing the insert when your baby reaches 11 pounds.
Flame-retardant fabric: In case the worst does happen, your baby is extra protected as each element of this car seat is both impact-resistant and contains no added fire retardant chemicals.
5 Second True Lock Installation: Makes set-up quick and simple
Can be installed without base: Easily install this car seat with just a seat belt. This is great for parents that use public transportation or when they need to take a taxi with their baby.
Aircraft approved: Fits FAA requirements.
Removable canopy with Dream Drape cover: Canopy is UPF 50+ with a pull-out cover that attaches to the foot of the carrier. The canopy has a mesh peek-a-boo window so you can see your baby while pushing them in their stroller.
Greenguard gold certified: Certified for low emissions.
Thicker than average padding: Making sure that your baby is both safe and comfortable.
Pros and Cons
If you're still not sure if the Nuna PIPA car seat is right for you and your baby, here are some pros and cons of the product to help you decide:
Pros:
Illustrated Instructions: Car seats can be difficult to install, and illustrations help make installation easier. Fortunately, the Nuna PIPA user manual includes clear illustrations, making installation simple without having you second guess yourself.
Easy to install even without base, not always a given with car seats.
Low minimum weight: This makes this car seat safe and ideal for premature babies. It comes with an infant insert to adjust it for your newborn. Nuna also suggests adding blanket rolls on both sides of the infant for the safe transport of low-weight babies.
Nuna PIPA car seats are compatible with strollers from other brands, with or without an adapter. This is great if you already have a stroller and just need a car seat, or if you want a second car seat. The Nuna PIPA pairs great with UPPAbaby strollers–another reliable brand for car seats. Some compatible strollers include:
Cons:
Pricey: The Nuna PIPA car seat is priced at around $300, with the price of the other car seats in the series being more. The Nuna PIPA is one of the pricier car seats out there, and although the safety features are nice, if you don't think you need all of them, it might be worth looking for a more affordable car seat
Headrest is not adjustable: Although not always necessary, an adjustable headrest can help accommodate your growing baby.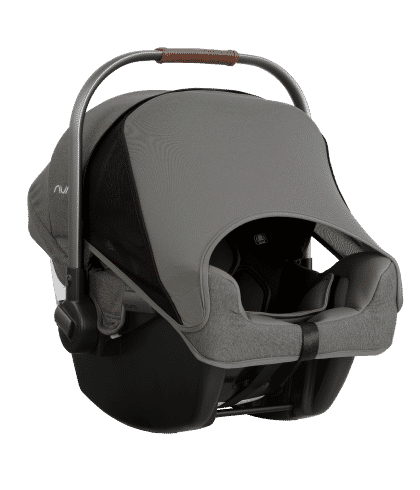 Other Products
If you do decide the PIPA car seat is right for you, Nuna has many additional accessories that you can purchase to make the car seat even more versatile.
One option Nuna offers to customize your Nuna PIPA is purchasing the new Nuna PIPA RELX base.
According to Nuna, the PIPA RELX base features an adjustable stability leg that "fits in the center seating position in a wide range of vehicles," and it has colored indicators to guide you for installation.
It also features a bubble-free, numbered, on-the-go recline, with more recline positions, so that you can adjust the car seat's position as your baby grows without having to fully uninstall the base.
Other available accessories include:
PIPA series rain cover for when your stroller is caught in the rain
GOTS certified organic cotton fabric & dye insert to give your baby added comfort
Wheeled travel bag to make the PIPA car seat more convenient for travel
PIPA series car seat adapter for UPPAbaby Cruz V2 and UPPAbaby Vista V2 strollers (only compatible with newer strollers–2015 and later)
The PIPA series has 4 other infant car seats as well, so if you are looking for additional features, you may want to take a look at PIPA's other options:
Nuna PIPA Lite
Nuna PIPA Lite LX
Nuna PIPA RX
Nuna PIPA Lite R
The Nuna PIPA Lite and LX come with the original PIPA base, but the RX and Lite R come with the new RELX base. Both bases can be used with any of the PIPA car seats. However, not that NOT all of the car seats in the PIPA series can be installed without a base.
Nuna PIPA Car Seat – Final Thoughts
Overall, the Nuna lives up to their good reputation with the PIPA car seat. The Nuna PIPA car seat is a great choice for parents who prioritize the safety of their babies in all aspects of life but are especially cautious while driving.
Its compatibility with various car seats will give you a reliable travel system that will make taking your baby on the road easy.
Although it's a little pricey (remember, you can always put it in your Amazon Baby Registry!), you can't go wrong with the PIPA's safety features, which help ensure your child has the best protection no matter what happens. The stylish design of this car seat is only an added benefit, making this a great car seat for your baby's first year in the world.