It's a common misconception that pillows are unsafe for babies. Contrary to popular belief, from age one and a half and up, a baby is fit to use a pillow. Just like parents, babies also need to support their head and neck during sleep.
Pillows need to have the right filling and be the proper size for babies so that it is not too thick but still soft to sleep on. It is even better if the pillow is hypoallergenic since kids are prone to allergies as their immunity is still developing. When shopping, ensure you go for the best possible toddler pillow.
Best Toddler Pillows
This buying guide will cover the six best toddler pillows that you can find on the market. They are a perfect size for toddlers, made of premium quality, and are durable to give your toddler a comfortable, sound sleep.
 This is a hypoallergenic baby pillow that comes with a pillowcase. The pillow is a standard soft pillow that can fit in a crib well.
It is an excellent starter pillow as it is recommended for babies under the age of two. It is flat, fluffy, and at the same time wide and not too thick.
The pillow has been filled in such a way to support the baby's head, neck, and spine well. Its material comprises 100% super soft cotton with a poly cluster fiber filling, which is also safe for the baby's face.
It's also easy to wash in the event of an accident. The Biloban pillow comes with a lifetime guarantee and a money-back guarantee.
Product Information
Package Dimensions: 8.8 x 7.4 x 3.4 inches
Product Weight: 9.4 ounces
Pros
The pillow is hypoallergenic
It can be used as a starter pillow by babies under the age of two
The Biloban pillow is made of 100% super soft cotton with a poly cluster fiber filling
It is easy to wash
When you buy it, you get a lifetime warranty and money-back guarantee
Cons
Some users found it to be super thin and flat
If you are hunting for an ergonomic pillow, this is the right choice for you. With its ergonomic design, toddlers can have the proper spinal support without compromising comfort.
Both the pillow and pillowcases are made of organic cotton, which is safe for both newborns and toddlers. The material used is not only safe but also ultra-soft and breathable, hence suitable for all seasons.
It has exciting prints that are unisex, and your child will love it. The size is perfect for the crib and also for travelling.
Product Information
Product Dimensions: 16.18 x 12.72 x 3.9 inches
Product Weight: 10.2 ounces
Pros
The pillow is ergonomically designed to give the spine the right support
It is made of 100% organic cotton
It is easy to wash and machine-wash friendly
The pillow is perfect for both home use and travels
Cons
Some users complained that the pillow shrunk after washing
For some users, it was overstuffed
This is a lovely pillow with a super soft, 100% certified organic cotton shell that is hypoallergenic to give your baby the right support and a chemical-free sleeping experience.
The Little One's Pillow has been specially designed with chiropractors and pediatricians to ensure that it is safe for your little one. It has the right balance such that it is thin but, at the same time, fluffy for a comfortable neck.
What's unique about this company is that it can customize the pillow according to your toddler's needs.
This pillow is easy to clean and machine washable in the event of any spills or accidents.
Product Information
Product Dimensions: 18 x 13 x 3 inches
Product Weight; 8 ounces
Pros
It has an organic shell and fiber filling
The pillow is hypoallergenic
It has been designed with pediatricians and chiropractors to have the correct balance between the size and filling
The manufacturer gives you the option of getting a customized size
It is easy to wash
Cons
Some users complained that it got flat and lumpy after a wash
[/joomdev-wpc-cons][/joomdev-wpc-pros-cons]
The Utopia Bedding Toddler Pillow comes as a set of two toddler pillows that are both soft and firm to ensure your toddler has a sound sleep.
It is characterized by a 250-thread count, which is an indication that it is durable. The cover is made of 100% cotton for both comfort and durability.
The set has been made such that it is machine washable hence easy to wash.
Product Information
Product Dimensions: 4 x 10 x 16 inches
Product Weight: 1.6 pounds
Pros
It comes as a pair of two pillows, which is convenient
The pillow has a 250-thread count making it durable
It is both fluffy and firm for more comfort
The Utopia bedding is easy to wash and machine-washable
Cons
Some users found them to be too flat
The Dreamtown pillow is made with a USA quality blend of cotton and polyester that ensures that it is cost-effective and easy to wash without the worry of shrinkage. Though many parents prefer 100% cotton, it tends to shrink after being in the wash.
This toddler pillow has been tested and recommended by a chiropractor to ensure that it is the perfect size for your toddler. Although it has been tested to ensure it is safe for your toddlers, it is not recommended for kids under two.
The pillow has a dense, but soft, fibre for excellent neck support. Both the pillow and its pillowcase are 100% hypoallergenic, mildew, and mould resistant. It has also been tested for heavy metals and chemicals and certified by CPSC approved labs.
Product Information
Product Dimensions: 16 x 12 x4 inches
Product Weight: 9.6 ounces
Pros
The pillow consists of a poly/cotton blend that is easy to wash and does not shrink
It is the perfect size for a toddler and has been tested by chiropractors
The pillow is dense but at the same time soft for generous neck support
It is hypoallergenic, mold, and mildew resistant
It has been specifically tested for heavy metals and chemicals
Cons
The pillowcase isn't as soft to the touch as the 100% cotton options
It has more of polyester than cotton
The Little Sleepy Head Toddler Pillow is characterized by its hypoallergenic components. It's safe for your babies and made with a polyester cluster fiber fill and covered with 100% soft cotton fabric. The fabric has 200 thread count to ensure durability, even through multiple washes.
The design keeps your baby's neck completely supported and slightly elevated for spine alignment and the size is perfect for toddlers. The pillow is not too fluffy or too flat, and it holds its shape over time, even with constant use.
The pillow is machine washable in any cycle, making it easy to clean after spills or accidents.
Product Information
Product Dimensions: 13 x 18 x 4 inches
Product Weight: 6 ounces
Pros
It is hypoallergenic and safe for your baby
The pillow is characterized by a polyester fiber fill and soft cotton cover
The case is durable with its 200 thread count
The pillow is dense and soft and a perfect balance between fluffy and flat
It is machine washable
Cons
It does not come with a pillow case
Buyer's Guide
All of the above pillows would make an excellent choice for your toddler. If you are indecisive on what choice to make, then this part of the guide will help you come to a conclusion. Here, we'll discuss the key factors that separate the best toddler pillows.
Best Hypoallergenic Pillow for Toddlers: Even if your kid does not have allergies now, they can develop them in the future. Having a hypoallergenic pillow is a great way to avoid potential future reactions. Though many of the pillows for toddlers on our list are hypoallergenic, the Dreamtown Kids Toddler Pillow comes out on top due to its hypoallergenic, mildew and mold resistant properties.
Pillow That Comes as a Set of Two: Most pillows come as a single but getting one that comes as a pair is even better as you can use them interchangeably. The Utopia set comes as a set of two for added convenience.
Most Durable Pillow: When it comes to quality and durability, we base our judgment on the thread count. Among the six, the pillow with the highest thread count is the Utopia pillow set, with a thread count of 250, making it the most durable and long-lasting choice in our review.
Pillow That Can Be Customized: Some toddlers will require special attributes in their pillow. Out of the six pillows we reviewed, the one company that gives you an option for customization is the Little One's Pillow. With this pillow, you can customize it according to the baby's needs.
The Most Budget-friendly Pillow: When we compare the price of the toddler pillows on our list, theUtopia pillow set is the cheapest.
Our Overall Recommendation: Although all of the pillows in our review are excellent, we would recommend the Utopia Pillow set for most toddlers. It comes as a set of two and has a high thread count, making it durable and affordable. It also gives you the best bang for your buck.
Best Toddler Pillow Materials and Support
Now that we've taken a closer look at what separates the best toddler pillows, here, we'll go over the general aspects to consider when choosing a pillow for your toddler.
The Material Used: The material used is crucial as it determines how soft the pillow will be, its resistance to mold or mildew, and allergens. The material used will also determine how long the pillow will last you.
It would help if you went for a hypoallergenic pillow even though your kid may not be sensitive to stimulants.
There is debate on whether pure cotton or polycotton is better. Pure cotton is ideal for toddlers, because it's generally free of chemicals. A downside to 100% cotton, though, is that it shrinks with time. On the other hand, polycotton does not shrink, but it may not be as soft and comfortable as a 100% cotton pillow.
When looking at the material, also consider the thread count as that determines its durability. The higher the thread count, the better.
Pillow Filling: Pillows can have various fillings, such as polyester fiber, feather, buckwheat, and hemp. It is better for toddlers to stick to pillows that have a foam or synthetic filling to protect them from allergies.
Feathers and other materials are good choices but are suitable for grownups since they have allergy triggers and are hard to clean.
Support: The main aim of buying the pillow is to give additional support to the neck. That means that the right pillow should not be too firm or too soft but at the same time comfortable. Some parents perceive fluffy pillows to be better, but once you wash, it is likely to become lumpy.
Size: When you are shopping for a toddler pillow, you will notice that they are smaller than average to accommodate little heads. They are mostly 13 by 18 inches.
Conclusion
As much as pillows are suitable for toddlers, they should not be introduced earlier than necessary. If they are, then they expose the baby to a risk of SIDS and suffocation. The baby can also use it as a stepping stone to climb out of the crib, which may be hazardous.
When looking for the perfect pillow, you must compare different pillows to find the ideal match.
If your baby is not into pillows, do not force them. The longer they can wait before starting to use one, the better.
The right pillow will not interfere with the development of the spine and posture of the baby. You should always check the recommended pillows for babies.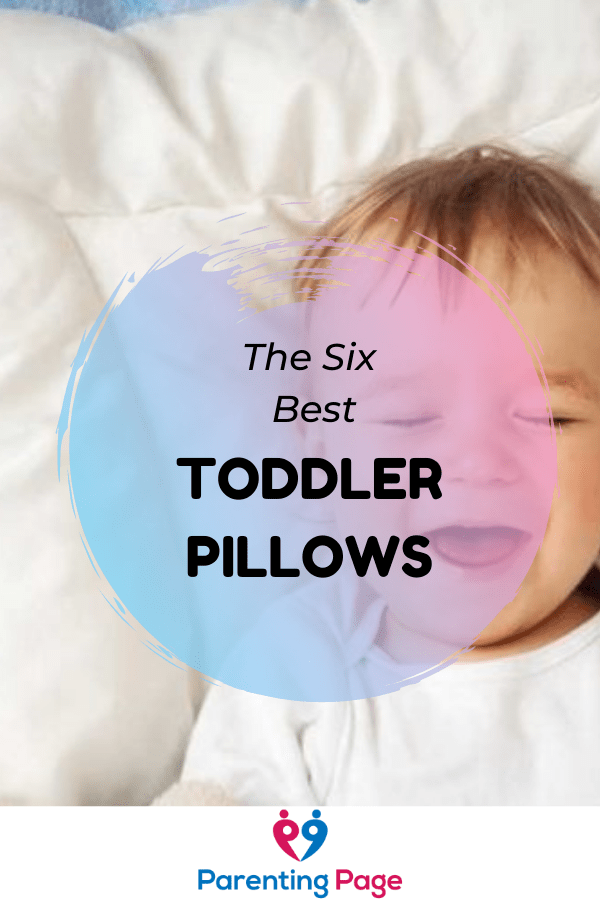 As an Amazon Associate I earn from qualifying purchases.