Learn why Chicco should be on the top of your list when considering a new stroller for your baby.
You need a good stroller if you plan on bringing your baby anywhere with you. They'll be spending so much time in the stroller that you want to make sure that they're comfortable at all times. It's also important to choose a stroller that works for you as the parent–it has to be functional and have all of the right features to make your day trip with your baby go as smoothly as possible.
When choosing the right stroller for your baby, you want to go with one from a reputable company that's known for its safe, high-quality baby products–especially their travel systems. Chicco is one of those companies.
Chicco is a well-known baby brand whose motto is "to help babies feel safer, comfortable and happy." These are all things you want your baby to feel when they're traveling on the road with you in their stroller. Chicco carries many baby products, from high chairs to car seats, but their strollers are especially popular.
Chicco strollers are a popular choice for parents for their reliability and affordability. Durable, lightweight, and durable, Chicco carries many strollers, so you're sure to find the best one for you and your baby.
Read on to learn about what to look for in a stroller and discover the different options that Chicco offers.
What to Look For in a Stroller
Before beginning your search for a Chicco stroller, you have to be aware of what you're looking for in a stroller. Every parent has different needs, so you may have some unique features that you are looking for in a stroller.
Here are some basic things to consider when choosing a stroller:
How old is your child: If you're still expecting, you may want to consider an infant stroller. If your infant is quickly growing, you may want to wait and get a stroller that will last them longer.
How big is your child: No matter the age of your child, most strollers have a weight and height capacity. They may even have a minimum weight requirement, meaning they might not be safe if your baby is a preemie.
How long do you hope to keep your stroller: Some strollers can last you from when your child's a newborn until they're a toddler, which are great options if you value longevity.
Where will you be bringing your baby when using this stroller: Will you use your stroller to bring your baby shopping or for long walks or even jogs? The answer can determine what kind of stroller you should seek.
What will you need to keep in the stroller: Babies require a lot of supplies, so you want to make sure that your stroller is a suitable size to store everything you need. If you only ever use your stroller for short walks, you can maybe get away with an umbrella stroller. But if you plan on taking day trips with your baby, your stroller will need additional compartments and a large storage basket.
Will this be an everyday stroller or only used for traveling: If you plan on using your stroller mainly for traveling, you'll want to choose something compact that can easily fit in the overhead compartment of a plane.
No matter how you answer these questions, Chicco has a stroller that's suitable for your needs!
Best Chicco Strollers
Now that you know what you're looking for in a stroller, you're ready to browse Chicco's extensive collection! To help you out, we've compiled a list of some of Chicco's best strollers to suit the needs of any type of parent and their little one.
1. Chicco Mini Bravo Plus Lightweight Stroller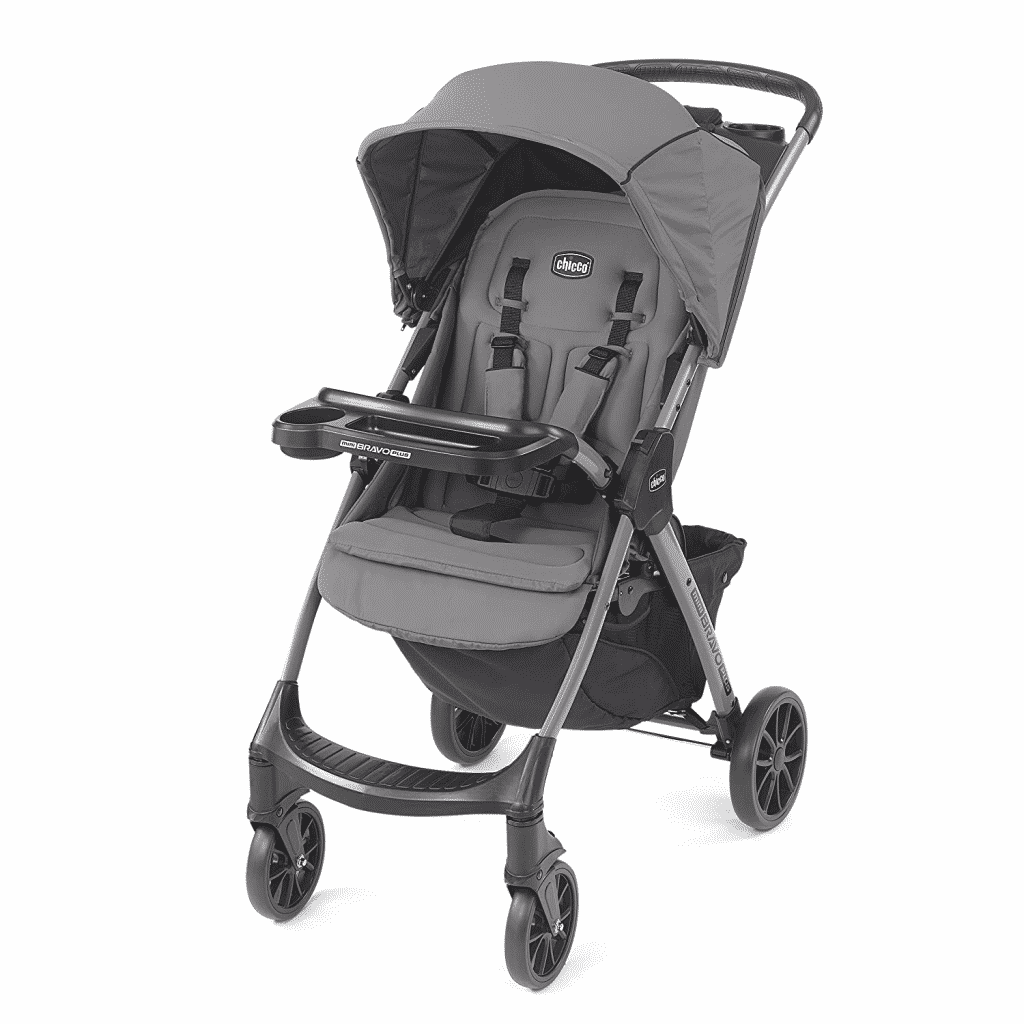 Age Range: Babies who can sit up unassisted (around six months) and toddlers up to 50 pounds
The Chicco Mini Bravo Plus Lightweight Stroller is a lightweight stroller worth all of the features it includes. This stroller is a great choice for parents who want a fully functioning stroller but are looking for something just slightly lighter. With a parent tray, a baby tray, and zippered storage, this stroller is easily able to comfortably carry your baby and everything else you need for the day.
This lightweight stroller also accepts infant car seats, which easily click into place. Designed for on-the-go convenience, this stroller will make any outing with your baby much easier.
Specifications:
Stroller weight: 19.6 lbs
Max weight recommendation: 50 pounds
3-position reclining backrest
Parent tray
Child tray
Toe-tap break
Pros:
Canopy is vented and extendable
Easy-grip handles
The stroller stands on its own when closed
Zippered storage so nothing falls out
2. Chicco Activ3 Air Jogging Stroller, Q Collection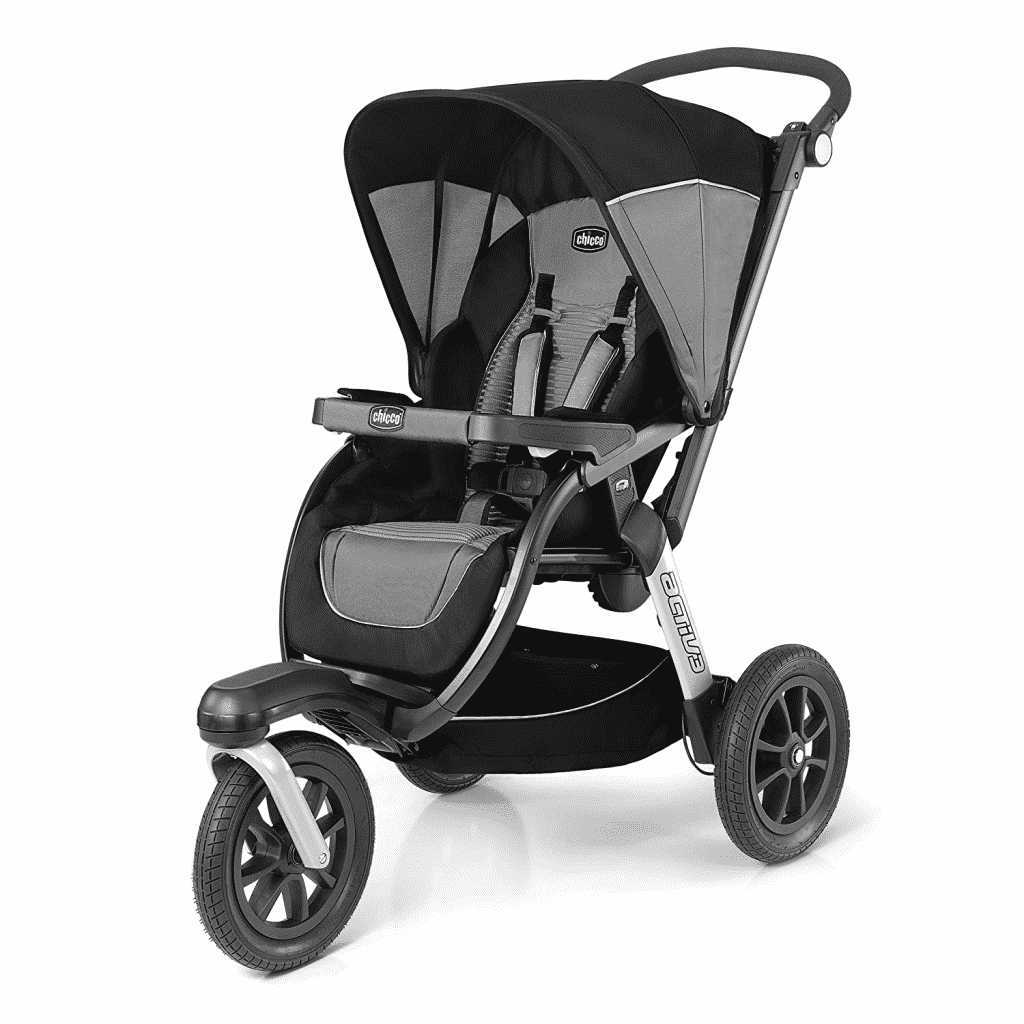 Age Range: Newborns and toddlers up to 50 pounds
The Chicco Activ3 Air Jogging Stroller is the best option for active parents. The stroller features foot-activated adjustable FlexCore suspension that's good for multi-terrain so you can take your baby with you on your favorite jogging path.
The stroller features a multi-positional reclining seat and 3D mesh backrest for ventilation to ensure that while you may be sweating, your baby remains dry and comfortable. The break can be locked and unlocked from the parent control console, and you can fold it using only one hand for easy storage.
Use the included removable head and body support to accommodate your newborn. You can also purchase the Chicco KeyFit 30 or Fit 2 car seat to turn this stroller into a full travel system.
Specifications:
Stroller weight: 19.6 pounds
Max weight recommendation: 50 pounds
Parent tray
2 cupholders
Multi-position recline
Pros:
Suitable for newborns
Foam-filled tires with adjustable Flex Core suspension
Great for jogging
Large canopy
Large storage basket
Breathable backrest with 3D mesh
One-hand fold
Adjustable handle
3. Chicco Liteway Stroller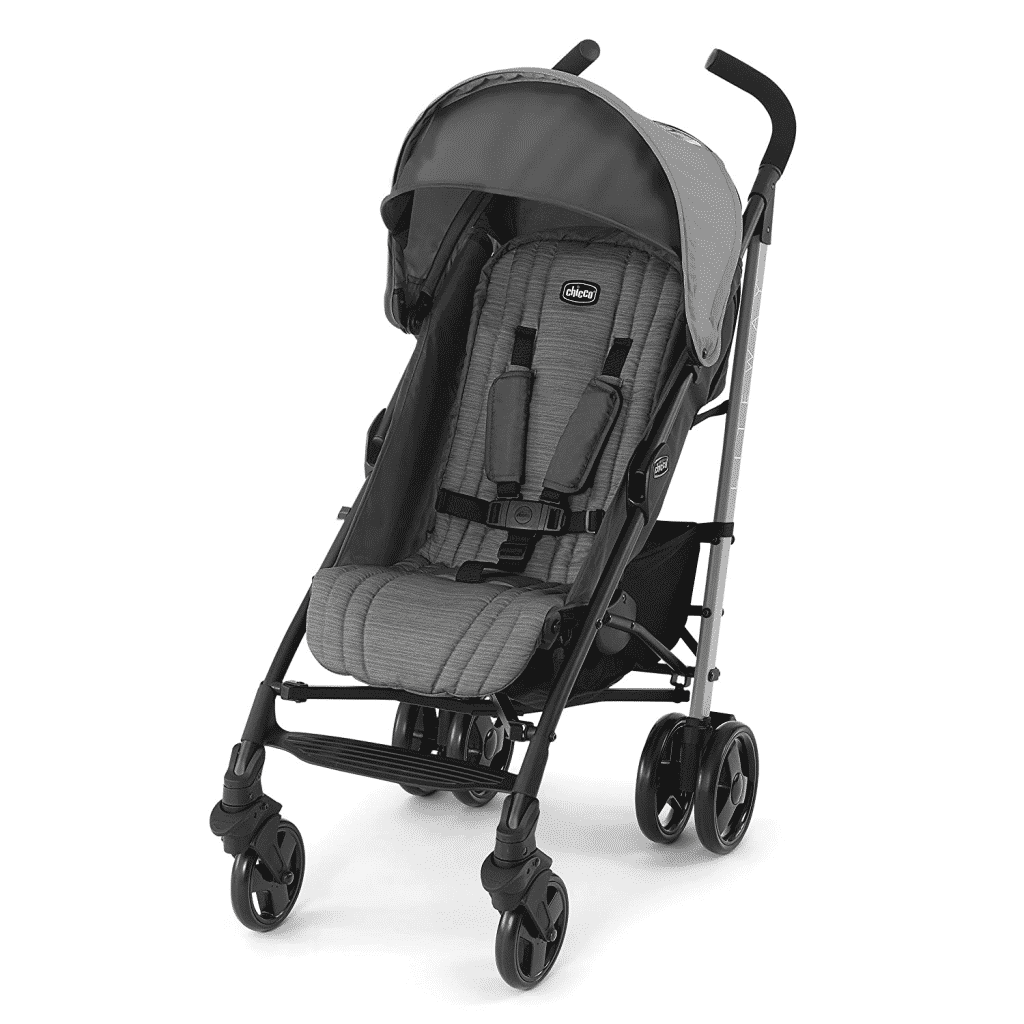 Age Range:  Babies 6 months to toddlers up to 40 pounds
The Chicco Liteway stroller is another lightweight option to push your baby in. Although this stroller is light thanks to its aluminum frame, it still carries all of the features you need in a stroller, such as a storage basket and parent cup holder.
The compact size of this stroller makes it easy to fold, and the carrying handle allows you to carry the stroller in one hand and your baby in the other! The stroller adjusts to 4 recline positions to help ensure your baby's comfort as they grow, and a canopy that you can remove if you want less of a barrier between you and your child.
Specifications:
Stroller weight: 18.8 pounds
Max weight recommendation: 40 pounds
Lightweight aluminum frame
Removable canopy
Toe-tap rear brake
Hand wash and air dry
Pros:
Compact fold with automatic storage latch and carry handle
Adjustable leg rest
Padded handles
One-hand adjustment for backrest
 4. Chicco BravoFor2 Standing/Sitting Double Stroller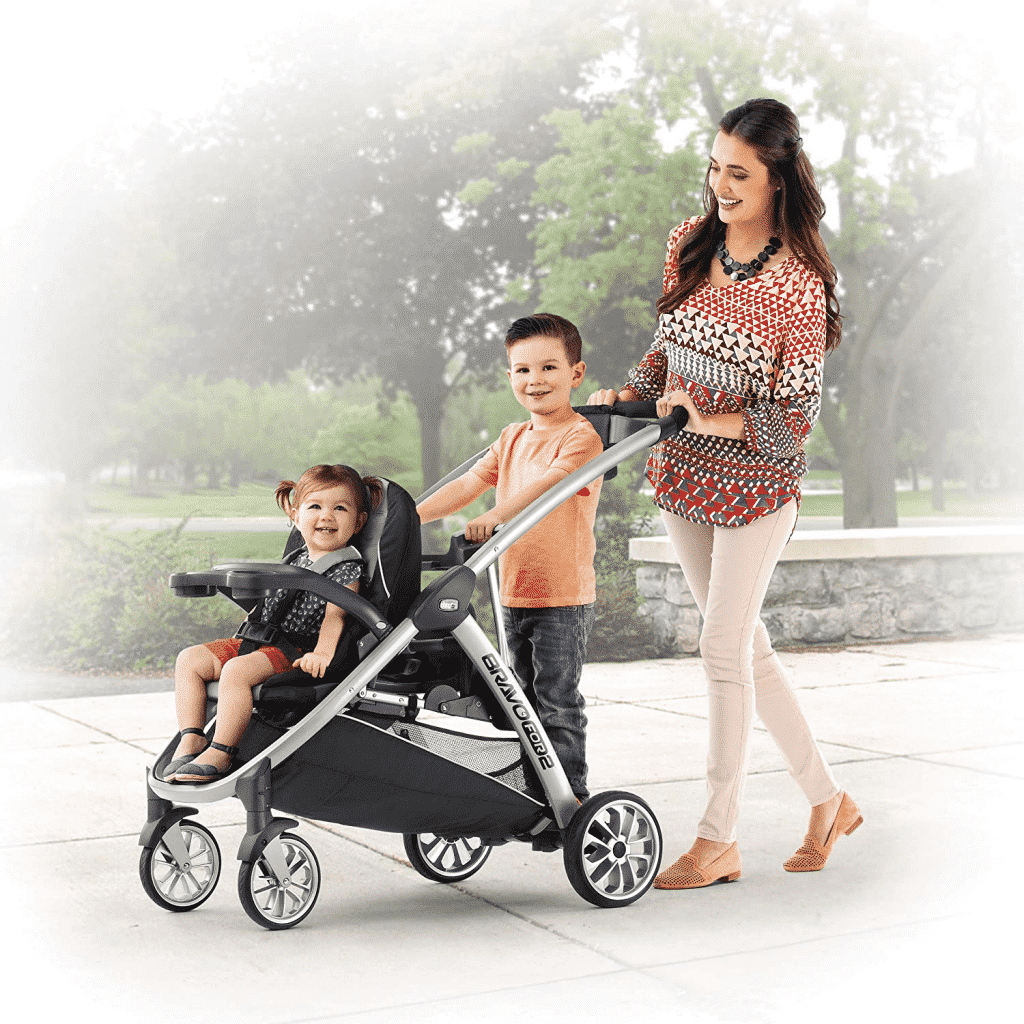 Age Range: Accommodate one baby 6 months and up and one toddler
Two can be trouble, especially when it comes to strollers. That's why Chicco created their BravoFor2 Standing/Sitting Double Stroller to accommodate your baby and their older sibling. The front seat is a typical stroller chair, while the backseat also has a platform for your older child to stand on. All this and the front seat can still fold forward to accommodate your infant car seat!
This stroller still comes with all the features you need, like a canopy, storage basket, and detachable child's tray, but the added feature of being able to push around an extra kid makes this stroller stand out from the rest.
Specifications:
Stroller weight: 29 pounds
Max weight recommendation: 30 pounds
Seating capacity: 2
Five-point harness in the front seat, 3-point harness in the back seat
Adjustable canopy
Detachable child tray
Parent tray
Pros:
Accommodates 2 children
Easy-grip handles and backrest on a standing platform to help ensure your child's safety
Ultra-compact quick fold with one hand
Storage basket AND kid's size storage
5. Chicco KeyFit Caddy Frame Stroller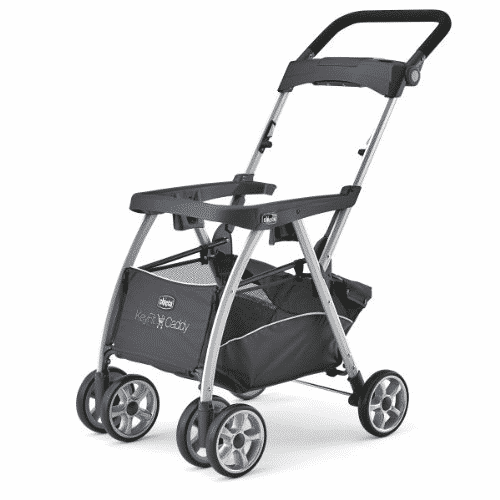 This Chicco KeyFit Caddy Frame Stroller is designed exclusively to fit the Chicco KeyFit 30 car seat to create a travel system, making it a great choice if you plan on using your KeyFit car seat most of the time for travel and don't want the extra weight of a stroller seat.
The KeyFit car seat easily clicks into place and easily folds with one hand, making storing it in your car a simple task.
Specifications:
Carrier weight: 11 pounds
Max weight recommendation: 30 pounds
Fits KeyFit 30 and Fit2 car seats
Parent tray with2 cupholders
Toe tap rear brakes
Pros:
Versatile
Lightweight
Affordable
Padded handle with 4 height positions
All-wheel suspension and a front swivel
Front and rear access for storage baskets
The Best Chicco Stroller – Final Thoughts
Chicco carries many high-quality and affordable strollers, which means the brand has something to fit every parents' needs. It also means that it may be hard to decide on one stroller! This list isn't exhaustive–there are more Chicco strollers to choose from, and they continue to update their collection with innovative strollers that evolve with safety standards.
Consider purchasing a Chicco stroller for your baby. They'll love you more for it!