As a parent of a newborn, it is normal to plan ahead and buy every cute thing possible – including a baby wrap. A baby wrap is one of the cutest, most comfortable things that you can purchase for your newborn.
That comfy, cool experience is what a high-quality baby wrap tends to give your baby as you lull it to sleep. In this article, we'll be reviewing the best baby wraps around that you can trust for your baby's comfort. This review and buying guide will cover six of the best baby wraps you can find on the market today.
Best Baby Wrap that's budget-friendly
It is not enough to just find a great-quality baby wrap, it is also important that it's easy on your budget and won't burn a hole in your pocket. The following review lists 6 high-quality baby wraps at low prices. Let's get started!
Aden Anais baby wrap remains one of the best baby wraps available. It works well by reinventing the cozy and secure feeling of the womb for your baby. This feeling actually helps do away with the sudden impulse from rousing the baby that eventually leads to a better sleep. In addition, it removes the necessity of having loose blankets all over the crib for a more secure sleep.
The baby wrap swaddle has adaptable tabs that provide a suitable fit for your newborn, and locks safely in place with a soft, quiet, hook and loop closure that won't disturb the baby. The rear of the baby wrap also opens to make changing diapers a breeze, without the need of unswaddling your baby.
Specifications
0 – 3 M
Animal pattern
Washable by machine
Weight of item – 1 Pound
Item dimensions – 11 inches by 8.7 inches by 2 inches
Pros
Seamless diapering
Varieties of size
Machine washable
Suitable for newborns of various sizes
Has an adjustable fit
Top-quality material
The Ziyunlong Baby Knit Sleeping Bag resembles the same feel of the uterus environment, giving newborns a wonderful sense of safety. Down the front of the wrap, you'll find a dual way enclosed zipper that won't catch on the baby. You can pull it up and down to create a broad space to easily replace your diapers.
You can easily carry this wrap and put it in a baby carrier. It's got a triangular cap that secures the head of the baby and keeps it warm and comfortable. It will definitely make a unique gift for parents of newborns. It's also fitting for baby showers, birthdays, and related events.
Specifications
Multi-color item – Pink, Green, White, Grey, Brown
Pros
Color does not fade even after multiple washes
Great as a baby gift
Machine washable and extremely strong
Anti-jump sleeping bag
Very soft to comfort your baby
A safe and unique baby item
The FindUWill Newborn Boys and Girls Receiving Blanket is one of the best options for your baby's security and wellbeing. It is woven with artificial cashmere which causes the item to remain incredibly tender and breathable.
The big bag scheme is suitable for chilly days and nights, as it secures your baby and prevents them from getting cold. It's also the best gift you can have for the babies of your friends and family. Because of its versatile design, this receiving blanket can be utilized as a sleeping bag and outfit. It looks extremely cute and you can always adjust the swaddling as you like. The sizes of the material reads 22 by 12 inches. It is useful for babies between 1 – 3 months.
Specifications
Unisex gender
Product dimension – 22 b 12
Product type – blanket, sleeping bag
Material – blanket and sleeping bag
Package includes – 1 X Baby Wrap blankets
Appropriate for 0 – 3 months old babies.
Pros
Great quality material
Cute, soft and warm baby wear
Arrives with instruction manual
Arrives with a unique gift box
Really easy to use
Highly fashionable and giftable
Cons
Not for babies older than 3 months
May be too big for some babies
The Cambria Swaddle wrap for newborns have Velcro straps that are quite durable with a tender cotton fabric. It's a nice item overall. It washes cool and the fabric remains tender to the touch so that your baby's skin is protected from harsh fabrics.
The fabric of the swaddle is also very lightweight so that your baby does not become overheated when they're wrapped up. Some users have reported that this baby wrap runs a little big, but overall it's of excellent quality, and your baby can always grow into it!
The super-soft and relaxing swaddle wrap lulls your child to sleep by mimicking the feeling of being snuggled by mom or held in the womb. The loop and hook fasteners fasten gently so that your newborn remains comfortable. The broad lower ports for the legs allow parents to easily and quickly change diapers.
Specifications
Multi-color – neutral gray, aqua gray, and hearts and flo
Neutral Gray 3pk
Fabric Variety – 100% cotton
Abstract pattern
Brand – Cambria
Product dimensions – 7.1 by 6.8 by 1.7 inches
Item weight – 8.8 ounces
Pros
Best gift for babies
Help keep babies warm and air permeable
Simple use and healthy hints
Toxic-free dyes and harm-free chemicals
100% certified natural cotton
Firmer, longer sleep
Cons
The Haakaa Baby Swaddle Sack Wrap has been designed to provide the comfort and feel of being held in mother's arms to a newborn.
Many baby wraps don't have leg holes for easy diaper changing. The Haakaa Baby Swaddle Sack Wrap not only wraps your child's arms in a snug position, but also has a bottom opening for easy access to dirty diapers.
Specifications
Size – 8.8 by 8.8 by 2.2 inches
Weight of item – 12.8 ounces
Manufactured by Haaka
100% natural cotton
Pros
Comforts your babe to sleep
Adaptable to machine wash
Cute and much easier to make use of
Easy to care for and durable
Ultra-soft fabric and high-quality zippers
Great quality material
Cons
Sizing may be too big
Swaddle may begin to fade after much washing
This knotted swaddle blanket was crafted with no snaps and zippers to reduce choking or pinching accidents. This lightweight and comfortable, sleeveless sleeping sack has been created to help your baby stay warm while reducing the chances of overheating.
The shoulder flaps facilitate seamless slip-on or slip-off to make those 3 AM diaper adjustments a breeze.
The Muslin Swaddle Blankets are made of a solo layer of complete cotton fabric feel which are tender on the delicate skin of your baby.
Specifications
0 – 3 months old babies
Color – Grey
Fabric Material – Cotton
Pattern – Star
Material composition – 100% cotton
Brand – Ely's & Co
Product dimensions – 5 by 5 by 0.7 inches
2 – 3 Pack Adjustable Swaddle
Pros
Very comfortable for the baby
Perfect design and fit for baby
Secure and sound
Soft and really cutes
Extremely Seamless to use
Top-quality organic cotton
Zippers at the rear help you change diapers easily
Cons
Blanket doesn't have any buckles
The Velcro is greatly rigid
Can be way stretchy
Buyer's Guide
Baby wraps provide comfort and warmth to a newborn child. Professionals suggest that wraps help the baby to stop crying, build a more unique flow between mother and child, and makes breastfeeding easier. In this section of the article, we'll be providing you with an in-depth guide to choosing the right baby wrap for your child.
Take Time to Research
Try and check out a number of baby wraps before you buy one. If you go in-store, check out a variety of them. As an alternative, you can join a babywearing forum near you to learn more about them.
The moment you narrow down what baby wraps you prefer, ensure you confirm that the size, height, and weight match the product specifications. Read the customer reviews and know what other people's experiences have been using the same baby wrap. Also, take time to go through the instructions manual.
Size Matters
Wraps often come in a variety of sizes. The size ranges from 2 – 9, the shortest and longest respectively. Be sure that you choose a size that will accommodate your baby, but won't be too tight or too loose.
Comfort
Every well-meaning parent wants their baby to be comfortable. Be sure to look for baby wraps that afford optimal comfort for your child. Try to find a balance between softness and thickness.
You'll want a baby wrap that keeps your newborn warm, but doesn't overheat. It should also be soft to the touch, so avoid itchy fabrics and opt for cotton materials.
Security
We all understand that safety is essential when buying a delicate baby item like a baby wrap. It's important to find a baby wrap that is reliable and safe.
Remember to keep an eye on your baby's actions. Look for signs of distress or squirming. A wrap should make your newborn feel secure – not fearful.
Affordability
One of the several factors you need to look at when choosing the right baby wrap for your child is the price. Of course, you should always put the quality of the material ahead of any other factor. In other words, price should not be the exclusive determinant in buying your baby wrap.
Usually, baby wraps are quite affordable, but a few other varieties can be ridiculously overpriced. As a result, you must balance both the pricing, your baby's needs, and the quality of the material, as well.
Versatility
Another thing you need to consider is how versatile the baby wrap is. You should consider how well a baby wrap will accommodate or "grow" with your child. Several other factors like the weight, texture, and the material of the baby wrap are also relevant in determining how adaptable your baby wrap is.
Some baby wraps are limited to serving just a single purpose. Yet, there are a few baby wraps that are multi-purpose. For instance, not all baby wraps are adjustable for nursing or breastfeeding babies. Yet, there are some that meet each of these needs while they still serve the general purpose.
Baby Wraps for Various Weather Conditions
There are a variety of baby wraps for use throughout all of the different seasons. There are some brands of baby wraps that are best used for chilly or cold weather conditions. On the contrary, some wraps are breathable, airy, and perfect for hot climatic conditions.
Not all baby wraps are suitable for all weather conditions. Look for baby wraps with woolly or thicker cotton material for during the winter months. For the summer, use a thin, breathable cotton baby wrap that won't overheat your child.
Final Thoughts
Finding the best baby wrap for your needs can seem like a daunting task. With so many options available on the market, it's difficult deciding on the best product. Keep in mind that not all baby wraps will be suitable for all weather conditions. Look for a baby wrap that uses soft, cotton, lightweight material for daily use.
If you plan to use a baby wrap for your child as they grow, be on the lookout for a versatile baby wrap that can accommodate newborns of all ages and sizes. We hope that our review helped you to find the best baby wrap for your newborn!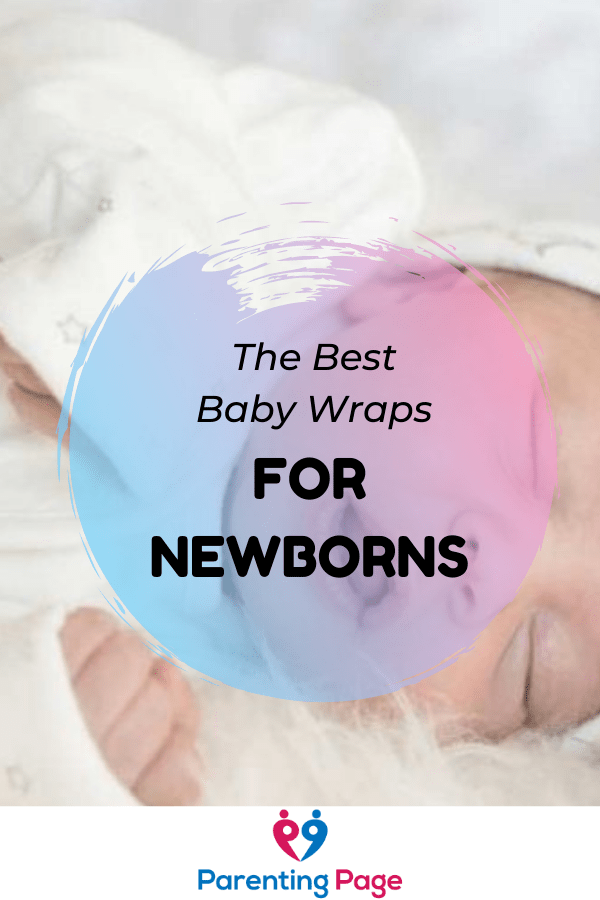 As an Amazon Associate I earn from qualifying purchases.