Baby strollers provide all the comfort and convenience you can have while on the go, which makes them an absolute must-have for parents. But this doesn't mean they have to be expensive! Choosing the best stroller for your baby can be a walk in the park if you know your budget, what you want and what you can choose from. So sit tight, relax and browse our collection of the best baby strollers of 2022.
When can babies use strollers?
The appropriate age for using a stroller varies from child to child. However, there is one constant. Before you contemplate putting your stroller in a sitting position, make sure your infant supports his or her own head.
Some strollers are meant to be used as a bassinet strollers from birth and in a fully relaxed position. Those that do not fully recline are typically not appropriate for babies under the age of three months. This is the age when your child no longer requires your assistance in holding their head up.
Remember that each infant is unique, and some will grow more slowly than others. When deciding whether or not your infant is ready to ride in a stroller, use your best judgment and those of your healthcare professionals.
Choosing the best baby strollers for your baby
Strollers come in different kinds and sizes. One of the most difficult decisions you'll have to take while creating your list is which type of stroller to acquire for your new baby. Your stroller will be among your most regularly used items of baby gear, whether you're strolling around the block or preparing for your next family trip. However, predicting what type of stroller you'll need and what features are vital vis a vis what you can go without can be difficult, especially when one considers all of the many stroller options available.
It is easy to be overwhelmed by all the options available for you to choose from. Have you ever gone shopping for a new car? Most parents compare it to that. And much like buying a new car, it pays to study everything you can about strollers.
Below are the major types of baby strollers, what to remember as you go around looking at strollers in showrooms, and the features available in the market today.
What to consider when buying a stroller for your baby
Finding the best stroller for your baby and your household is based on a variety of criteria. For a variety of reasons, including expense, durability, lifestyle, and even design, what fits one household may not work for another. It's critical to consider all of these factors before settling on the best stroller for you.
Remember to pick a stroller that will grow with your child while also meeting your needs.
Design
Manufacturers offer stroller products that are lightweight, all-purpose and some even perfectly designed for twins. The strollers called travel systems are also getting attention lately. These types of designs have their own purpose and it is important to know which one benefits you and your baby the most.
You also need to consider the colour of the stroller you want to buy! Usually, black ones are easier to clean and do not look messy immediately as compared to white ones that turn yellow over time. If you intend to save the stroller for, let's say, your third baby, white strollers may not be the best option for you.
Getting a stroller in a unisex colour may work best for those only on their first child and are planning to have maybe two or three kids. Let's say your first child is a girl and you purchased a pink stroller. You might regret it if your second or third baby is a boy.
Durability
Strollers can be expensive but if you manage to purchase a durable one, they will pay really well. You want something that will last you two or more babies even though you don't really plan to have that many. You may have future nephews and nieces you can pass the stroller to when you're done with it.
Besides, who wants a stroller that won't even see your own baby grow? Make sure the stroller you're going to buy will last past your baby's 4th birthday. Only then do you know you bought a durable one.
A stroller that breaks down before your baby can even walk is a failure!
Cost
The price of strollers typically baffles first-time parents. If you have the financial means, more expensive strollers will frequently have superior suspension systems and better mobility, as well as higher-end materials and colour options, and modular seats that can convert from front to rear-facing or support more than one child.
But don't get too worked up about the price—while higher-end strollers may cost thousands of dollars or more, it's still (very) possible to find a stroller that meets your needs for far less.
Lifestyle
Are you a city family that will use your stroller day in and day out or a suburban family that will just use it for brief trips away from home and stroll around the neighbourhood? What kind of stroller storage do you have in your house or apartment? Will you have to carry your stroller up a flight of steps and onto public transit? Do you want to buy an all-purpose stroller and then add a travel or jogging stroller as your child develops, or do you want to buy one stroller for all of your needs? Your stroller should fit your lifestyle, so consider these and other factors before choosing the best option for you.
Types of Baby Strollers
As mentioned, strollers come in different designs to fit different purposes. From jogging to travelling to taking a trip around the block, there's a stroller for practically every occasion. Here's a rundown of these types of strollers:
All-purpose Stroller
An all-purpose stroller, also known as every day or full-size stroller, is great for everything from a stroll around the neighbourhood to a family excursion to the zoo. These are usually well-made strollers that blend a smooth ride with useful amenities such as storage baskets, seat recline, and cup holders. Most all-purpose strollers are heavier and bulkier, and folding them down requires some effort. They range in price from a few hundred dollars to well over a thousand dollars, and some are modular, allowing you to alter the seat direction or add on another seat or stroller board later on.
Jogging stroller
If you enjoy running, jogging strollers allow you to bring your baby along. Jogging strollers aren't simply for working out; they're also fantastic for navigating rocky, uneven ground. Jogging strollers are built to endure the bouncing that occurs with faster speeds or uneven ground, thanks to their super-sturdy suspension systems. They have three large wheels, one of which swivels or may be set in place according to whether you want it to turn quickly or be more steady at high speeds. Some include extra-large canopies to shield your child from the sun if you're running outside, or hand brakes to halt or slow the stroller on the downhill.
Double stroller
A double stroller is useful for twins or children born close together. There are two types of double strollers: side-by-side (both seats adjacent to each other) and in-line (also known as tandem or single-file)  which have a seat right in front of the other. There are also convertible strollers, which come with one seat and may be upgraded to accommodate a second child. If you're expecting twins and want to utilize a double stroller from the start, seek one that can accommodate two baby car seats at once. 
Lightweight stroller
These strollers are also known as umbrella strollers or travel strollers. This sort of stroller, as the name implies, is lighter than the average stroller and requires less effort to lift into and out of your trunk of a car or into public transit. Lightweight strollers have a smaller profile to make it easier to maneuver through tight openings and congested walkways. They're also excellent for travel because some of them fold up compact enough to carry in overhead airline bins. The price of these strollers, like most strollers, varies greatly. These portable strollers have a long history of being popular.
Convertible Strollers
A convertible stroller can be transformed from a single to a double stroller. If you plan on having two children that are close in age, convertibles are a smart option. Convertibles, like double strollers, are available in in-line or side-by-side designs.
Travel systems
A travel system includes a stroller and a car seat that snaps into place. The major advantages of travel systems are that they may be used from birth and that you don't have to wake your baby to transfer them from the vehicle to the stroller. They could also be more cost-effective because you're purchasing both goods at the same time. What's more, if you fall in love with a different car seat and stroller, you can frequently put together your own travel system—even if the brands aren't the same.
Top 11 Best Baby Strollers Of 2022
Keep reading for our suggestions on very versatile, affordable yet high-quality baby strollers! We're sure you will love our suggestions, no matter if you're a new dad or mom!
UppaBaby Cruz
You may have come across the UppaBaby Vista stroller, which is UppaBaby's high-end stroller with multi-child support and a bassinet. The UppaBaby Cruz has all of the Vista's "compact without compromise" features but without the ability to carry additional children. A standing PiggyBack converter can be purchased as well as a bassinet option is sold separately.
You get all of the style, maneuverability, versatility, and quality, but without the multi-child versatility or the astronomically high price tag. If you buy the optional bassinet or the SnugSeat infant attachment, the Cruz can support newborns from birth. All-wheel suspension, one-handed 5-position seat recline, adjustable telescoping leather handlebar, a giant zip-out canopy extension, a height-adjustable canopy (wonderful! ), a massive storage basket, and a reversible seat are among the features you'd expect from this high-end stroller.
The easy-access basket, super-easy folding, ability to stand on its own when folded, and easy-to-use recline and canopy adjustments are all smartly designed. The canopy extension is incredible in and of itself because it zips out from the parent's position, rather than from the front. It's the tiny details that set the Cruz apart from the competition, and the gorgeous style doesn't hurt either! The Cruz V2 is genuinely superb: highly maneuverable, comfortable seating fabric and posture, and a wonderfully smooth ride overall. Everything has a high-end feel, appearance, and performance.
Check out this stroller here!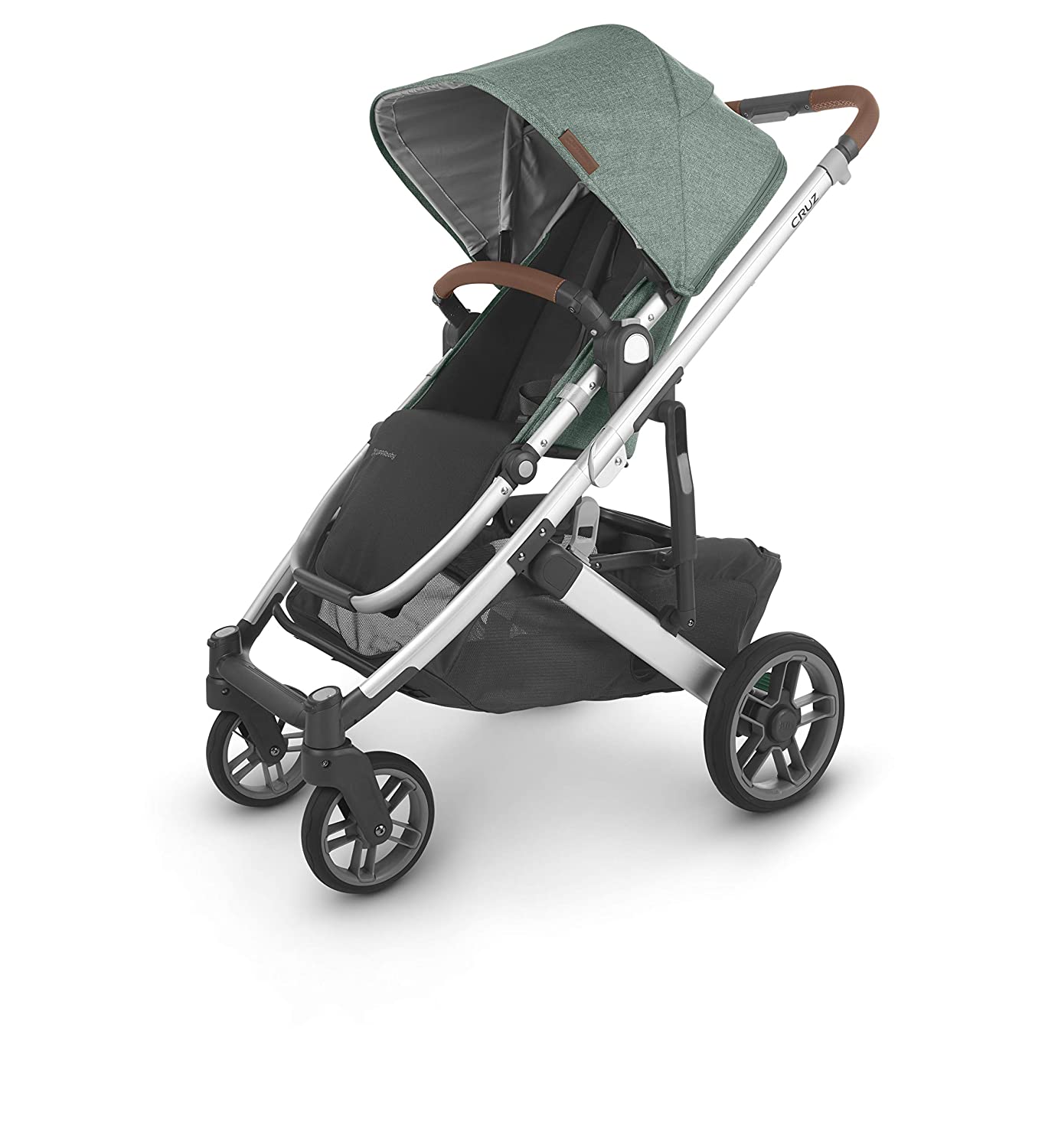 Baby Jogger City Mini GT2 All-Terrain Stroller
The black chassis appears sleek with its recently redesigned style, yet it's evident from away that this pushchair means business.
The City Mini GT2 has amazing agility on any terrain thanks to its all-wheel suspension and forever-air rubber tires that never go flat. The GT2 replaces the previous model's air tyres with 'forever air' tyres, which are constructed of a marvellous rubber compound that absorbs bumps like air-filled wheels but without the risk of punctures. The city tiny GT2 also moved effectively from county to town and vice versa because of its compact and nimble wheels, making it a terrific all-rounder.
The stroller's trademark one-hand compact fold (simply raise a strap and it folds itself), adjustable handlebar, and hand-operated parking brake are all very convenient and easy to use, whereas the flexible calf support and near-flat seating recline keep your baby comfortable.
The Baby Jogger City Mini GT2 All-Terrain Stroller is car seat compatible. You can create your own travel system with an infant car seat adapter! As mentioned above, travel systems allow you to transfer your baby from the car to the stroller without waking up your baby.
Briar Green, Opulent Black, Stone Grey, and Storm Blue are the latest colours, with softer, more textured materials and colour on the canopy rather than the seat pad.
Find this stroller here!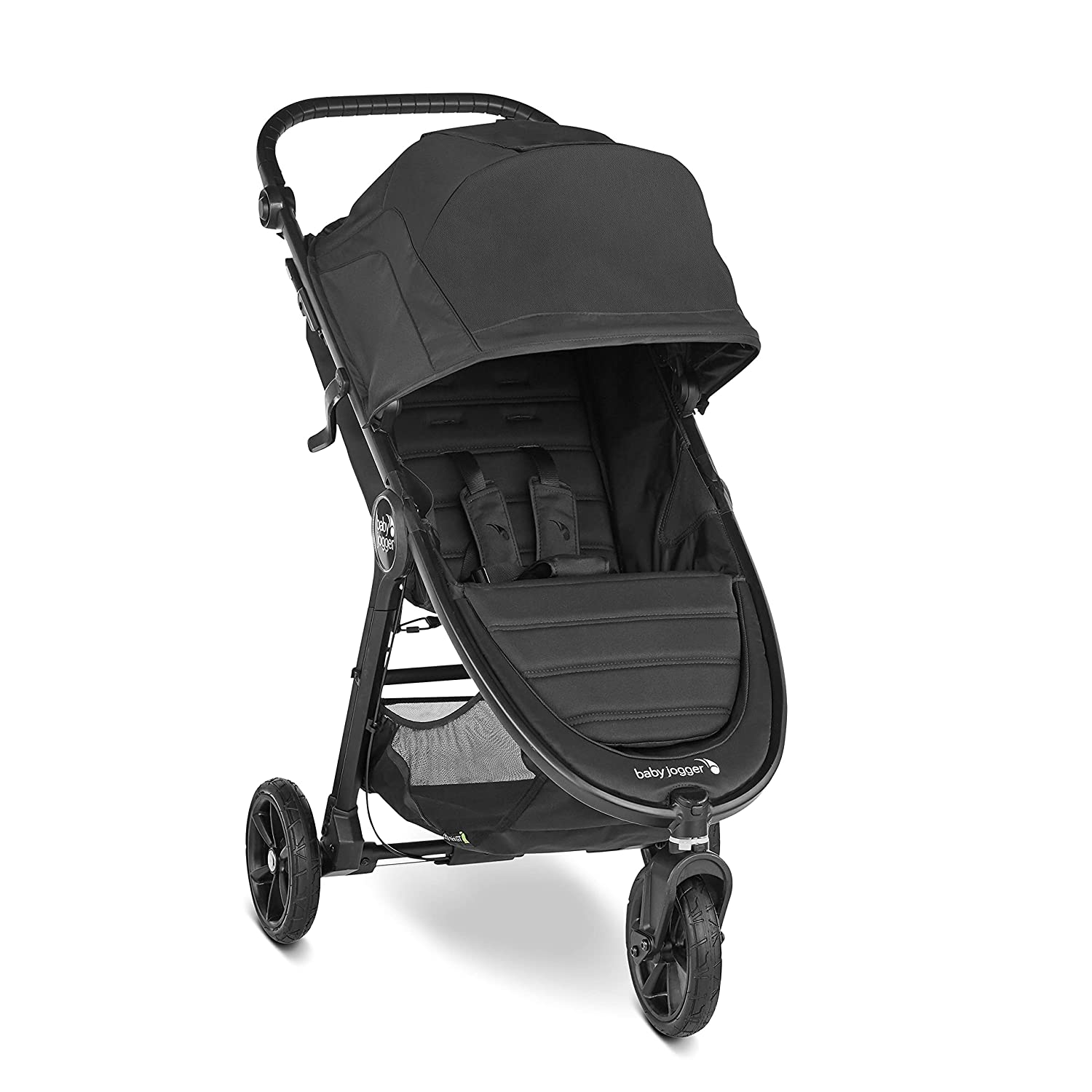 Graco Ready2Grow LX 2.0 Double Stroller
The Graco Ready2Grow 2.0 Double Stroller is a significant upgrade, with a new design and improved functionality. It has the appearance of a double stroller yet folds down to a single stroller, making transportation and storage simple.
The Stroller has two seating positions that can take two Graco baby car seats at the same time, making it an excellent choice for twins or siblings of similar ages. You can also quickly transform the back seat to a bench seat or a standing platform for your big kid to ride in.
The close-to-you rear seat allows for a closer connection with your child, while the lower seat is just the appropriate height for your toddler to get in and out easily.
There's plenty of room for baby and parent items in the spacious, easy-to-access storage basket. It has a cup holder for the parent and a cup holder for the child (both are removable). Full-size canopies offer great sun and wind protection, and a one-step, self-standing fold makes folding and storing a breeze.
Check out the stroller here!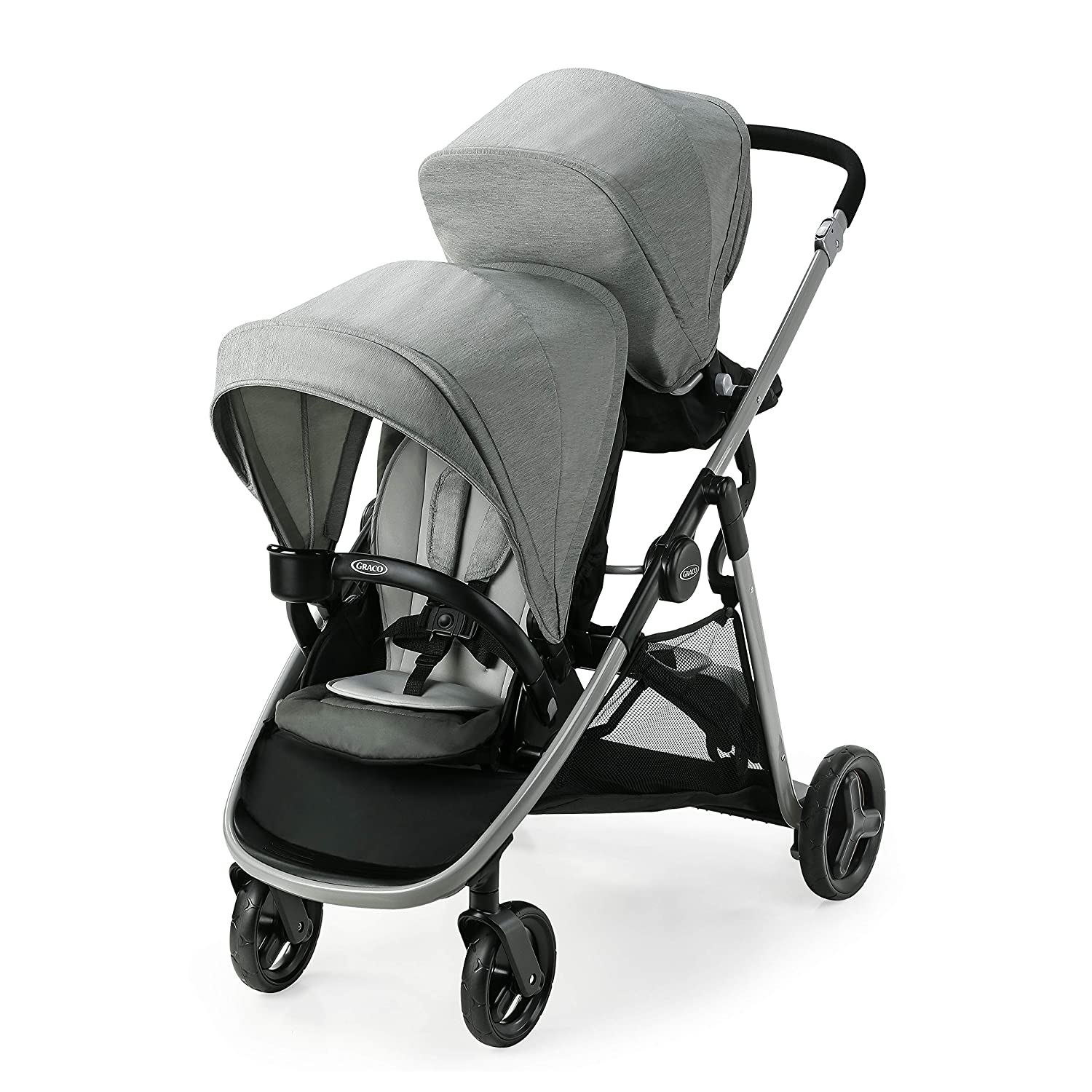 Chicco Bravo Trio Travel System
The Chicco Bravo Trio has some of the best features in the industry. It includes the Chicco Key Fit 30 Infant Car Seat, which can be converted into a stroller by inserting it into the frame. The stroller folds conveniently with one hand and rests upright for easy storage.
It measures 16 inches by 22 inches by 28 inches when folded. Your child will be comfy because the seat reclines and conforms to a few different configurations. Fully flat, fully seated, and everything in between are all options.
Many parents will appreciate the fabric because it is both easy to maintain and fashionable, and it blends nicely with a variety of interiors and patterns. In fact, everything about this stroller is sleek and well-designed for parents who aren't looking for the typical manufacture or model.
Many parents will appreciate how streamlined it is while still having some of the best characteristics of previous strollers, such as a spacious basket on the bottom for storage and amazing wheels that allow for travel on a variety of terrain. What distinguishes the basket from others? It can be accessed from any portion of the stroller, allowing you to store nearly anything beneath it.
A height-adjustable handle allows this system to grow with you. The stroller is 23 pounds and can hold up to 50 pounds. Despite this, you have a relatively compact system that can be readily stored both on the move and at home.
The seat, which fits children weighing 4 to 30 pounds and measures under 30 inches, is a terrific investment in and of itself, especially if your family enjoys travelling long distances. The entire time your child is in the seat, he or she will be comfortable and protected.
This stroller has more to unpack! Find it here!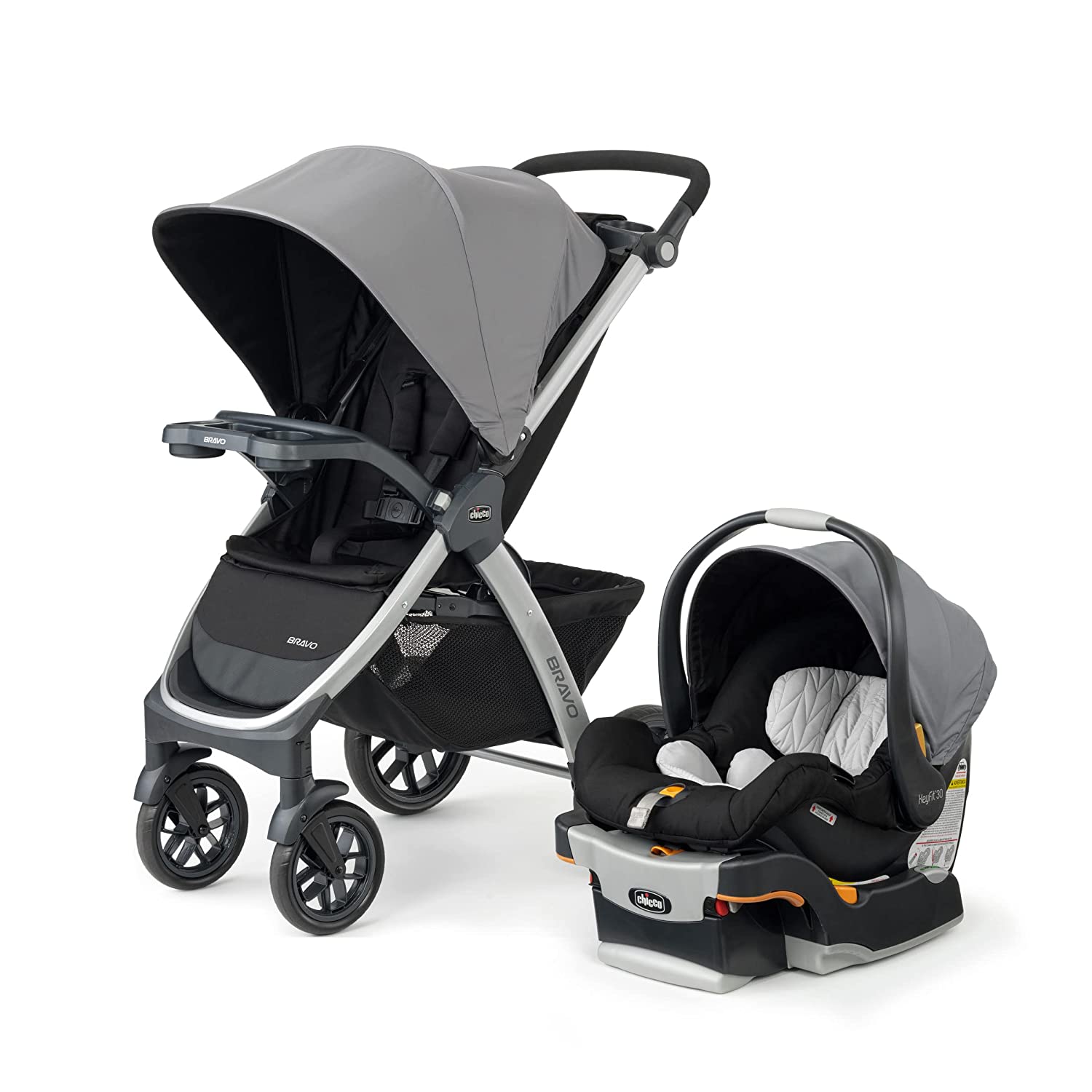 Joovy Caboose Ultralight Graphite Stroller
The Joovy Caboose Ultralight Graphite Stroller is essentially a sit-and-stand stroller, with a toddler in the front and an older child in the back, who can either sit or stand. It includes a car seat adapter, so you can take your newborn for a stroll without having to buy a second stroller that is car seat compatible.
In that regard, it's quite versatile, as it can handle a wider age range than other strollers on sale. You can also buy a forward-facing reclining seat separately and simply convert the upright platform into an extra seat for your child to relax and enjoy the ride. It just weighs 21 pounds and is quite simple to pop open.
The canopy on the stroller extends to the rear. This is especially useful during hot days as an effective shelter for the children on both ends of the stroller.
This stroller comes with a parent organizer! It has a sturdy pocket and slots that fit most of your stuff like cellphone, keys, and even snacks!
Check the stroller here!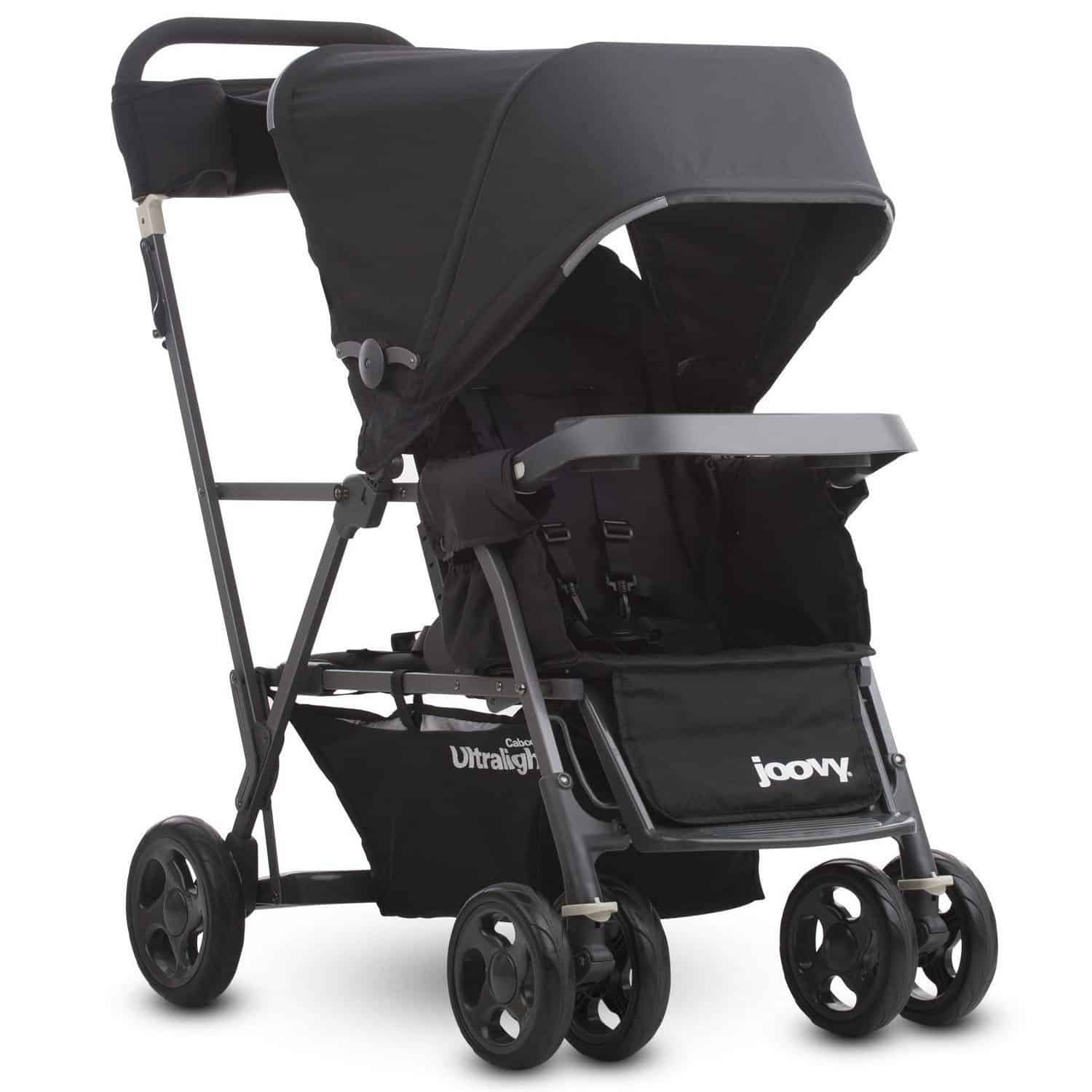 UPPAbaby VISTA V2 Stroller
The UPPAbaby Vista v2 is a high-quality stroller that can carry three children in one go. This adaptable seating arrangement works with two infant car seats, two toddler seats, two bassinets, or any various combinations of those combinations.
It has an infant bassinet and can be connected with a standing platform for older children. This stylish stroller has a solid frame, plenty of storage, and a fantastic full-coverage canopy. Our favourite features include the no-flat tires, telescoping handlebar, and better suspension. We believe the features and attention to quality aspects also justified the higher-than-average pricing.
The Vista v2 folds in one hand and automatically locks shut, and stands up on its own. A strong plastic bump that sits on the floor protects the leather-wrapped handlebar from harm. It's a shame it doesn't have a carry strap or handle, given its size. Despite the fact that unfolding necessitates the use of two hands, neither process is difficult.
There are more features that will definitely wow you! Check it out here!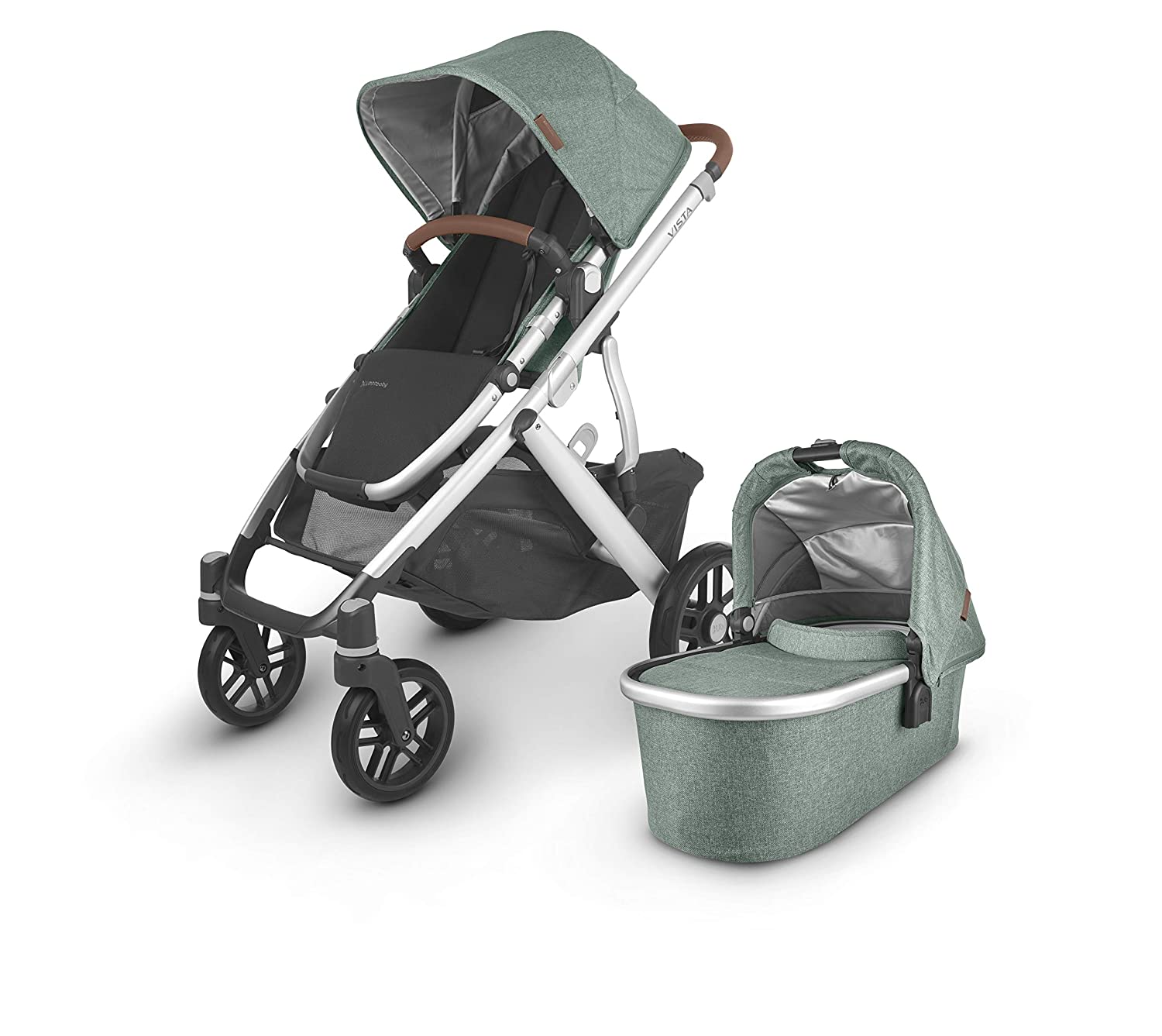 Evenflo Pivot Modular Travel System With SafeMax Car Seat
The Evenflo Pivot Modular Travel System with SafeMax Car Seat is a 3-in-1 stroller that adapts to the needs of your child. From birth to toddlerhood, this travel system will undoubtedly serve you well.
The included SafeMax Infant Car Seat has an Anti-rebound bar, which limits the amount of rebound movement encountered in a head-on collision. It was developed and tested for structural integrity at energy levels roughly 2x the federal crash test standard, as well as side-impact and rollover events.
Evenflo Pivot, like other strollers, allows you to attach a fan in the same manner that you would in a car seat.
This 3-in-1 stroller has a flexible design that will grow with your child. Both the Car Seat Carrier and the Carriage functions are available in Infant mode. As your child develops, the Pivot's functionality expands to include both forward- and backward-facing seated positions.
This stroller is available here!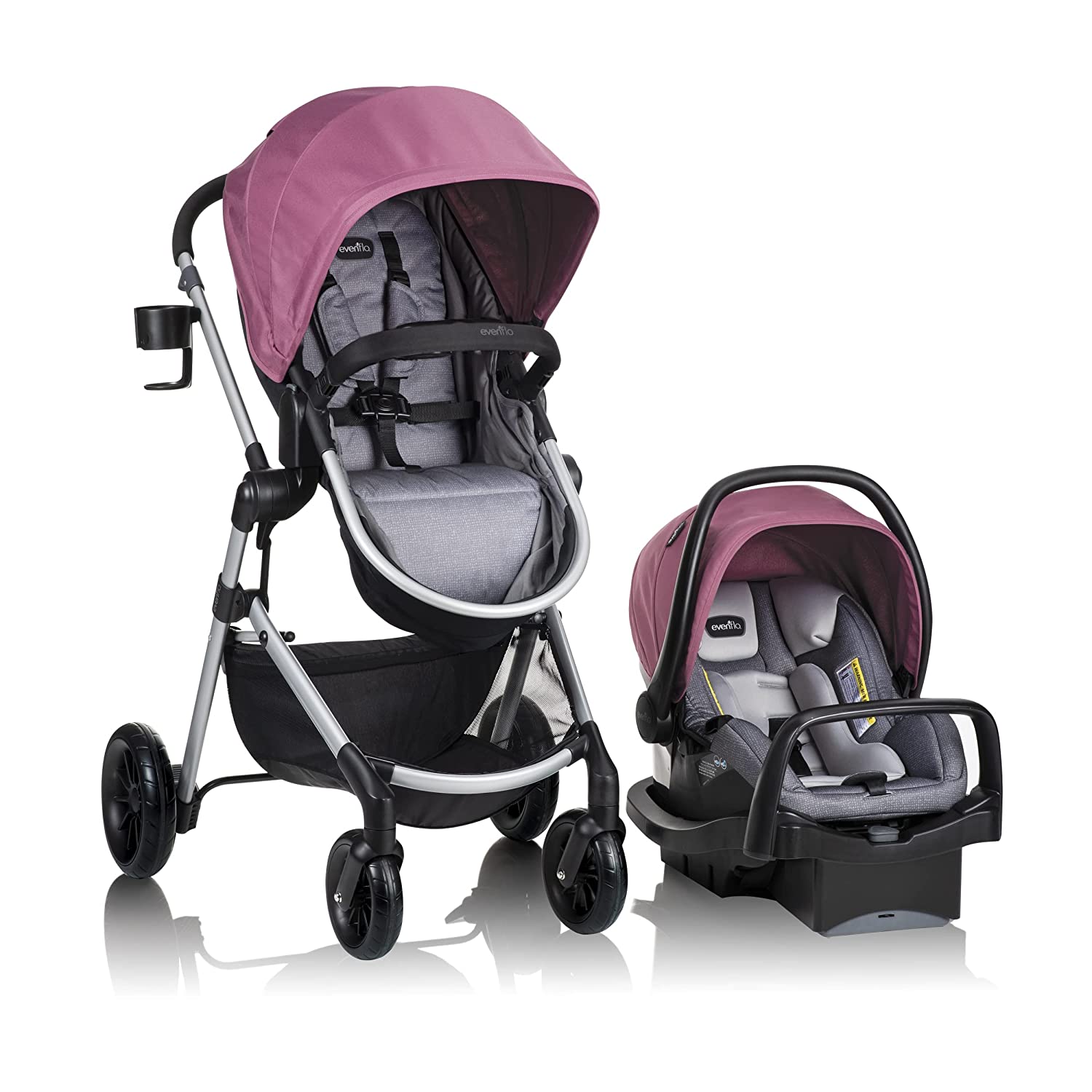 DOONA Infant Car Seat & Stroller
The Doona Infant Car Seat & Stroller is a unique hybrid with seamless integration of a travel system that's ideal for city inhabitants who switch from walking to cabs regularly.
On-the-go parents may easily transition from car seat to stroller with Doona's secure and practical solution. No more assembling and disassembling while hailing a cab, and no more lugging around a bulky car seat. The best part is that you won't have to wake up a sleeping baby to switch from car to stroller or vice versa.
The Doona Infant Car Seat is fully assembled and ready to use as a car seat. Despite the fact that it comes with a base, this product has the advantage of being able to be placed in a car without one. The Doona Infant Car Seat should only be placed rear-facing in a vehicle. The base uses a simple LATCH mechanism, but the seat can also be installed with a seatbelt.
This stroller has three modes: car seat, pull-along, and on-the-go.
Press the rotation buttons on both sides of the handlebar to turn it into various positions, and the red safety lock button positioned at the back of the car seat to release the wheels to switch between modes.
Grab your own stroller here!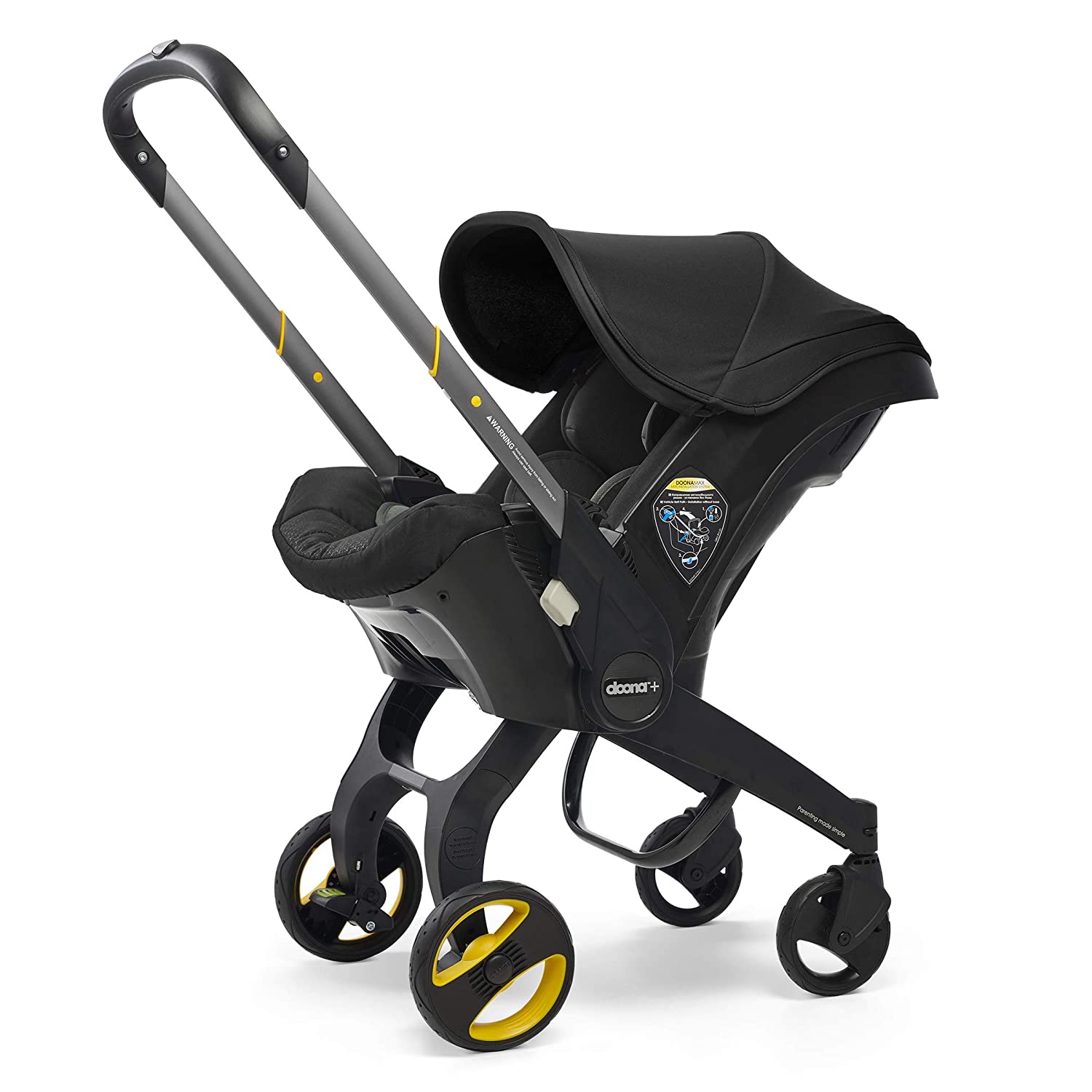 Summer 3Dmini Convenience Stroller
For you and your little one, the Summer® 3Dmini® Convenience Stroller is compact, lightweight, robust, and packed with quality features. With its elegant black frame, compact fold, a storage pouch, and dual cup holders, the 11-pound stroller is small but mighty.
With a 5-point padded safety harness, a flip-out sun visor for UV protection from the sun's damaging rays, and a multi-position recline to allow for naptime walks or edge-of-the-seat adventures, the 3Dmini is made for safety and comfort. The 3Dmini is suggested for youngsters weighing up to 45 pounds who are at least 6 months old (or can sit up on their own).
Check it out here!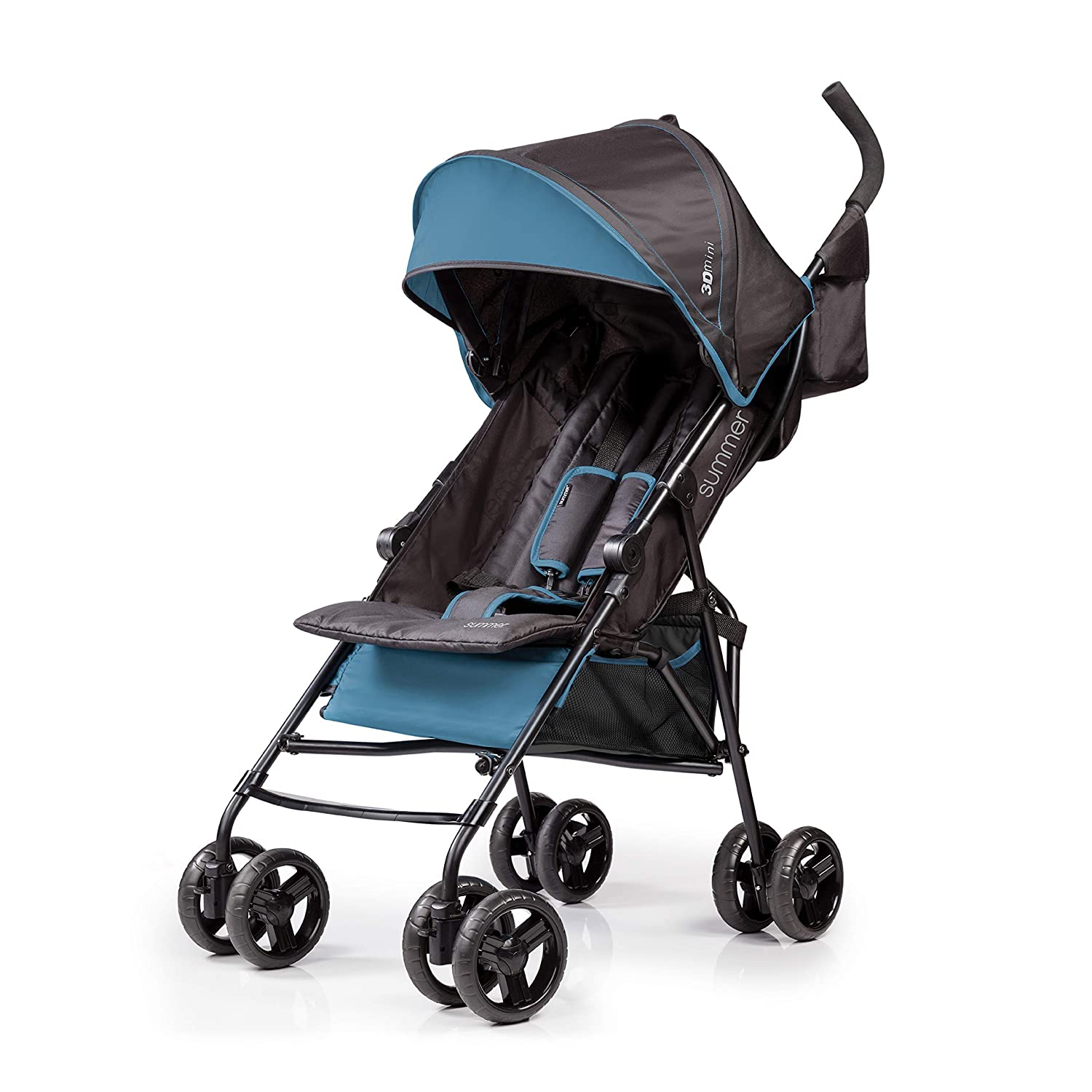 Graco FastAction Fold Jogger Travel System
This is the second Graco product on this list and for good reason! Graco is a household name when it comes to baby care and needs.
The FastAction is one of numerous baby joggers in a similar series that are exceptionally easy to fold and transport while on the go. The system is simple to use, even for one person, making it ideal for parents who are constantly on the go.
The travel system combines a stroller with a jogging stroller, providing comfort, ease of use, and convenience. Rubber tires with air provide a comfortable and relaxing ride for the infant while also assisting parents with maneuverability, especially when running. The front tire locks and unlocks as needed.
The stroller's foldable design allows parents to entirely fold the stroller with one hand, allowing them to hold their baby. Folding is done automatically. You will hear a single click when the car seat is properly linked to the stroller.
The stroller seat has extra padding to guarantee that your kid has a comfortable and quiet trip.
To find out more, check out the stroller here!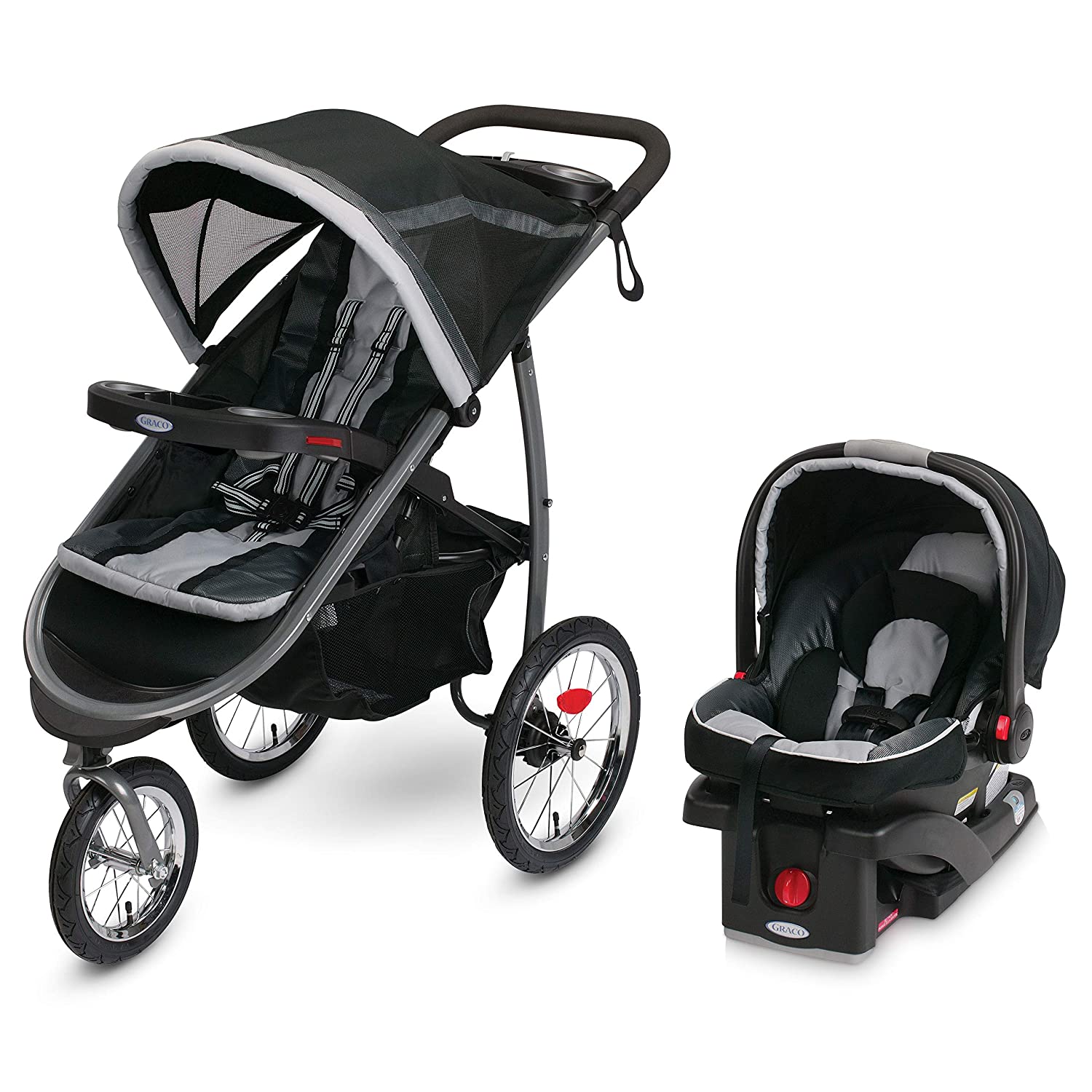 BOB Gear Revolution Flex 3.0 Jogging Stroller
This stylish, all-terrain alternative is as easy to push and turn as earlier generations, but it has more storage convenience features, making it easier to be used as a day-to-day stroller.
This stroller's adjustable tracking, suspension, and handlebar make it ideal for the pusher, while the padded seat, large canopy, and internal compartments make it a relaxing journey for the passengers.
The Revolution 3.0 is simple to operate and has a few extra features when compared to the Revolution 2.0, making it more practical for daily usage. The 3.0 has four steps and a two-hand fold. With two release levers and a rear pull loop, the fold is simple to complete. It has a manual strap lock.
Single-action brakes with a central plastic pedal at the back axle are standard on the Flex. The brakes are simple to use and have a foot-friendly rocker movement.
For greater organization, the 3.0 sports spacious storage with compartments on the back. It can carry a lot of stuff, has back and side access, and has a 10-pound weight limit. The 3.0 has a larger canopy than the previous model, with a wide vinyl peek-a-boo window and mesh ventilation. It also includes a magnet closure, which is a welcome addition.
Know more about this stroller through here!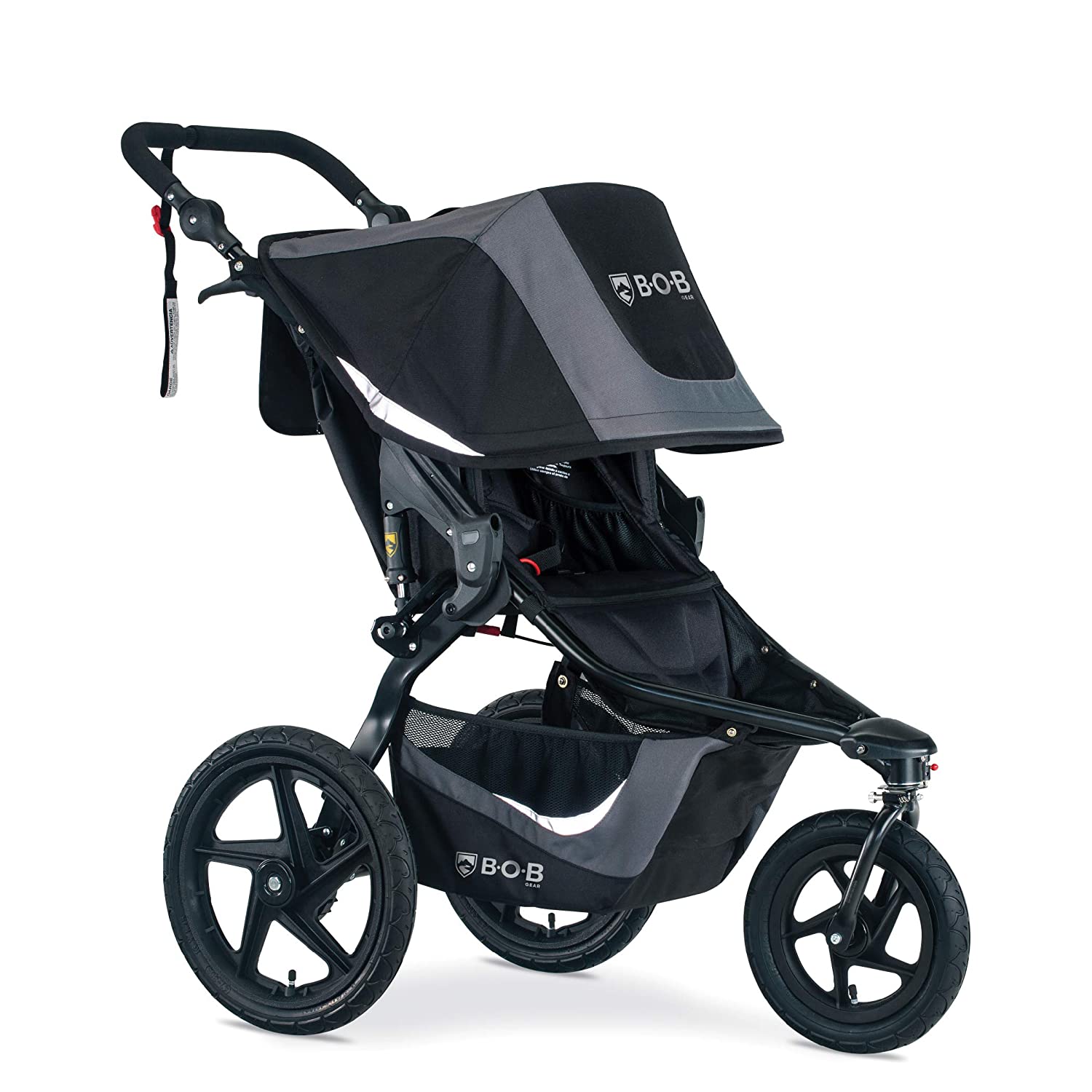 Conclusion
There are so many things that parents will want to consider when making this purchase. Space, comfort, budget, and more all come into play when making a decision on a stroller. While not every parent is going to want the same things from their stroller, there are some general criteria that you'll want to keep in mind when shopping for one.
No matter what your needs are, there is surely a stroller for you and your baby out there. Just take note of your budget, what you want and need, and your options!
Do you have a stroller you love? Share it in the comments below!