Learn what the best Bright Starts Bouncer is for your baby.
For parents of young babies, a bouncer is a must-have.
Baby bouncers are fabric chairs with a harness that bounce your baby in a soothing motion while keeping them secure. While nothing is better than holding your baby, sometimes you need both hands to get something done around the house. Baby bouncers are a great tool to distract your baby when they're awake and alert, but you're unable to hold them because you're preoccupied.
It's important to choose the right bouncer for your baby based on their habits and needs. Bright Starts is a great company whose mission is to make your baby happy, and they have an assortment of baby bouncers that will do just that.
Read on to learn more about the top Bright Starts bouncers to buy in 2021.
Top 10 Best Bright Starts Bouncer to Buy in 2021
1. Bright Starts Whimsical Wild Cradling Bouncer Seat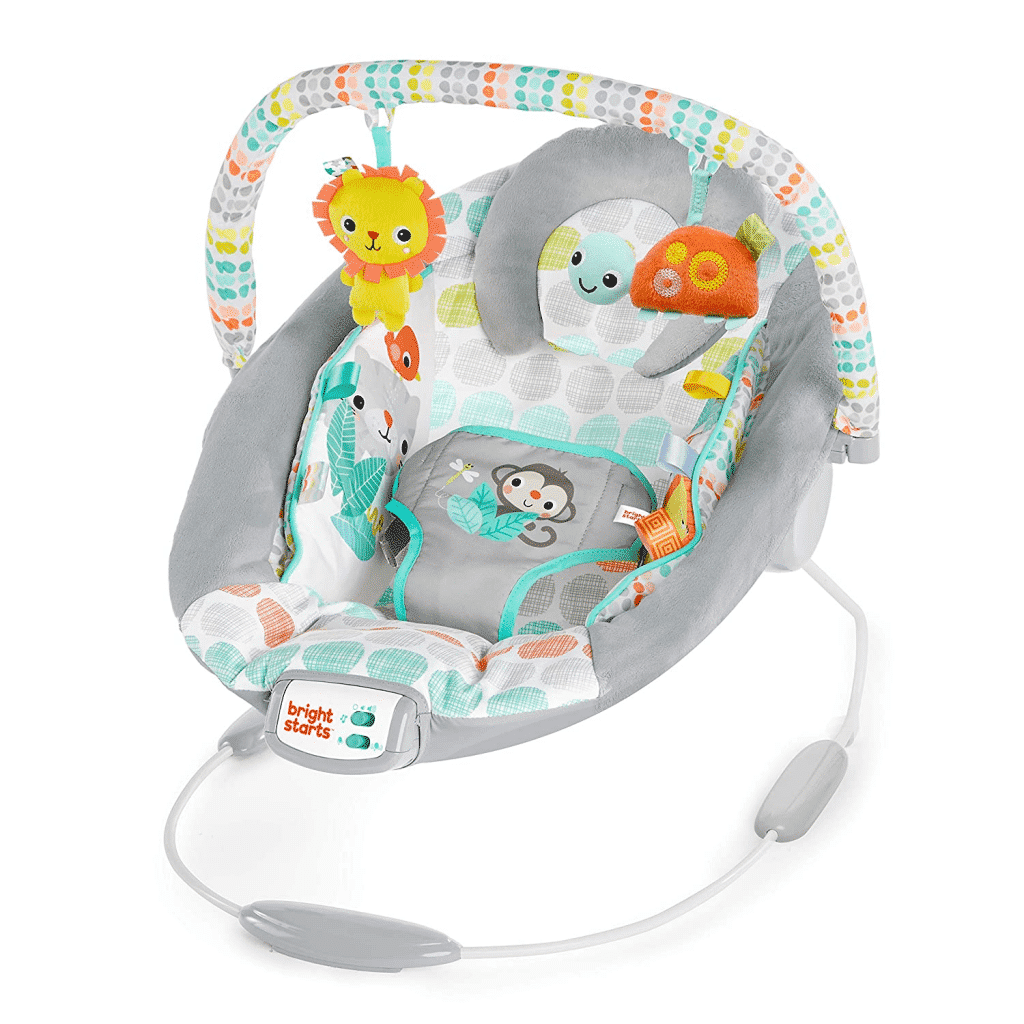 The Bright Starts Whimsical Cradling Bouncer Seat is a great first bouncer for your baby. The bouncer is suitable for newborns and features soothing vibrations and sweet melodies that are sure to rock your baby to sleep.
Specifications
3 pounds
For 0-6 months
Plush seat
Includes 2 plush hanging toys
Removable headrest
Pros
Suitable for newborns
7 melodies to choose from
Soothing vibration
2. Bright Starts Playful Pinwheels Bouncer with Vibrating Seat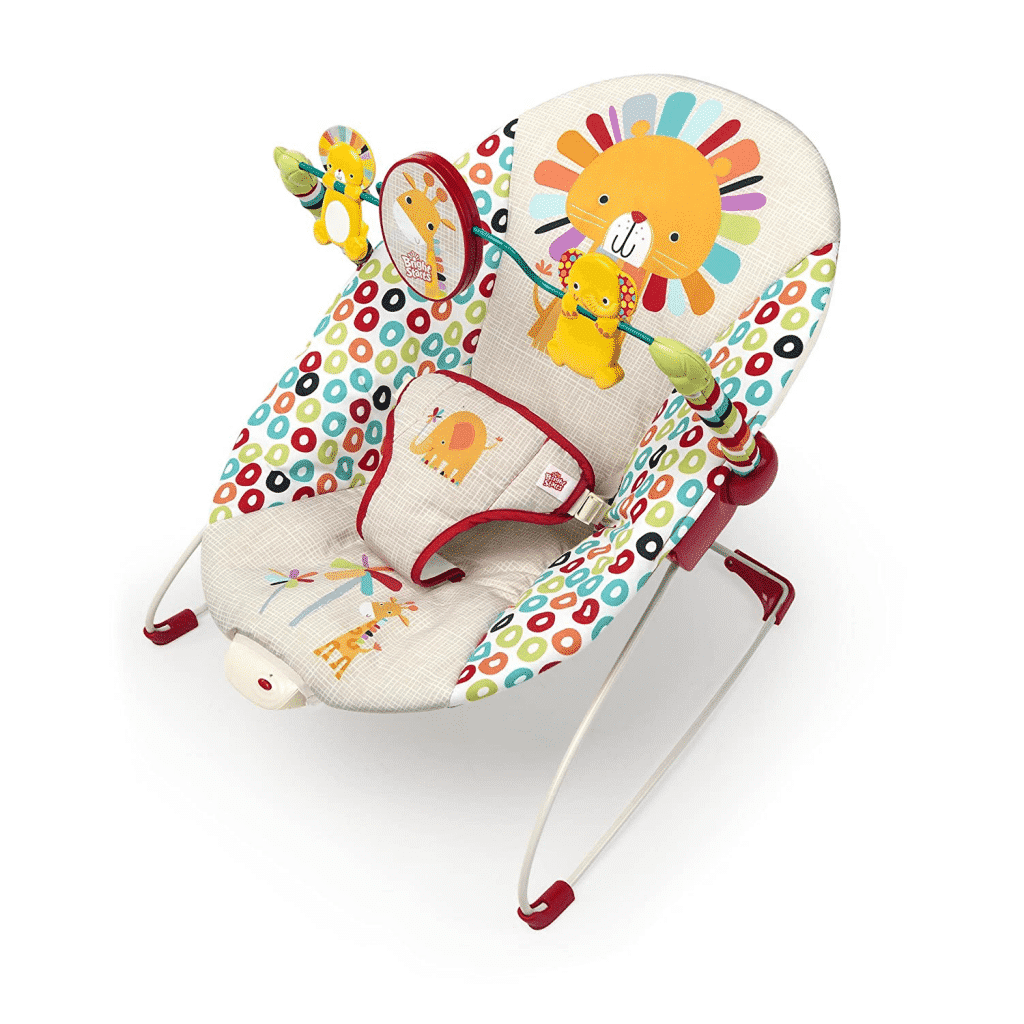 The Bright Starts Playful Pinwheels Bouncer not only has a smooth vibrating seat but also includes spinnable toys on the toy bar to encourage interaction and capture your baby's attention for longer.
Specifications
6 pounds
For 2 months and up
Removable toy bar
Includes spinnable toys
Vibrating seat
Pros
Bounces very easily
Neutral color
Breathable fabric
Spinnable toys
20-hour battery life
3. Bright Starts 3 Ways To Play Walker, Ford Mustang Pink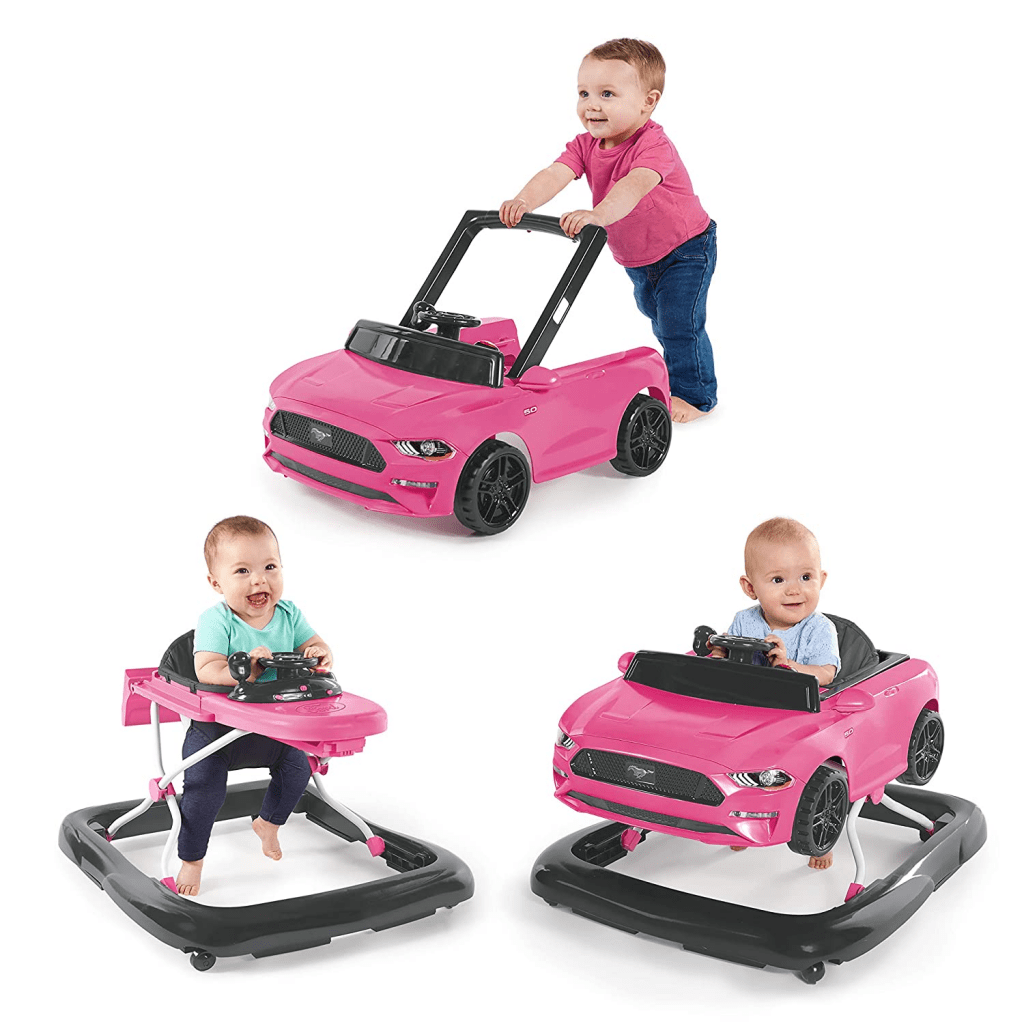 Bright Starts' 3 Ways to Play Ford Mustang isn't just a bouncer. This product serves as both a bouncer and a walker, so it supports your baby from six months to their first steps. Plus, it comes with a detachable steering wheel for added play.
Specifications
For 6 months plus
Three modes
High seatback
Detachable steering wheel
"V8" engine sound
Adjustable walker frame
Pros
Attractive pink color
Long-lasting
Folds easily
Easy to clean
Interactive
Machine-washable seat cushion
4. Bright Starts John Deere Gator 3 Way Walker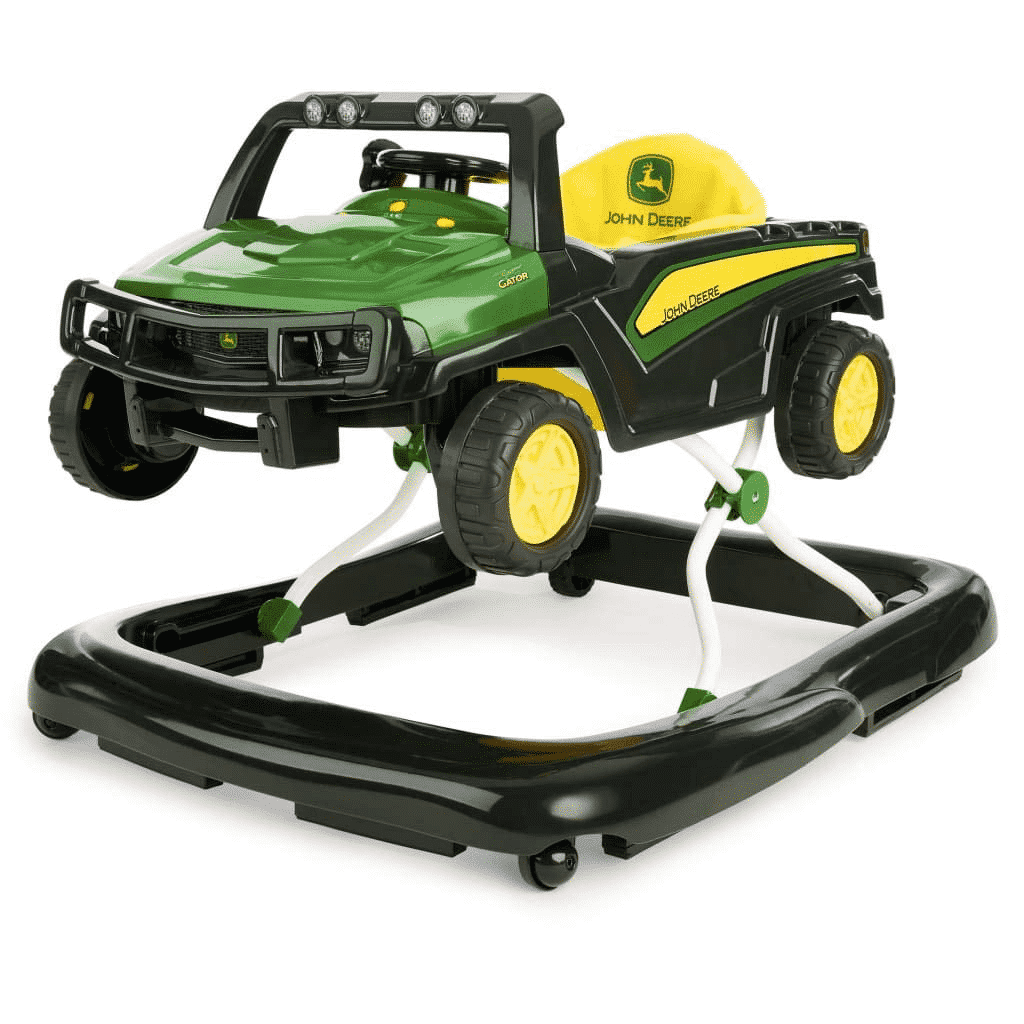 This awesome Bright Starts John Deere Gator 3 Ways to Play Walker looks just like a John Deere Gator. The 3-in-1 design will follow your baby as they grow and help in their development. It also has a removable steering wheel play station for on-the-go fun.
Specifications
6 months and up
Three modes
Detachable steering wheel
Authentic John Deere details and sounds
Pros
Versatile
Adjustable height
Folds easily for travel and storage
Machine-washable fabric
5. Bright Starts Disney Baby Minnie Mouse Vibrating Bouncer Spotty Dotty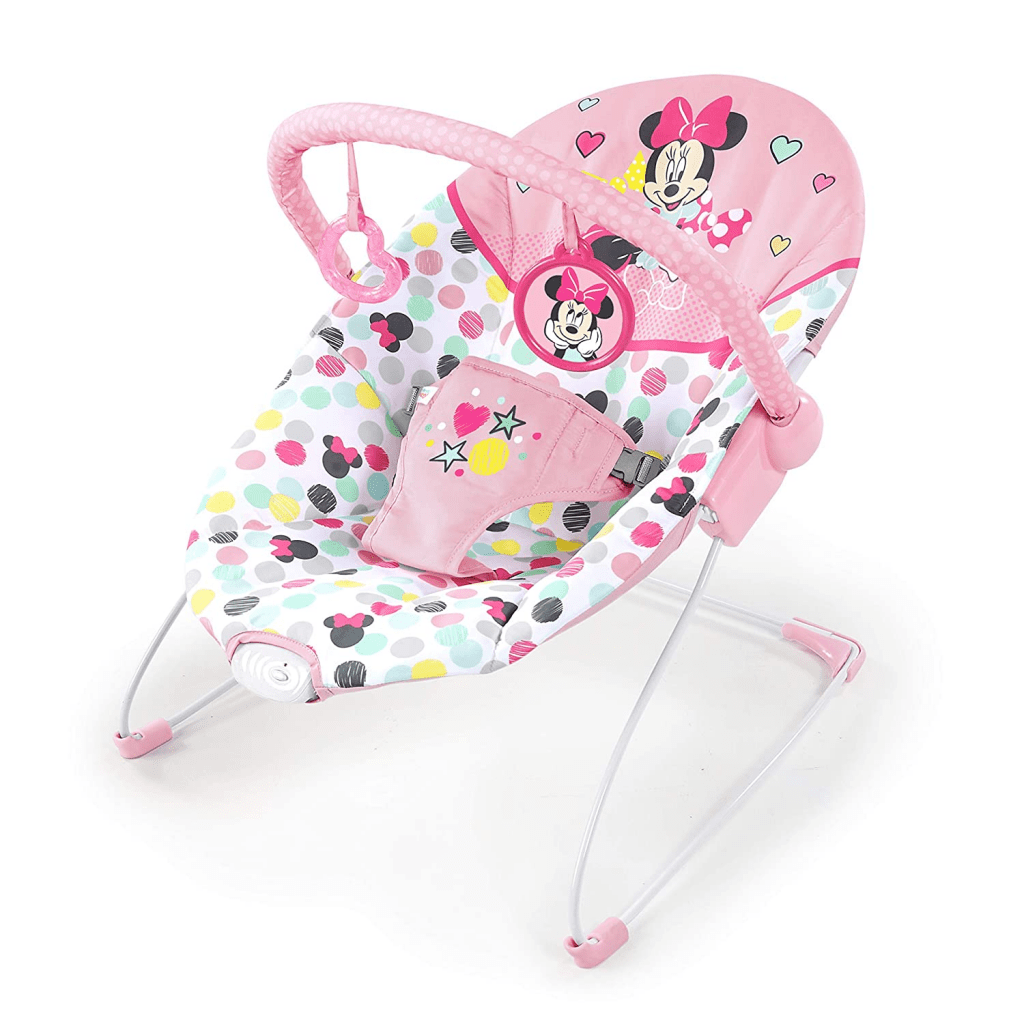 This Bright Starts Disney Minnie Mouse Vibrating Bouncer will be sure to be lots of fun for your baby. The bouncer includes 2 Minnie-themed toys, a heart rattle, and a mirror on a toy bar that will keep your baby entertained. The three-point harness will keep your baby secure while they bounce.
Specifications
49 pounds
3-point harness
Includes 2 toys
Suitable for newborns
Pros
Lightweight
Non-slip feet
No assembly
Easily removable toy bar
6. Bright Starts Minnie Mouse Rosy Skies Bouncer with Vibrating Seat & Melodies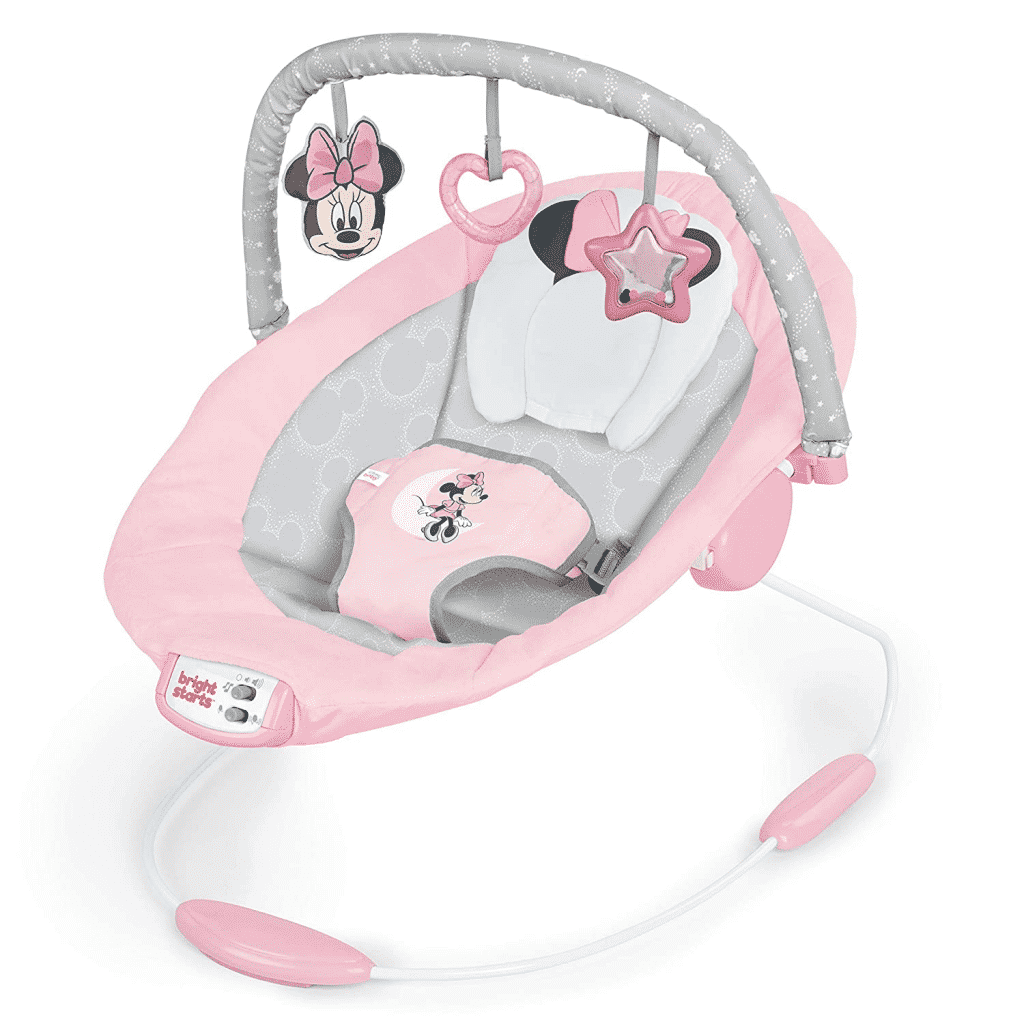 This adorable Bright Starts Minnie Mouse Rosie Skies Cradling Bouncer will have your baby giggling. The cushion seat is comfortable and even features Minnie Mouse ears! This bouncer includes three playtime toys: a rattle, a heart teether, and a plush Minnie Mouse, ensuring that your baby always has a variety of entertainment.
Specifications
2 pounds
Suitable for newborns
Removable toy bar
5-point harness
Non-flip feet
3 toys
Pros
Extra plush pillow
Minnie Mouse ears
Plays 7 melodies
Volume control and auto-shutoff
7. Bright Starts Rainforest Vibes Bouncer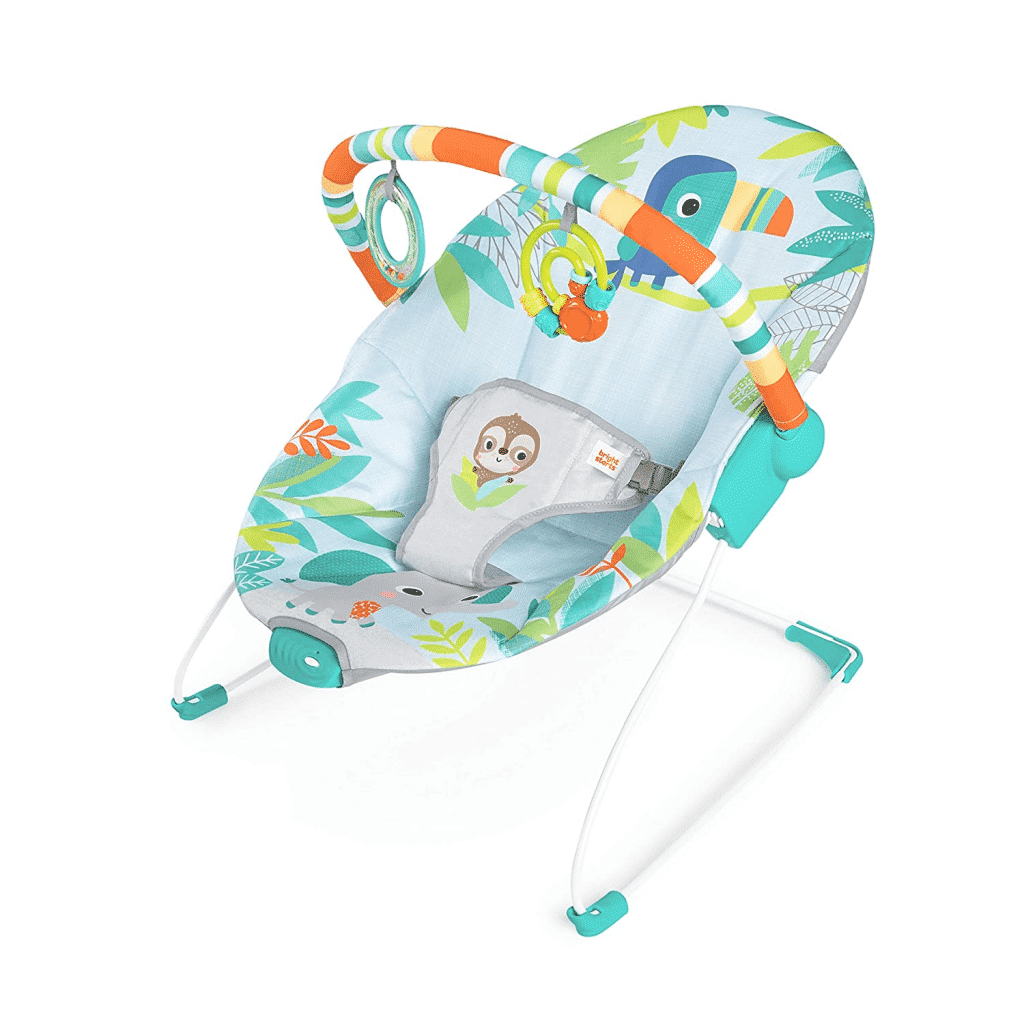 Bright Starts' Rainforest Vibes Vibrating Bouncer is sure to have your baby bouncing for joy. This bouncer includes two colorful toys hanging from a toy bar, and the non-slip feet make it wiggle proof, so you don't have to worry about your baby squirming out of it.
Specifications
1 pounds
2 months and up
Includes 2 toys
Removable toy bar
5-point harness
Non-slip feet
Pros
Lightweight
Gentle motions
Wiggle-proof
8. Bright Starts Sesame Street I Spot Elmo! Vibrating Bouncer with Toy bar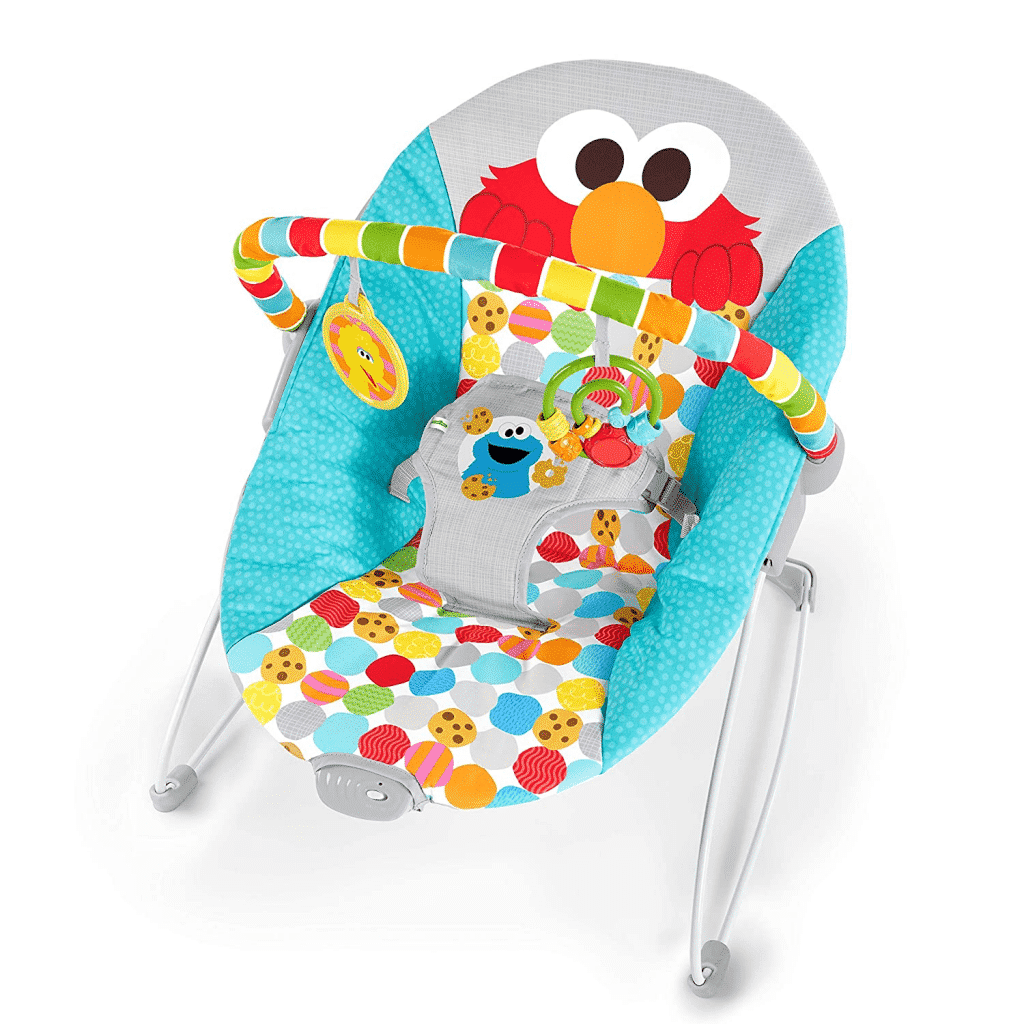 What child doesn't love Elmo? This Bright Starts Sesame Street Vibrating Bouncer features the lovable red character, plus Big Bird and the Cookie Monster on its design. It has a deep cradling seat and toy bar, ensuring your baby's comfort and enjoyment!
Specifications
7 pounds
Suitable for newborns
Removable toy bar
Includes 2 toys
5-point harness
Pros
Lightweight
Machine-washable seat pad and insert
Deep cradling seat
9. Bright Starts 2-in-1 Laugh and Lights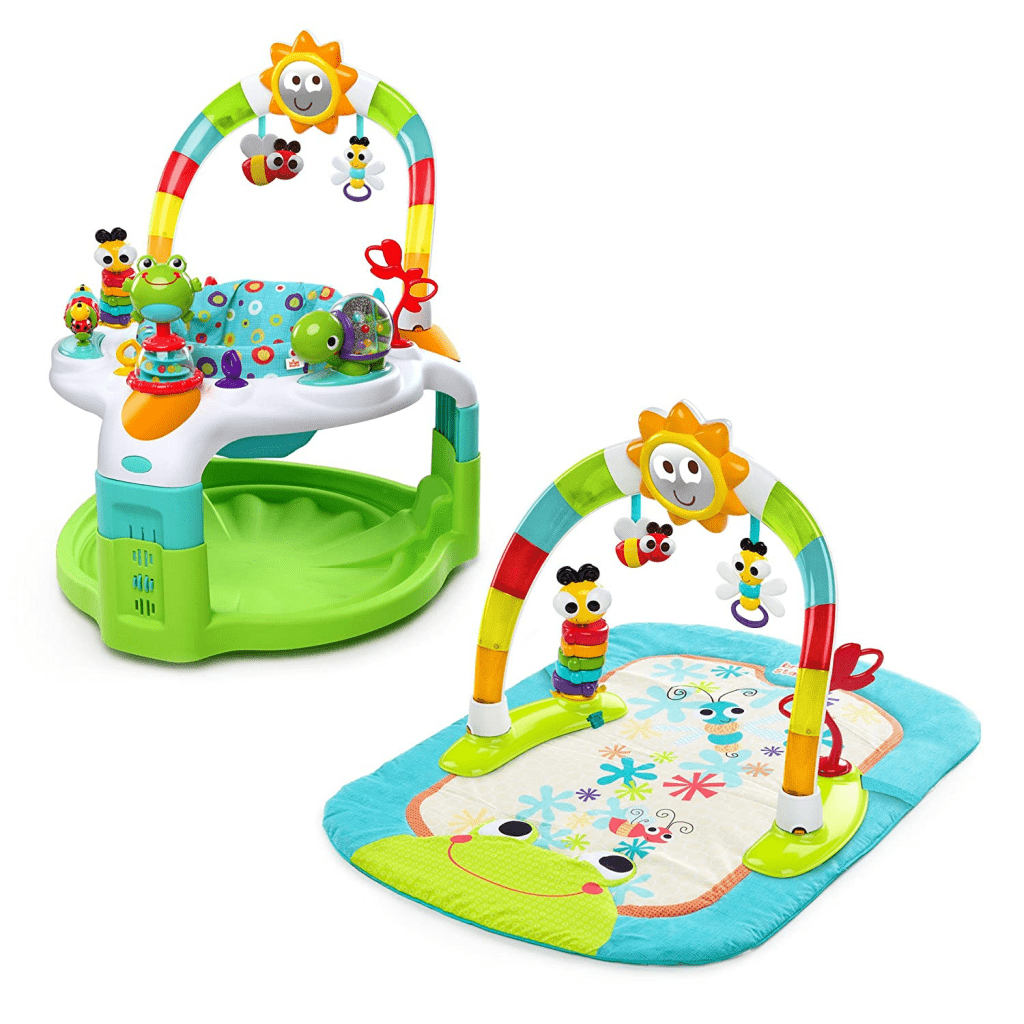 Bright Starts' 2-in-1 Laugh and Lights Saucer is all your baby will need for its first year. This set includes a saucer that will support our bouncing baby while they get excited from the toy bar above. When not bouncing, put your baby on the activity gym mat, where they can also enjoy their toy bar.
Specifications
Suitable for ages 0 to 12 months
Comes with a saucer and mat
Seat rotates 360 degrees
Includes multi-purpose toy bar
Pros
2 products in 1
Easy to use
Colorful light show on the toy bar
Room for additional toys
10. Bright Starts Disney Baby Mickey Mouse Camping Activity Saucer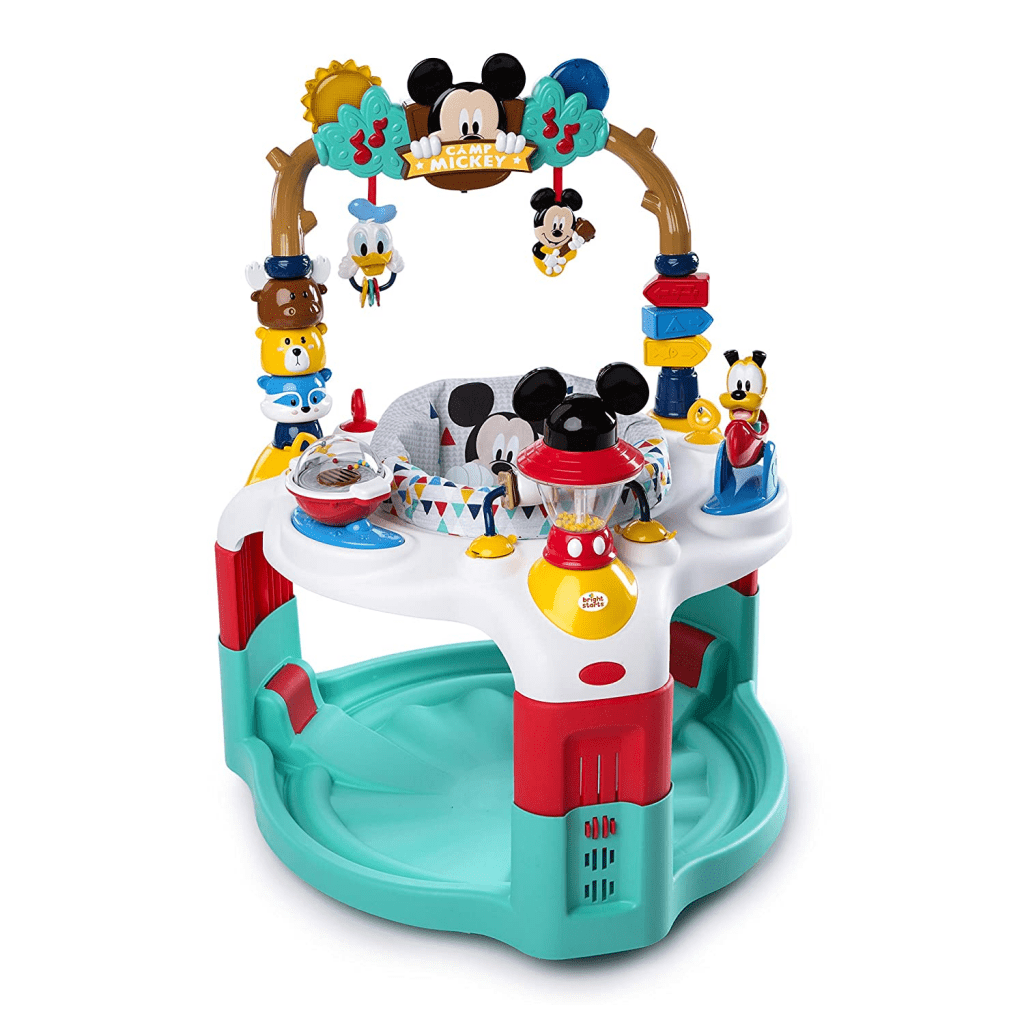 This Bright Starts Disney Baby Mickey Mouse Camping with Friends Activity Saucer is great for when your baby starts bouncing on their own. This bouncer includes Mickey's gang as toys on both the saucer and toy bar as well as lights and music. Your baby will have the time of their life camping with Mickey!
Specifications
5 pounds
For 6 months and up
Seat adjusts to 3 heights
360-degree rotation
Pros
Spinning toys
Includes melodies and light-up lantern
Machine washable
500-hour battery life